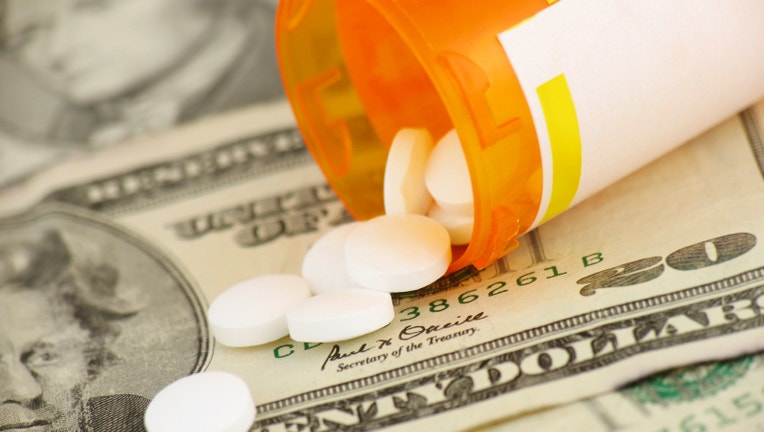 The world's largest producers of new drugs and medicines are facing an unprecedented time in their history as a record number of patents expire and generic drugs swoop in as more affordable alternatives.
The so called "patent cliff" has gotten more precarious in 2012, and it is not only seeping into how pharmaceutical giants do business, but also altering the sector's overall structure. Indeed, some are projecting mega-mergers in the near term and a new wave of exclusive patents farther down the road.
Drug leaders such as Eli Lilly (NYSE:LLY), AstraZeneca (NYSE:AZN), Merck (NYSE:MRK), Bristol-Myers Squibb (NYSE:BMY), Novartis (NYSE:NOV) and Johnson & Johnson (NYSE:JNJ) have been plagued over the last few months by patent expirations of some of their blockbuster drugs, starting most famously in November when Pfizer (NYSE:PFE) lost exclusivity for its cholesterol pill Lipitor.
"Most people feel you will see a new wave of successful drug developments."
Collectively, brand name medicines that generated nearly $30 billion of U.S. sales in 2010 are set to expire over the next few years, at least through 2015, including in May Bristol-Myers' best-selling blood clot treatment Plavix.
This and other pressures such high unemployment that has softened prescription demand have already started to weigh on profits, with Pfizer nearly halving its fourth-quarter profit on a big drop in U.S. revenue.
Companies with the greatest exposure and thinnest margins -- notably Bristol-Myers, Lilly and Pfizer -- will suffer most, according to a report by Fitch Ratings.
Those realities, coupled with the massive influx of cheaper generic drugs, has forced companies to boost product pipelines with novel therapies and hunt for synergies to improve cost efficiencies.
The industry has committed as much as 16% to 18% of all revenues toward research and development, much more than the fraction dedicated by generic manufacturers given their less-demanding regulatory hurdles for drug approval.
In 2011, 30 new experimental specialty medicines were approved by the Food and Drug Administration, up from the 21 cleared in 2010. Fitch estimates nearly half of those will reach blockbuster status given strong pricing flexibility, and that means a new wave of lucrative drugs sold exclusively by big pharma companies will likely reemerge after the cliff levels.
"Most people feel you will see a new wave of successful drug developments," said Jeff Greene, global life sciences leader for Ernst & Young's Transactions Advisory Services group.
While he says that seems "very logical," it would likely be on a different, more focused scale from the wave of the early 1990s. This time, drugs will be more oriented toward specific specialty diseases -- think personalized medicine -- instead of whole disease populations.
Fitch said the specialty drugs will "form a backbone for recovery from the patent cliff," but will once again provide "earnings fodder" for generic firms as market exclusivity inevitably lapses farther down the road.
But new medicines are only half the equation as revenues shrink amid generic competition and watchers become more critical of the way these companies allocate their capital.
Top-tier publicly-traded companies that typically pay out big dividends and authorize giant share repurchase programs to appease investors, while still making strategic purchases and investing heavily in R&D, are finding they cannot continue to operate at such a high level in all categories without the backing of big blockbusters.
Many are starting to narrow down and prune portfolios, realizing they "can't afford to invest and be competitive in all those different areas," Greene said.
That has been the catalyst behind many in the industry cutting costs, diversifying and merging with rivals.
"Alliances have become commonplace as a means to make R&D organizations more efficient and mitigate risk of the developmental drug portfolio," Fitch said.
The industry is still relatively fragmented, with the top five pharmaceutical companies representing a little more than 20% of the entire $307 billion U.S. market. Greene predicts a continuance of these mega-mergers seen over the last 18 months as well as some more medium-sized deals.
"Blockbuster drugs have been expiring and companies haven't been able to replace all of that revenue and cash flow," he said. "M&A is one tool they've been looking at in response to that."
Mega-mergers enable companies to fill in their pipeline, ration less successful drugs, remove some infrastructure to boost synergies and cut costs, and acquire diversification.
"They really need to come up with new drugs to stay afloat, but are all of these companies going to be able to do this with their current cash situation?" Greene said.
Some companies are divesting less successful businesses to focus on a specific area of medicine, while still others are scooping up rivals or merging to enter new focus areas such as animal health in an effort to enhance pipelines.
There also has been a new focus by drug developers on diagnostic testing, leading to what Greene referred to as the "continuum of care." Diagnostics help developers better understand their patient population to better tweak and focus specialty drugs, which Fitch says have become the "sweet spot for research" in the pharmaceutical industry.
Fitch believes those drugs, which are usually prescribed by physician specialists and are typically derived by biological processes rather than through chemical synthesis, will be the largest contributor to overall industry growth over the intermediate term.
Nearly half of the present late-stage drug candidates are specialty medicines, with a quarter focused on oncology alone.
They are attractive not only because their pricing is flexible, but because the complex molecules associated with these drugs are often surrounded by a patent estate, which further protects market exclusivity even after a base patent expires.