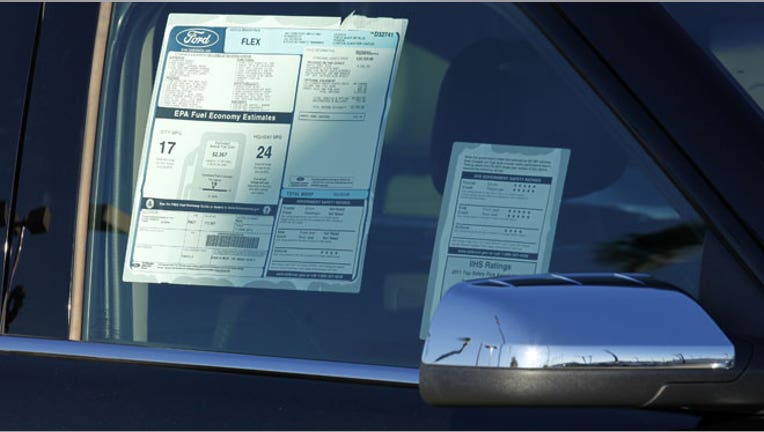 Many drivers think fuel-economy ratings are bogus, but new test results from AAA tell a different story.
The travel group conducted a survey revealing that one-third of Americans believe the U.S. Environmental Protection Agency's window stickers don't match real-world miles per gallon. So AAA put those MPG claims to the test.
First, AAA analyzed fuel-economy data submitted by drivers to the EPA's FuelEconomy.gov website. AAA then tested underperforming vehicles to determine what caused the variations.
On average, consumers reported real-world fuel economy that beat the EPA's estimates by 12%. Approximately 84% of drivers said their vehicles either matched or topped EPA mileage claims.
"Although self-reported data has limitations, it's encouraging to see real-world fuel economy that more closely aligns with, or even exceeds, automaker promises," said John Nielsen, AAA's managing director of automotive engineering and repair.
AAA selected three unnamed vehicles to go through emissions testing at a facility in California. A 2014 full-size pickup truck, 2014 large sedan and 2012 medium sedan each posted MPG numbers that slightly exceeded their EPA ratings.
As a result, AAA concluded that driving behaviors, vehicle condition and terrain can be blamed for the real-world shortcomings that consumers reported.
Changing Perception
The stark contrast between MPG data and AAA's consumer survey reflects a challenge for automakers: convincing buyers that sticker estimates are accurate.
The EPA revamped its testing procedures starting with the 2008 model year in an effort to better reflect driving habits. At the time, officials said the changes would lower estimates by as much as 25%.
Karl Brauer, senior analyst at Kelley Blue Book, explained that public perception of MPG claims is still largely based on pre-2008 results. "For so long, those numbers didn't mean anything because the testing hadn't been modified based on how people actually drive," Brauer said.
The agency made another adjustment to MPG tests in February, clarifying how automakers should measure aerodynamics.
The move came after some automakers, including Ford Motor Co. (NYSE:F), had to restate MPG figures. In November, Hyundai agreed to pay a $100 million fine after correcting mileage estimates on 1.2 million vehicles.
Automakers and the EPA have the ability to change perception, Brauer said, but it won't happen overnight.
"I'm sure [the 2008 update] came and went with the majority of people having no clue that the testing standards were changed," he added.
Your Mileage May Vary
Based on AAA's analysis of EPA records, owners of diesel-powered vehicles and cars with manual transmissions saw the best results. They reported 20% and 17% higher fuel economy than EPA ratings, respectively.
Trucks with V8 engines also performed well, topping MPG claims by 5%. Minivans posted real-world MPG that was equal or slightly lower.
Turbocharged engines in pickup trucks and sedans fell short. For instance, sedans with V6 engines had a 9% lead over EPA ratings, while turbocharged four-cylinder engines missed their targets by an average of 4%.
Brauer noted how larger engines can outperform smaller, turbocharged engines since they work less to accelerate.
AAA highlighted several factors that can limit fuel efficiency, such as hard acceleration.
The organization also recommends coasting to decelerate when possible and maintaining a steady speed. Tests have shown that using cruise control can save fuel.
AAA's Nielsen said driving just five miles per hour above 50 mph "is like paying an additional 19 cents per gallon for gasoline."