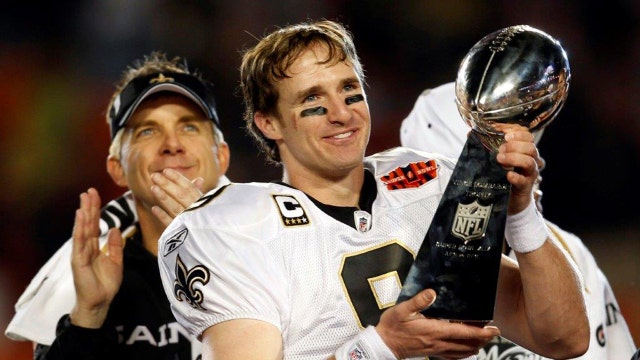 New Orleans Saints quarterback Drew Brees' record-breaking success on the field has translated to one of the most lucrative careers in NFL history.
Brees, who broke the NFL's record for most career passing yardage on Monday night, has earned more than $221 million in salary during his 18 seasons in the league, according to Spotrac. That total ranks third in NFL history, behind retired quarterback Peyton Manning, who earned $248.7 million during his career, and his brother, New York Giants quarterback Eli Manning, who has earned $235.3 million.
The Saints star has a chance to break Manning's career earnings record. He is due to earn $27 million in salary and bonuses for the 2018 season and another $23 million if he returns for the 2019 season.
Brees broke the career yardage record, also held by the retired Manning, with a 62-yard touchdown pass at the end of the first half of the Saints' 43-19 victory over the Washington Redskins. He now has 72,103 career passing yards – a number that should grow much larger before Brees retires.
"It played out even greater than I ever could've imagined," Brees said of his record-breaking moment, according to ESPN.
Brees ranked 17th on the latest edition of Forbes' list of highest-paid athletes, earning $29.9 million in salary over the last year and an additional $13 million from endorsements. A popular brand ambassador, Brees has endorsement deals with Nike, Procter & Gamble, PepsiCo and several other major companies.
He is also a savvy investor, with holdings in Dunkin' Brands, Jimmy John's and other restaurant brands.