Don't Let Wedding Season Drain Your Bank Account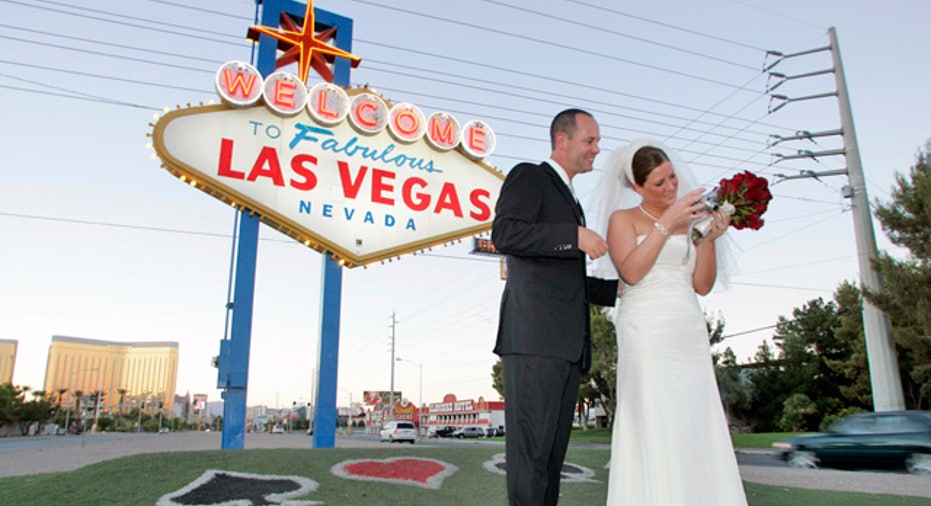 With wedding season in full swing, the father of the bride isn't the only one taking a hit to the wallet--guests with several wedding invites can also feel the pinch.
Between wedding showers, bachelor parties, gifts, airfare and hotels, supporting friends and family on their special day doesn't come cheap.
According to a 2010 survey by TheKnot.com and WeddingChannel.com, it's easy for guests to spend between $500 and $1,000 on a wedding. For gifts alone, friends spend an average of $79 per present, while family members spend an average of $146, the survey also showed. Most guests will also spend between $100 to $200 on wedding attire, and anywhere between $100 to $1,000 on travel.
If you're looking to celebrate with the happy couple while still having enough money left over for bus fare home, experts say it's OK to say "I do" to a bargain.
First and foremost, wedding guests should consider the "rather" factor, says Sandra Hanna, co-author of Smart Cookies' Guide to Making More Money and Getting Out of Debt.
"Every year you put your money toward something you want or need, whether it's a vacation, debts that need paying, a new house--anything. And if you're invited to a wedding, you have to ask yourself if the time and money spent will be taking away from something else you'd rather do," says Hanna.
Because weddings are often an expensive proposition, Hanna says invitees should consider their priorities before spending $1,000 on airfare and presents. If you decide to spend money on travel for a destination wedding, it's acceptable to cut back on the price of presents.
"If you're on a tight spending plan and you make it to a destination wedding, don't feel like you've got to give the bride and groom three place settings of their china," says Hanna. "Even something like a basket of magazines and snacks for the honeymoon is a great gesture. It will mean more to your friends that you're there."
If transportation costs are prohibitively expensive, consider using frequent flyer miles or points accumulated on your credit card to get to the wedding. If you have a lot of extra points, they could translated into a wedding gift, suggests Hanna.
"When you look at your points, see if you have some you can use for gifts. Get creative with your spending. Some cards allow you to use points to purchase gift cards."
If you know your card gives points, use it on purchases all year long so when wedding time rolls around you'll have points saved up to use toward gifts.
If you don't want to give a traditional gift, check to see if the couple has a honeymoon registry--you may find cheaper spending options there than on traditional registries, says Donne Kerestic, CEO and Founder of 1-800-Registry, an online registry service for weddings.
"A lot of times you'll look at a traditional registry and there will be five things left that cost $200 each, which is a lot of pressure. If the couple has done a honeymoon registry, you can go online and contribute whatever dollar amount you'd like toward their trip," says Kerestic.
Without a prescribed dollar amount listed, it really takes the pressure off guests to spend a lot, says Kerestic. Some honeymoon registries allow the couple to upload photos from their honeymoon so guests can see their present "in use," something that makes the gift seem as tangible as a silver tray or vase.
Don't be afraid to go in with friends to purchase the couple a big gift, says Amy Eisinger, associate editor of The Knot.com.
"Don't be afraid of the big-ticket items. If you go in with six or seven friends and get the couple a big-screen TV, it's an awesome gift and you'll come out only having spent $50 or so. The couple will see the gift is from several people, but it looks really impressive and your name is on it."
When it comes to gifts prior to wedding, Eisinger says it's all about the packaging. You can make a less-expensive gift look like it costs much more just by wrapping it in beautiful wedding paper or putting it in a nice basket. At a bachelor or bachelorette party, a gift can be something as simple as picking up the guest-of-honor's tab at dinner.
While it's nice for the couple to suggest hotel options for the wedding, don't feel like you have to do everything they are doing as part of the "package," says Hanna. Even if the bride and groom have reserved a "discount" block of rooms at a local hotel, it doesn't mean the rate is the best deal in town.
"Talk to the bride and groom and see if there are other resorts in the area near the wedding, or do your own research. You don't have to stay right on the property with the wedding party," says Hanna.
Sharing a room is also budget-saving option if you're going to a wedding with other friends or family. Getting a room upgrade to a suite with two bedrooms can be a nice and cheaper option for two couples. If you're single, don't be afraid to ask other invitees if they'd like a roommate, says Kerestic.
If you've got the funds to make it to the wedding, don't let your wardrobe hold you back, says Hanna.
"Don't be afraid to borrow a dress from your girlfriends, or rent an older tuxedo. There's no shame in going to your little black dress and adding a new scarf to it, or wearing last year's style tux," she says.
If you're a man with several weddings in one season, Eisinger suggests asking a tuxedo rental store about purchasing a tuxedo secondhand.
"A lot of times, stores will sell last year's tuxedo that's been rented a few times for the same cost as a couple of rentals. Do the math and see if it would work out for you to own a tux," says Eisinger. "Of course, at most weddings a nice suit is perfectly acceptable, so check to see if required attire is black tie or just cocktail."
If you've pinched pennies everywhere you can and you still can't swing the cost of a weekend wedding away, don't be afraid to level with the bride and groom and tell them that their wedding is simply not in the budget for you right now.
"They'll understand," says Hanna. "Offer to take them out to dinner after all the wedding craziness has died down. Your real friends would not want you to be stressed out and unable to enjoy their wedding because you were worried about money anyway."