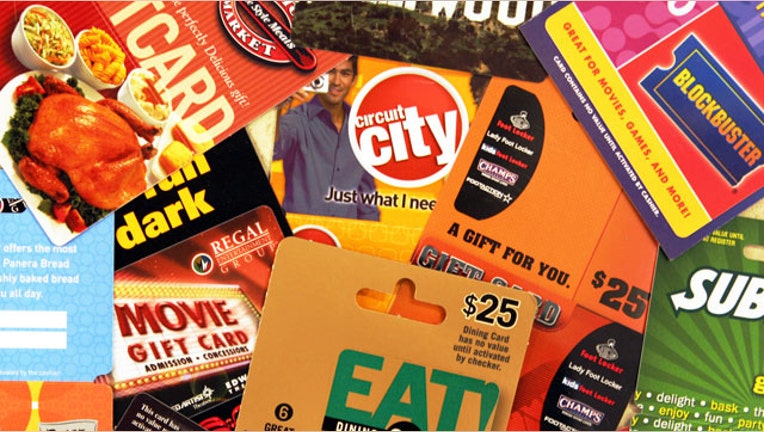 Let me stay at the outset that I love this time of year: the decorating, celebrating, festivities, gift giving and even the snow (at least where I live). So I'm the last person who wants to throw a wet blanket on anyone's holiday spirit. But I just want to gently remind you, dear reader, that both our national and our personal economic conditions are still very fragile. Take care with your spending and remember that the season really is about people, relationships and shared experiences--not "stuff."
Just a few years ago, we seemed to understand that.
After the 2008 Great Recession, it looked as though American consumers had finally realized the downside of their free-spending ways. Facing the shock of deflated real estate values and massive layoffs, we cut back on swiping plastic to cover our spending. In fact, the following year we actually paid down a chunk of our outstanding debt, reducing it to a net $1 billion.
But this spending behavior didn't last.
By 2010, there were signs we were having withdrawal pains, and by the end of the year we had added $2 billion to our credit card balances.
Then in 2011, consumers' spending habits really got out of control and our credit card debt rose by $46 billion- a breathtaking 2,000% increase over where we began the year. Last year we dialed back a bit, adding just $35.8 billion in new credit card debt.
"People seem to think that since we're seeing a bit of an economic recovery, we can all simply revert back to pre-recession spending habits," says Odysseas Papadimitriou, a former executive at Capital One and current CEO of CardHub.com. "Pre-recession spending was inextricably tied to the housing bubble and unless those economic conditions re-develop, we simply won't be able to sustain current spending levels."
At the rate we've been taking on additional credit this year, CardHub projects we'll see a $41.2 billion net increase in credit for 2013.
According to Papadimitriou, "We still haven't made the reversal in course necessary to start actually paying down what we owe. Something needs to change soon or we're in for some serious problems in the future."
In other words, if the economy has a hiccup and unemployment ticks up again, we could see a repeat of where we were in 2008 and 2009, with consumers defaulting, bankruptcy filings soaring and lenders unwilling to extend credit to all but the most pristine borrowers.
I hate to sound like your grandmother, but whether you plan to hit the mall or the internet to get your holiday shopping done, you must plan ahead. Come up with a reasonable amount you can afford to spend this holiday season and stick to it.
The Card that Keeps on Shrinking
It's pretty much a sure bet that you'll be buying a gift card for at least one person on your list. The National Retail Federal projects gift card spending will hit almost $30 billion this year- a record high. Not only are gift cards simple and convenient for the gift giver, they are extremely popular with recipients: 60% of us would rather receive a gift card than an actual item.
Just be sure that the cards you purchase are, in fact, true gift cards. CardHub is critical of the way some retailers are marketing their cards, placing gift cards and pre-paid cards next to each other on displays. If you get confused, you can end up buying a pre-paid card when you meant to buy a gift card.
Pre-paid cards aren't bad, they're just different from gift cards, and they can also be more costly.
With a gift card, you load money onto it once and after the recipient spends the value, that's the end of the card. In contrast, when the value of a pre-paid card goes down, it can be "re-loaded."
The most important distinction is that by law, gift cards must retain their full value for at least five years from date of issuance. Pre-paid cards- including those you get from a retailer's loyalty or promotional program- can expire with no restriction.
"Not only do gift cards have certain legal protections about when they can expire, pre-paid cards have way more fees," says John Kiernan, a senior analyst at CardHub. For instance, some pre-paid cards have annual or monthly usage charge, a fee for contacting customer service and/or an inactivity fee. According to Kiernan, the average pre-paid card has 10 different fees and some have as many as 18--all of which can quickly erode the value of the card.
Gift Card Smarts
In addition to buying a gift card tied to a specific retailer or restaurant, you might consider a "general purpose gift card" such as those issued by Visa (NYSE:V), American Express (NYSE:AXP), MasterCard (NYSE:MA) and other credit card processors. They are versatile and can be used almost anywhere. However, Kiernan warns that these cards tend to have more fees, and advises that your recipient will "get more bang for the buck if you buy them a gift card from an actual store that you know they like."
Buying a discounted gift card can also save money this holiday season. In this case, the value on the card is more than what you pay for it. If this sounds like a scam, imagine this: dear Aunt Muriel sends you a gift card to a restaurant you wouldn't be caught dead in. Rather than throw it out, you sell at a discount it to someone who loves the place. Voila: both sides win.
Be extra cautious if you are buying a gift card directly from someone else. Before you hand over your money, call the issuer of the card (it's written on the back) and verify the value of the card.  A safer way to buy and sell gift cards is to use a third party: there are companies in the business of re-selling gift cards, including well-known names such as Amazon.(1)
You'll find a host of them by entering "discount gift card" in the search box of your web browser. You can protect yourself further by paying for the card using a service such as PayPal, which has a system for mediating disputes.
Don't be a Credit Card Sucker!
Consider this common shopping scenario: your want to buy your college freshman a new laptop for the holidays. The one you want is $1,000. You pull out your MasterCard to pay for it and the salesperson in the electronics store says, "You know, if you apply for one of our store credit cards, you won't have to pay interest for 12 months." You figure that will save you at least a hundred bucks in interest, so you go for it.
"Consumers think they're getting a good deal, but in reality they're getting into a trap," says Kiernan. CardHub checked 50 major retailers and found that "about half" offer a deferred interest plan as an enticement to open a new credit card account. These typically give you 0% interest for a certain period of time, such as 12 months.
The problem, according to CardHub, is that "most retailers don't disclose the details clearly." So even if you are that one-in-a-100 consumer who actually reads the fine print, you may not understand it. In a nutshell, some of these offers come down to this: If you are late making a payment or you don't fully pay off your initial purchase within the specified time period- BANG! -interest is retroactively applied to the original purchase amount back to day No.1. The average rate is 25%.
That laptop just became a lot more expensive.
Deferred interest cards "can increase the cost of your purchase by up to 27%," say Kiernan.  The retroactive interest feature defeats the purpose of opening the account in the first place.
According to CardHub, major retailers including Pottery Barn (NYSE:WSM), Amazon.com (NASDAQ:AMZN), Lowe's (NYSE:LOW) and Macy's (NYSE:M) do not clearly explain how their deferred interest card works. "These companies built their names and reputations on being consumer-friendly," says Kiernan. "It's ironic they offer these 'gotcha' plans."
As an alternative, look for what Kiernan calls "real" 0% offers available in the standard credit card market from issuers not affiliated with a particular retailer. The difference is that if you have a balance left over after your grace period expires, you'll only be charged interest on the unpaid amount.
1. CardHub also re-markets gift cards.