Don't DIY: Business owners delegate human resources tasks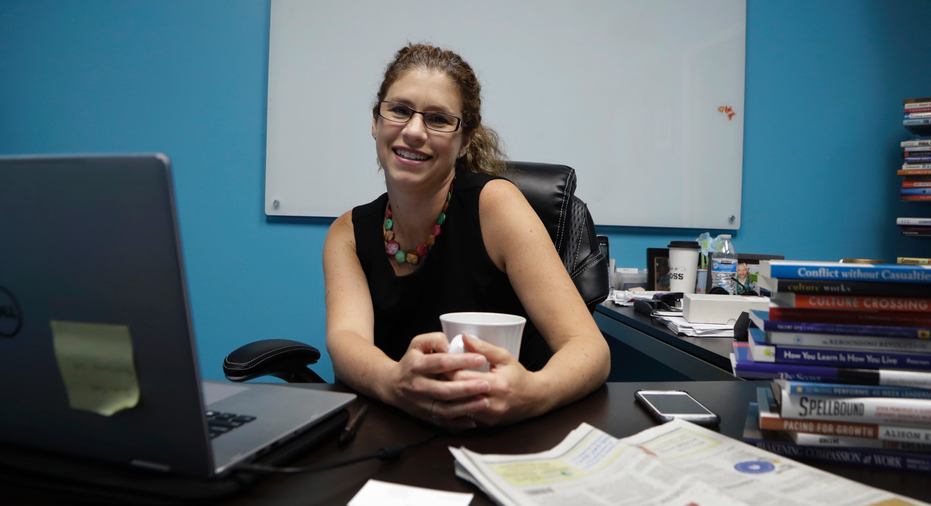 As small businesses keep hiring, many owners discover that being a do-it-yourself human resources manager is the wrong job for them.
Becky Robinson handled hiring, payroll and other HR needs when she started her marketing company, Weaving Influence, five years ago. But during periods when she focused on HR, the company's revenue took a dip. She realized she needed to keep her focus and turn those tasks over to a director of operations and an HR consultant.
"The only way for us to grow is for me to delegate and not get bogged down in the details of HR," says Robinson, whose four-employee company is based in Lambertville, Michigan.
Payroll provider ADP said Wednesday that small businesses added 50,000 jobs last month may mean that owners are taking on more human resources tasks while they're also trying to get new business and develop products and services.
A recent study released by ADP shows that HR at 70 percent of small businesses is handled as a side job by the owner or a staffer with other primary responsibilities. In many companies, the people doing it don't have any HR training, says Brian Michaud, a senior vice president at ADP.
Human resources tasks, which can include complying with government labor laws and regulations, handling disciplinary problems and administering employee benefits, are no different from chores like keeping the books that many owners could hand off but don't.
Sometimes it's because they want to keep costs down, so if they have just a handful of employees they don't want to hire an in-house HR manager or contract with a company that supplies HR services. Many entrepreneurs also find it hard to delegate.
"They hate to let anything get out of their control," says Gene Marks, owner of The Marks Group, a small-business consulting firm based in Bala Cynwyd, Pennsylvania. Owners are particularly unwilling to share information about their companies with anyone else, he says.
Robinson had handled recruiting for her company, and hired from referrals by people she knew. But as her business grew and she needed experienced staffers with specific skills, she realized she needed help from someone more knowledgeable about recruiting and with more contacts to find job candidates. So her HR consultant now finds prospective hires and does initial screenings and interviews.
At staffing company Omega Talent, "we cobbled together our HR duties among three or four people on staff," says owner Craig Sherman.
"It wasn't cohesive or effective, that's for sure," says Sherman, who has a staff of 12 as well as 45 employees whom the company places at client businesses.
Omega Talent, which is based in Clinton Township, Michigan, ran into occasional problems with the patched-together approach. Sometimes mistakes were made or Sherman and his staff were caught by surprise after employment laws or regulations changed. Earlier this year, Sherman turned the tasks over to a company that provides HR services.
"We are extremely happy with our decision," he says.
Nathan Miller handles his HR needs himself, but he also keeps an eye on how much that's taking him away from developing his business, Rentec Direct, which sells real estate property management software. He's found that mediating occasional disagreements among his 10 full-time employees can be a distraction.
"I should probably be setting up a new partnership or vetting a new tool instead," says Miller, whose company is based in Grants Pass, Oregon.
Miller says he'll consider hiring some help for HR if those tasks take up more than four hours of his time a month. He's also aware that the expansion plans he has — he hopes to double his staff within a few years — will likely force him to relinquish HR responsibilities.
Many owners realize they need help when faced with the multiplicity of employment laws and regulations at the federal, state and local level. Employers must comply with laws related to pay, working hours and conditions, benefits, disability, discrimination and harassment. In a growing number of states and municipalities, workers must be allowed to accrue paid sick leave. If they're government contractors, there are additional requirements, such as a higher minimum wage than the general federal minimum of $7.25 an hour.
Laws and regulations that frequently change raises the possibility that some companies might inadvertently be in violation of them. That's why Guilford Cantave hired an HR provider.
"I was looking to do everything right from the first opportunity," says Cantave, president of FermiTron, an electrical engineering and manufacturing firm based in Orlando, Florida. "It wasn't something that I wanted to experiment with or have half the truth about."
Many owners are forced to get HR help when something goes wrong, Marks says, such as an owner missing a deadline for paying payroll taxes or filing required documents with the government.
"You start realizing how much you're in over your head," he says.
A bad hire convinced Amy Baxter to outsource part of her hiring process. Baxter, owner of VibraCool, the maker of a medical device aimed at reducing pain, did her own recruiting and hired someone who said she could create marketing materials. She couldn't.
"If I had known more about the world of HR before, it would have saved a lot of time and drama," says Baxter, whose company is based in Atlanta.
She's still handling other HR tasks herself. But Baxter also realizes that anything she can outsource, she should.
"I should spend my time making connections and developing products," she says.
_____
Follow Joyce Rosenberg at www.twitter.com/JoyceMRosenberg. Her work can be found here: https://apnews.com/search/joyce%20rosenberg