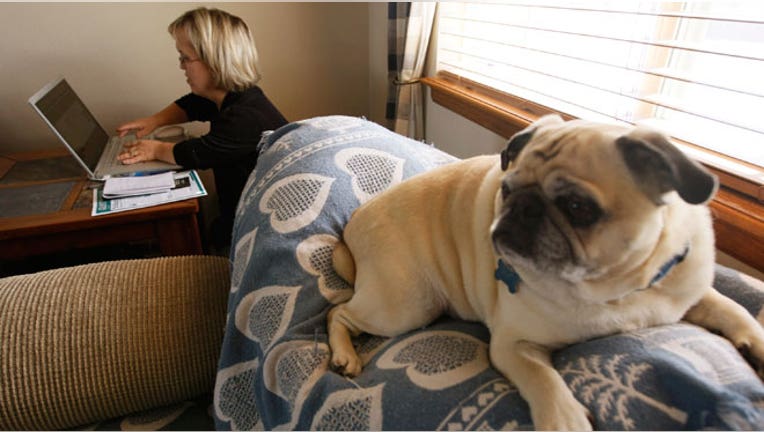 Where do dog owners want their pets to "sit" and "stay" for a while?
That's the question at the root of recent acquisitions in the pet-care space, as established companies and startups compete for pet owners' dollars. Earlier this week, veterinary-care giant VCA announced it was acquiring pet-boarding and doggie daycare franchise Camp Bow Wow for an undisclosed sum. And on Thursday, dog-sitting startup Rover.com said it, too, was making a purchase in the space, buying competitor Sleepover Rover (also for an unnamed price).
They're competing for a bite of the roughly $5 billion pet boarding space, according to Bob Vetere, president and CEO of the American Pet Products Association.
"Sleeping arrangements [for pets] is one of the fastest-growing segments in the pet marketplace, compared to vet spending, supplies or food," said Vetere. He added while pet spending didn't necessarily drop during the recession, dog owners seem to be increasing their spending at a fast clip as the economy improves.
"In a lot of cases they felt guilty that they couldn't take as good care of their pet in tough times, and seem to be in a big way [working] toward making [up for] that perceived shortfall," said Vetere.
VCA to Expand Pet-Care Services
VCA (NASDAQ:WOOF) operates more than 600 animal hospitals in 42 states across the U.S, and has a market cap of over $3.3 billion. With the Camp Bow Wow acquisition, the company seems to be making a play for its customers' pet-boarding dollars, in addition to their veterinary bills.
"They're interested in getting more involved in boarding and day camps, so they decided to acquire us," said Camp Bow Wow founder Heidi Ganahl, who grew her business over 14 years to over 152 franchises. "It was good timing for me, because I was at a point where I had to either raise some capital or shake things up to do something different."
Camp Bow Wow's concept was a reimagining of the pet-boarding experience. Dogs spend the day in both indoor and outdoor "play yards," where they're monitored by trained "camp counselors." At night, they go into individual areas, said Ganahl, where they sleep on cots and receive dog toys stuffed with peanut butter. Owners can watch Fluffy and Spot all day long on high-definition web cameras. The price tag ranges from $30 to $55, depending on the location.
By pairing up with VCA, Ganahl said she's in a position to once again rethink her offerings by expanding to new locations.
"We're looking at doing Camp Bow Wows or [combined] Camp Bow Wows/VCAs on corporate campuses, in airports and hotels," said Ganahl.  She said she and the VCA team want to make it even easier for dog owners to drop their dogs off for overnight stays or doggie daycare.
Tackling the Sharing Economy
Rover.com is one of two well-funded startups looking to disrupt pet boarding through a sharing economy model. Rover.com has raised a total of $25 million, while competitor DogVacay.com has closed $22 million.
Both Rover.com and DogVacay.com allow dog owners to book stays with dog-sitters through a web or mobile platform. Many of the dog-sitters aren't professionals, per se, but rather are dog-lovers looking to make some extra cash on the side.
Rover.com is based in Seattle; CEO Aaron Easterly said the acquisition of Sleepover Rover will help the company make inroads in markets such as Arizona and Los Angeles. Sleepover Rover offers in-home pet boarding, while Rover.com and DogVacay.com generally offers boarding in sitters' homes, rather than dog-owners'.
Easterly said the acquisition will also enable Rover.com to launch a premier service tailored to dog-owners with special-needs pets, or those who want a little more hand-holding through the process of selecting a sitter.
Though Camp Bow Wow may be a company to watch, especially now that it's backed by VCA's deeper pockets, Easterly said the main competition remains friends and family members who are asked to dog-sit.
"95% don't use a commercial solution when they travel," said Easterly, who added that dropping off at a kennel can be difficult for some dog-owners. He said he thinks highly of Heidi and her team, however, and thinks the play environment can be great for some pets.
"For less active dogs or those with special needs, Rover is probably a better option," he said.
As for Rover.com and DogVacay.com Easterly and investor Brad Feld said there's room for both companies to grow and thrive.
"It's a dogfight between Rove and DogVacay, because they are two emerging companies both approaching the market in a totally different way from incumbents," said Feld, a co-founder of Boulder-based venture firm Foundry Group. "Neither company is a huge company yet, and they're both growing rapidly, so there's an enormous amount of opportunity on both sides."
"I'm perfectly happy to be in a battle for market dominance in anything I'm an investor in," he added.