Dog Nation's Cesar Millan: I'm an Immigrant Success Story
Since beginning his career nearly three decades ago, Cesar Millan, aka the "Dog Whisperer," has become the world's leading voice in dog training and rehabilitation. He's built a successful brand synonymous with trust and loyalty.
"I wanted to be the best dog trainer it the world and I was passionate about it and I believed I can accomplish it. I speak no English, I had no money, I know nobody. Now, I have a TV show and write books," Millan tells FOX Business. "I'm an immigrant and so for me, it's what's the need in this country that no one is fulfilling…this profession didn't exist until I came into the picture," he added.
A Mexican-born immigrant turned entrepreneur, successful bestselling author and Emmy-nominated TV personality, Millan is taking to the small screen once again. In a new show called "Cesar Millan's Dog Nation," which premieres March 3 on Nat Geo WILD at 9 p.m. EST, Millan hits the road with his son Andre.
"It's different than all of the others shows I have done because it is community driven. It's definitely more looking for the story that has so much heart, people who are already making a difference," says Millan.
Traveling to seven different cities across the country, the Millans are putting a spotlight on hero dogs and extraordinary organizations. Different from past shows, Millan combines his personal one-on-one helpful hints, a live show and social media to help spread their message.
"It's not just me, it's many people. In order for us to transform the world, we have to do it collectively," he says.
Millan's son says he contributes to the show by utilizing his millennial expertise.
"I use social media and what I have around me to help spread the awareness and the education."
Millan's recently released book, "Lessons From The Pack: Stories of Dogs Who Changed My Life," focuses not on the do's and don'ts of owning a dog, but life's larger meanings.
"I learn so much from dogs. A dog has never been a student as it has a teacher; love, trust respect, loyalty, honesty…the book is the fundamentals of what I do," says Millan.
Millan has been very public about hardships in past years: the death of his trusted dog Daddy, divorce from his wife and a slew of bad business decisions that lost him $10 million, he told Rock Center's Kate Snow.
Bouncing back, Millan says his brand is still all about trust.
"I came with no money so I already mastered to live without money…for me it was more about the detrimental part, the trust. Trust was broken from the people I trusted," says Millan "I have to pick the right pack of humans who I can trust. I have to pick the right lawyer, the right businessman, everything you need in a company."
Taking those lessons, Millan continues to carve out a niche in the booming pet industry. Just last year, Americans spent a record-breaking $62 billion on their pets, reports the American Pet Products Association.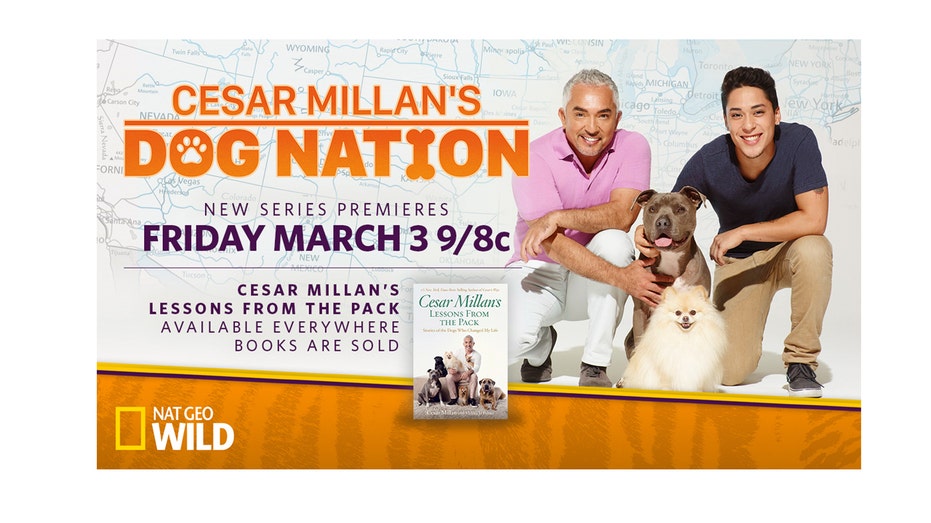 "What my dad taught me about business was in order to create a brand that will become a legacy, first you need to find out what your passion is, find out what you're really good at and utilize that in such a positive note that people can be affected by it long term," says Andre Millan.
Cesar adds: "We are all going to have obstacles along the way, but for me the ingredients were belief, passion and clear intention of what I wanted to accomplish."
Be sure to watch Cesar and Andre Millan's full interview above. Plus, find out which dog Millan thinks is the best for President Trump.