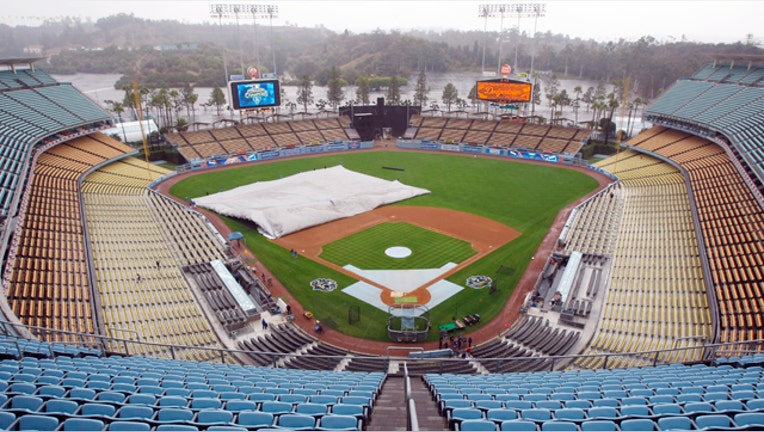 A group led by basketball superstar Magic Johnson has agreed to shell out a record $2 billion to acquire the Los Angeles Dodgers, ending a two-year soap opera over the baseball franchise's ownership and financial troubles.
In addition to Johnson, the acquiring group, Guggenheim Baseball Management, includes former MLB executive Stan Kasten, Bobby Patton, Todd Boehly and Mark Walter, its controlling partner.
"I am thrilled to be part of the historic Dodger franchise and intend to build on the fantastic foundation laid by Frank McCourt as we drive the Dodgers back to the front page of the sports section in our wonderful community of Los Angeles," Johnson said in a statement.
Last year the Dodgers filed for Chapter 11 bankruptcy and put the franchise up for sale following the messy divorce of owners Frank and Jamie McCourt.
"This transaction underscores the debtors' objective to maximize the value of their estate and to emerge from Chapter 11 under a successful plan of reorganization, under which all creditors are paid in full," the Dodgers said.
The $2 billion sale sets an all-time record for a U.S. sports team, trumping the $1.1 billion paid by Steven Ross to buy the Miami Dolphins in 2009. It also exceeds the MLB record of $845 million the Chicago Cubs fetched in 2009.
As part of the deal, Guggenheim is also buying Dodger Stadium and the surrounding Chavez Ravine property for an additional $150 million.
The sale was announced Tuesday evening, just hours before the team had been set to be auctioned off to three MLB-approved bidders. The competing bidders included a group led by hedge-fund billionaire Steven Cohen and a separate one headlined by Stan Kroenke, who owns the St. Louis Rams.
By finding a suitor for the Dodgers, MLB can move on from the headaches created by the uncertainty hanging over the franchise.
McCourt acquired the Dodgers from FOX Business parent News Corp. (NASDAQ:NWSA) in 2004 for $420 million in a ultra-leveraged transaction that saddled the team with debt.
"This agreement with Guggenheim reflects both the strength and future potential of the Los Angeles Dodgers, and assures that the Dodgers will have new ownership with deep local roots, which bodes well for the Dodgers, its fans and the Los Angeles community," McCourt said.