Do What You Love: The Mosaic Artist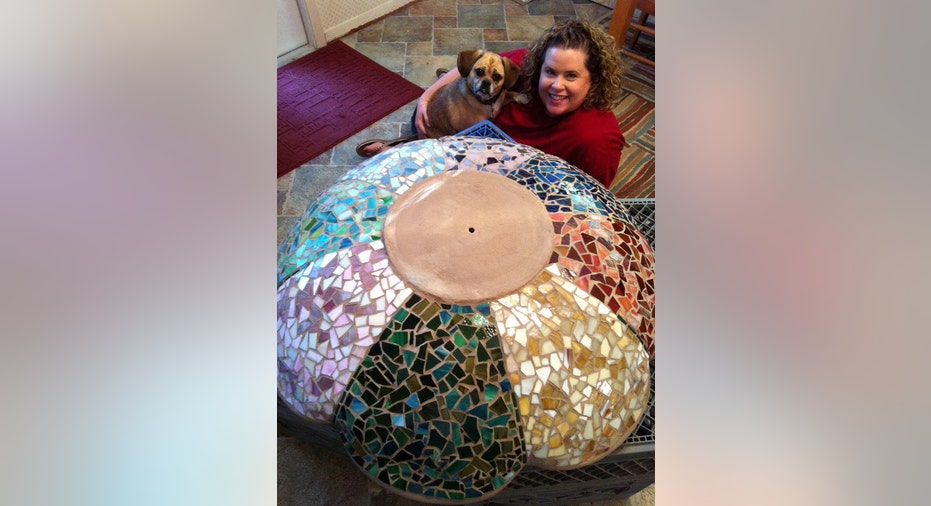 Ever dream about finding a way to do what you love for a living? In my "Do What You Love" column, I ask people who've done it to tell me their secrets. Here's hoping they inspire you to do the same.
When Ginger Araujo decided to save money by tiling her kitchen backsplash herself, she had no idea she was taking the first step in her journey toward doing what she loves for a living.
While working as a medical administrator, Araujo decided to save money on her kitchen renovation by creating her backsplash from tiles and old dishes. The result was impressive. Years later, she posted a picture of it on the DIY blog Curbly.
"I submitted my post to Curbly about a year ago, and to this day am still amazed at the response I receive," said Araujo, who subsequently decided to start a business called Mosaics by Ginger and does commissioned work for a variety of clients.
Her work ranges from water fountains to sculptures to framed wall hangings. She also does permanent installations in people's homes or businesses – some near her home in Houston, others around the country.
Araujo said her love of the arts started early.
"My mother infused the importance of the arts early in my life. In adulthood I became more drawn to visual art and experimented with different types – sculpture, painting, woodworking – but none of these kept my interest for very long. I honestly thought I'd lost my creative fire and chalked it up to just becoming an adult.
"Under it all, I always felt there had to be something out there that would move me enough to create so I would not only enjoy the end result but the process as well," Araujo said. Araujo said that when she started working on her backsplash, she never considered the project as "art."
"I had tunnel vision to complete my kitchen renovation and forged ahead!  As I gathered the never-to-be-used-again broken glass and ceramic pieces for my backsplash, I quickly started to feel the fire I once lost. Over the next several weeks, I pieced together my backsplash and was humbled by the power of mosaic design," she said.
That same power has entranced various civilizations for centuries.
"How could something so simple as a broken piece of glass be made into something so complex?" she wondered. "Each piece alone is integral, but when joined with others, becomes part of a more powerful existence."
"After the project was complete, I stood back and saw all the small pieces of my creative life that led me up to this point: the lyricism of song, movement of dance, harmony of band, and expression of theater," she said. "People say that you have to find a passion in life to enjoy life, to make your life meaningful.  Well, I am lucky.  I have always loved beautiful things and now I am creating them to share with others." The possibilities are endless, she said.
The cost of Araujo's mosaic projects varies depending on the size of the work, the materials she uses and how intricate the work is.
Pricing each project individually allows her to provide clients with exactly what they need, said Araujo, who still works in an administrative role at MD Anderson Cancer Center in Houston but hopes to run the business full time eventually.
Araujo's also been doing some more work for her best client – herself. She and her husband recently purchased a 1950s fixer-upper house and found an old fountain in the undergrowth in the back yard.
"I knew right when we found it that I'd mosaic the entire thing and did," she said.
Araujo still can't believe her initial home improvement project would lead her to start the business of her dreams.
"It is hard to imagine that it all began after tackling a kitchen remodel on a limited budget seven years ago," she said.
Jeanette Mulvey has been writing about business for more than 20 years. Follow Jeanette Mulvey on Twitter @jeanettebnd or BusinessNewsDaily @BNDarticles. We're also on Facebook & Google.