Do Numbers Speak Louder Than Words?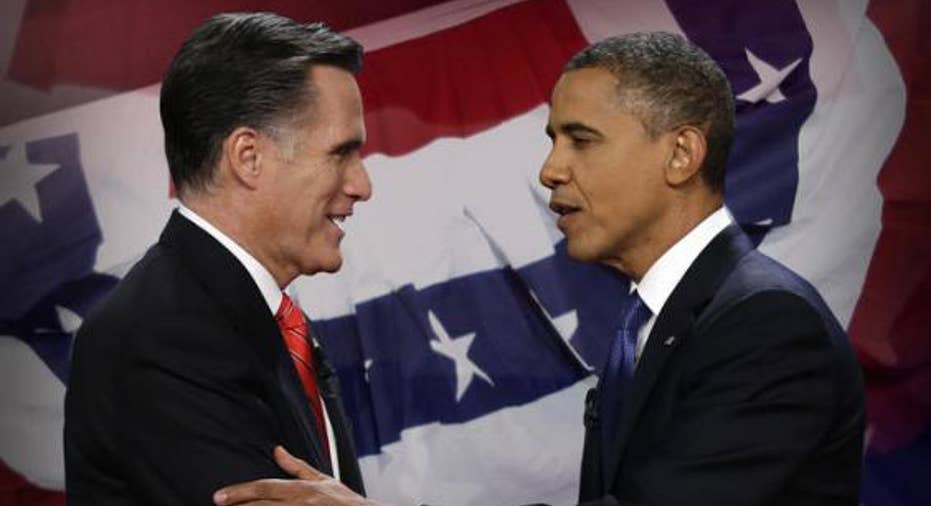 Ever since the jobs numbers made an impressive U-turn in a positive direction, policies have been watching to see when those numbers might show up in the presidential opinion polls. Well, today is the day.
Bankrate, a personal finance website, polled people on which candidate would have the better impact on their wallet; 29% said Obama, while 21% said Romney. It's worth noting that 45% said it wouldn't make a difference one way or the other.
In a similar survey conducted by Bankrate in June, the two candidates were tied with 21% saying their personal financial situation would be better under both Obama and Romney.
What a difference a few weeks can make!
In another question, 62% said their own finances will be a major factor in determining their vote. What's more, Bankrate's polling shows people still have concerns about whether they can hold onto their jobs and worry about their overall financial picture.
Now while Obama is winning the "war on the wallet" at the moment, Romney is showing improvement in the broader polling numbers.
Rasmussen reported its daily presidential tracking poll today, showing that Romney attracted support from 49% of voters nationwide; Obama earned a 48%, a virtual dead heat in other words.
In swing states however, Romney is showing strength. He leads in Florida with 51% versus 47% for the president. This is a notable difference from 2008, when Obama carried Florida over John McCain by a 51% to 49% margin.
In Virginia, Romney leads again with 49% to the president's 47%.
Ohio, on the other hand, is flipped; Obama has 48% to a 47% for Romney. The president had been up by nearly ten points for a while in the buckeye state.
Experts say the improved Romney numbers most likely stem from his debate performance two weeks ago; but polls, we must remember, can be inaccurate.
Just look back a few months ago, when almost every single person running for the Republican nomination topped the polls at one point or another.
In the Democratic primary in 2008, polls showed Hillary Clinton way ahead by at least ten points on average for months; then-Senator Obama was an afterthought.
Here's another example. In October of 2004, just a week before the presidential election, John Kerry was leading George W. Bush by two percentage points. Bush went on to win by an even larger margin.
So, tomorrow night we get yet another reading. Will Romney continue the momentum or will Obama rally? We'll find out in just 27 hours!
Last week we told you about two Colorado University professors whose fancy computer program predicted every presidential contest winner since 1980. One of those professors, Ken Bickers, joins me tomorrow. We'll get his take on numbers, and if they ever lie.