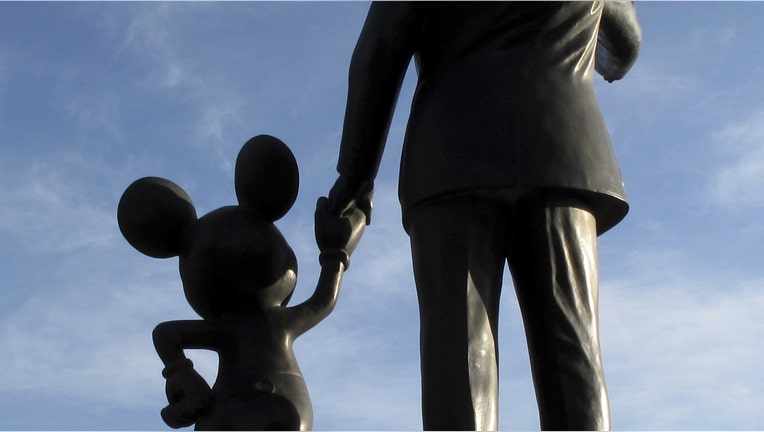 Nikole Zivalich uses her annual pass to go to Disneyland more than 15 times a year, but has long stayed away on Saturdays, which are almost always jam-packed with visitors.
Now, however, she also doesn't go within a week of any major holiday and is wary of Sundays, Fridays and Mondays. On one recent visit Main Street was so clogged that she was funneled by security behind the scenes, where she walked by dumpsters and the plywood backs of facades.
"I remember being bummed I had to see a nonmagical part of Disneyland," said the 28-year-old television producer.
Maintaining the magic at its theme parks is becoming increasingly challenging for Walt Disney, amid crowds drawn by new attractions, an improving economy and the popularity of franchises like "Frozen" and "Star Wars." Both Walt Disney World in Orlando, Fla., and Disneyland in Anaheim, Calif., have posted record attendance for each of the past three fiscal years, as well as for the spring quarter that ended in June.
As a result, for the first time in the 60 years since Disneyland opened, Disney is considering switching to demand-based pricing at its domestic parks, where tickets would cost less or provide added benefits on slower days, and cost extra or come with more restrictions on dates when there tend to be too many people.
"We have to look at ways to spread out our attendance throughout the year so we can accommodate demand and avoid bursting at the seams," said Walt Disney Parks and Resorts Chairman Bob Chapek.
Among the benefits Disney could offer with tickets are free parking and family photos.
Continuing to raise overall prices, as Disney has done at well above the inflation rate for several years, wouldn't fully solve the problem, said Mr. Chapek, as he is also seeking to raise attendance during slower times of the year. In addition, for Disney's brand, keeping park vacations within the reach of middle-class families is important.
Gruelingly long lines and gate closures, which Disney parks sometimes have to implement on the busiest days, lead to unhappy visitors, exactly what the operators of the "Happiest Place on Earth" want to avoid.
If the company can instead keep Disneyland and Walt Disney World full but not mobbed for more of the year, that would likely benefit the bottom line, with spending on food and hotels more than making up for any ticket price reductions. In the first nine months of the fiscal year ended in September, Disney's parks and resorts revenue grew 6% to $11.8 billion and operating income was up 16% to $2.3 billion.
Adjusting prices due to demand is common at hotels and airlines and Disney itself has long had tiers of annual passes that don't include admission on certain dates. But for single- or multiday tickets, the cost has always been the same at its domestic parks whether one goes on a rainy Wednesday in January or Memorial Day weekend, save for occasional Disneyland promotions for area residents.
This week, Disney will begin surveying previous visitors to gauge their reactions to different variable-pricing options. Mr. Chapek said that finding ways to "steer demand" through ticket options was critical, but that he has no predetermined conclusions about how exactly the company will do it or when.
Given the way demand-based pricing works in other industries, it isn't difficult to foresee a time when visiting one of Disney's parks on a major holiday would cost substantially more than the current $105 maximum price for a single day adult ticket in Orlando and $99 in Anaheim. Visiting on a weekday in the winter, by contrast, could come at a significant discount.
The company has offered tiered pricing at Disneyland Paris since last year, currently ranging from $64 for an adult ticket good only during "low season" to $94 for one that works year-round. Due in part to economic conditions, financial results have been stronger at Disney's two domestic parks recently than the three--soon to be four--overseas.
Disney has been in the midst of a multibillion-dollar expansion of its domestic parks over the past several years, including the new Cars Land in Anaheim's California Adventure, a revamp of Fantasy Land at Orlando's Magic Kingdom, and "Avatar" and "Frozen" attractions under construction in Orlando. Those help to expand the parks' capacity, Mr. Chapek noted, but spur even greater increases in demand, ultimately making the crowding problem worse.
"It's a problem that is going to grow over time as we expand the size of our parks," he said. Next year, Disney breaks ground in Orlando and Anaheim on new "Star Wars"-themed areas.
Another tool Disney has been using to manage crowds at its parks is technology, particularly the new My Magic Plus wristbands that let Disney World visitors reserve times for certain rides and meals before their arrival. That has increased capacity at the Magic Kingdom by 5,000 people, said Disney Parks & Resorts finance chief Spencer Neumann.
In a related initiative, Disney on Sunday is revamping its lineup of annual passes at both Disneyland and Walt Disney World. It added new options with date restrictions and raised prices about 10% in Anaheim, where the use of annual passes by local residents is much more common than in Orlando. The price of a "premier" pass that allows unlimited visits in both parks is rising more than 30%, to $1,439 from $1,099.
Write to Ben Fritz at ben.fritz@wsj.com