Disney Strives For 'Star Wars' Sales Record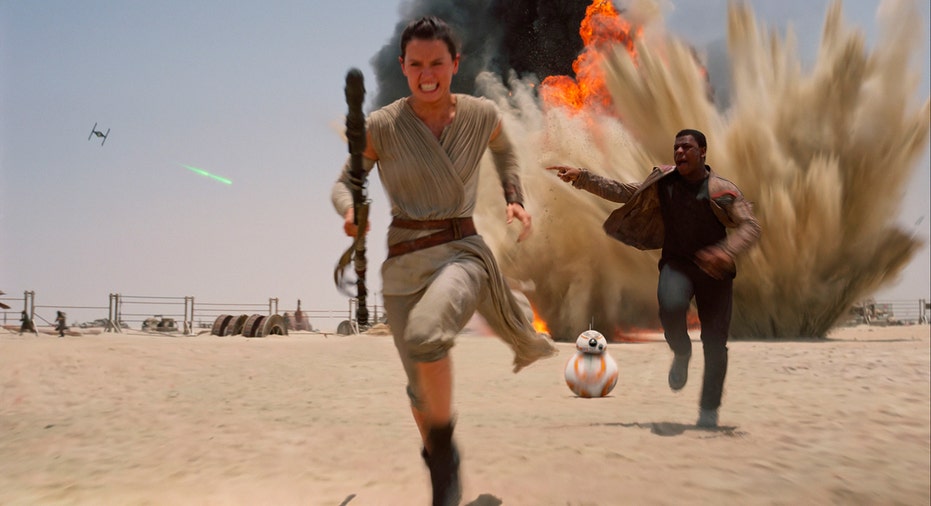 The Science Center of Iowa is currently playing educational documentaries like "The Great White Shark," "Journey to Space" and "Jerusalem" in its IMAX theater. Thursday night, it shifts gears and will premiere "Star Wars: The Force Awakens."
Thirteen museums and educational institutions with giant screens from IMAX  are playing Walt Disney's first "Star Wars" sequel this weekend -- a sign of the huge demand for the film, and of how much of that demand is concentrated in higher-priced "premium" theaters.
At the Iowa center, all but one of 14 screenings between Thursday and Sunday nights in its 216-seat dome theater are sold out. The venue sold 5,400 tickets at up to $13 each as of Tuesday, a record for the institution, a spokeswoman said.
Total advance sales in the U.S. and Canada now stand at more than $100 million, people familiar with the matter said, more than double the prior record.
Eighty-eight percent of tickets bought in advance are for the first weekend and 39% are for the first screenings on Thursday night, according to research firm Movio Media -- a sign of the huge number of Star Wars fans who don't want to wait to see the continuation of the original trilogy that ended in 1983.
"So many people wanted to see it opening day that they probably would have paid two or three times the face value of the tickets," said Movio Chief Executive Will Palmer.
IMAX's large-format and digital screens account for nearly 20% of the advance sales on Movietickets.com, although they represent less than 4% of the approximately 10,000 screens in more than 4,100 theaters that will play the movie domestically.
At Canada's largest exhibitor, Cineplex Inc., 80% of advanced ticket sales have been for "premium" showings that are projected either on extra-large screens, in 3-D, or both.
All of those options are more expensive than the average domestic ticket price of $8.25. IMAX tickets cost an average of $16.
If "The Force Awakens" breaks the "Jurassic World" opening weekend record of $209 million, a key reason will be fans' overwhelming preference to see it in the biggest, loudest, and most expensive theaters possible.
Estimates in Hollywood for "The Force Awakens'" domestic debut range from $175 million to $225 million. Eric Handler, an analyst at researcher MKM Partners, forecasts an opening-weekend gross of $215 million in the U.S. and Canada, including $30 million coming from IMAX. The current IMAX record is $21 million for "Jurassic World."
If demand proves to be particularly high, "exhibitors have a lot of flexibility in terms of capacity and increasing the number of shows," noted Dave Hollis, executive vice president of distribution for Disney's movie studio.
Its run starts Thursday in the U.S. and Canada and is widely expected to surpass the Thursday-night "preview" record of $43.5 million set by "Harry Potter and the Deathly Hallows Part 2" in 2011.
Typically, opening weekends in December aren't huge, as many people are distracted in advance of the holiday season. The current record is $84.6 million for "The Hobbit: An Unexpected Journey" in 2012.
But with many people off work and school around Christmas, December movies often have a large total gross compared with their opening weekend. "The Hobbit" went on to gross $303 million and "Avatar," the highest-grossing movie of all time, went from a $77 million domestic opening the weekend starting Dec. 18, 2009, to a domestic total of $750 million.
If audience word-of-mouth mirrors overwhelmingly positive reviews published on Wednesday, "Star Wars" could be on a similar trajectory.
A Goldman Sachs analyst on Wednesday predicted "The Force Awakens" will ultimately gross $750 million domestically and $1.95 billion globally. That would make it the third-highest grossing film of all time, behind "Avatar" and "Titanic."
The film opens in every major market except China this week; in several countries, including France, shows began on Wednesday.