Dip Your Toes Into Campus Life Through a Summer Program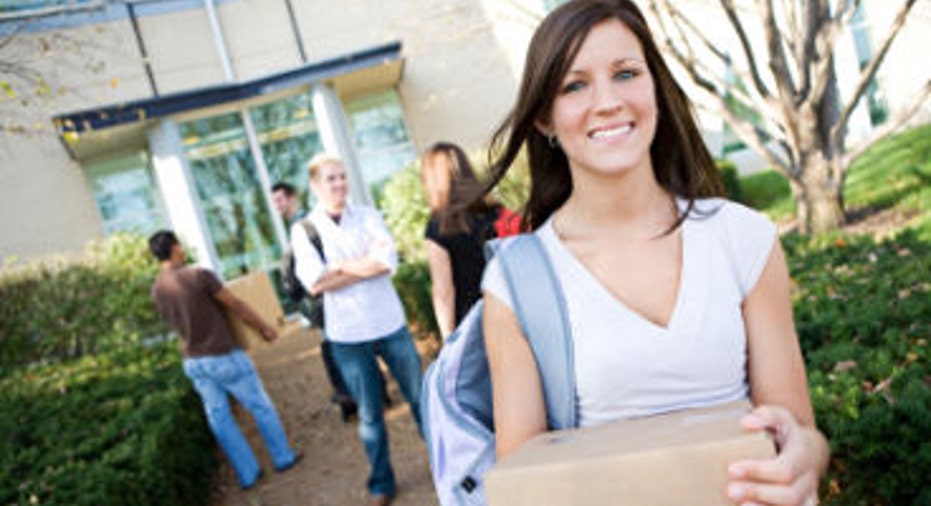 Growing up is tough enough without the worries of your financial future, so Money101  is here for you. E-mail us your questions and let us take off some of the pressure.
With the tough labor market, many incoming college freshmen are skipping finding a job and turning to summer programs to get a taste of campus life or to get a jumpstart on their academics.
Students have a variety of programs to choose from including programs abroad, at their local community college or recreational or vocation programs.
"Choosing the right summer program is a personal choice," says Emily Tzouanakis, Abbey Road Summer Programs and student relations manager. "When we talk to families, we always ask what their goal is for this summer."
Here's what college and summer program experts suggest incoming college freshmen and their families think about when looking into different college summer program models.
Academics
Taking a program or class over the summer can help incoming college students get ahead in their course load or test out of required courses, which can save time and money.
When deciding what programs to take, students should do their research and try to find programs that offer real-life experience that might help them get a feel for a major or career.
"If you're looking for specific programs, you want to look at who are they taught by--are they taught by real professors or are they taught by interns or intern professors? You really want to get a good experience while you're there," says David Mammano, founder and CEO of NextStepU."Any real world, hands-on experience would be wonderful."
Taking summer programs can help students get ahead in their required credits by either taking college courses for high school students, or testing out of them through the CLEP program, which allows students to gain college credit by taking qualifying exams.
For students only looking for credits, Brian Van Brunt, president of the American College Counseling Association (ACCA), recommends looking at online college summer programs, saying they are much more cost effective and more time flexible. Students should make sure any credits will transfer to their home school before enrolling.
"Be really careful about finding out when and what credits transfer to the schools so you're not spending all of this money and time in these classes and find out that they either only work for this one college or they're not directly transferable," says Van Brunt.
Get Comfortable in a College Atmosphere
Incoming freshmen benefit from taking a class or enrolling in a program at their college during the summer to get familiar with the campus and class schedules.
Van Brunt points out that most freshmen orientation sessions are only a few days and are jam packed with information, which can be overwhelming to new students; a summer program can help them ease into it.
"That [experience] would be a powerful, useful tool for most students to have so that they're not just lumped in with the other thousands of students all in the same weekend at the same time," he says.
For high school students, attending a summer college program allows them to become familiarized with what's important to them in a school and see what different institutions offer.
"Especially if you're considering that college, it's a great way to decide whether you really like it or not," says Mammano. "It's like taking the puppy home before you buy it."
If the program allows incoming students to stay on campus, experts recommend students try it out to make the transition of campus living easier.
"Having some exposure to a college campus on an overnight program versus a day program can give you exposure to not just the academic side of what it's like to be in college, but what it's like to live away from home," says Tzouanakis.
An on-campus program can also provide the chance to meet some potential classmates and get a feel for campus culture.
"They're doing classes that are also engaging in the students getting to know other students" says Van Brunt. "It gives them that opportunity to make some friends and form some social connections, which are very important to be successful academically as well."
Price Tag: What to Expect 
Depending on what type of program you're interested in and the duration, programs range from a couple hundred dollars to a couple thousand. Some programs may have fees for room and board and meals in addition to an initial deposit.
If a student is going to be living on campus, parents will want to make sure that their child is safe and inquire about curfew and the rules of the dormitories.
"From a parent's perspective, you want to look at safety; what is the supervision, what is the student to staff ratio, and how is supervision handled," says Tzouanakis. "[Students] might be living in a university residence without supervision and will interact with staff on a day to day basis, or there [may be] supervision and staff available 24 hours a day."
Informational sessions about specific programs and classes will give students a chance to talk to past participants to get  feel for what it's like.
While there are many benefits of summer academic programs, Van Brunt cautions students against doing too much too soon. In retrospect, they can feel as if they rushed themselves trying to "chase the credit" and that they missed some experiences, he says.
It's not really a race," he says. "[It's about] helping students live a little bit more in balance and not feel like [they have to] get a semester's worth of credit done during a summer program."