Dick's Sporting Goods Uses Documentaries to Reach Young Athletes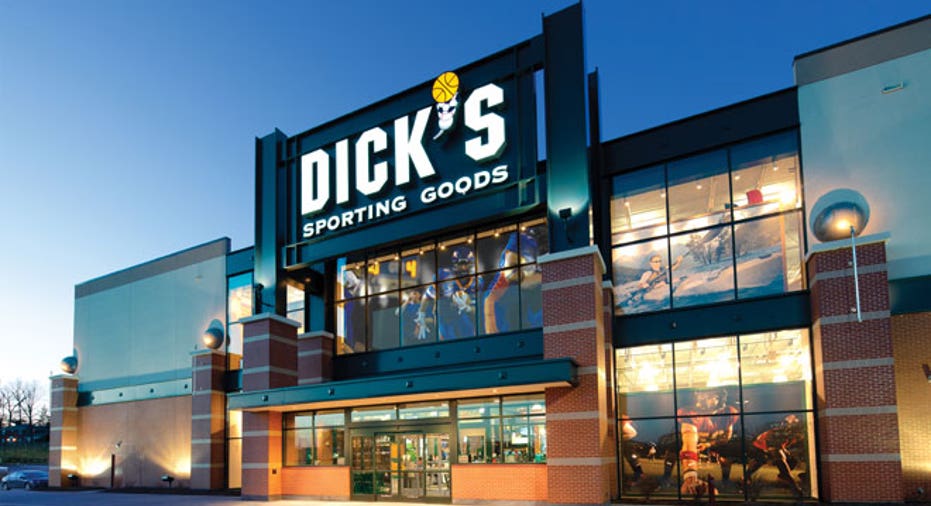 Dick's Sporting Goods (NYSE:DKS) has taken a page from Hollywood.
The retailer is preparing two new sports documentaries in an ongoing effort to support youth programs and spread the brand's message to athletes.
Dick's will fund one of the movie projects through its foundation, which aims to raise money for youth sports. The film, due out in early 2016, puts the spotlight on a high school girls lacrosse team. Previews are scheduled to air soon during SportsCenter on ESPN.
Last month, Dick's and its movie partner, Tribeca Digital Studios, announced another documentary that will give viewers a glimpse into the world of beach volleyball star Kerri Walsh Jennings as she trains for the 2016 Olympics.
Ryan Eckel, vice president of brand marketing at Dick's, said the first documentary three years ago generated a lot of buzz online.
"That gave us confidence that this is a good path for us," Eckel recalled. "Season after season, when we tell these stories that drive an emotional connection to sports, those are always our top-performing marketing vehicles."
It all started with "Hell Week," a series from Dick's that followed a Tennessee high school football team during preseason training camp. The second season of "Hell Week" was picked up by ESPN in 2013.
Dick's followed up with "We Could Be King" last year. The Emmy-winning documentary featured two high school football rivals in Philadelphia that were forced to merge after budget cuts.
Dick's hoped the story would call attention to the financial obstacles that threaten to shelve sports programs. The company tackles the issue through The Dick's Sporting Goods Foundation, a separate entity from the retail business.
The foundation recently unveiled a new campaign in partnership with crowd-funding website DonorsChoose.org. Dick's and its Sports Matter initiative will match up to $1.5 million in donations as part of a $25 million multi-year commitment to fund youth sports programs that face budget shortfalls.
School sports lost $3.5 billion in funding from 2009 to 2011, and 27% of U.S. public high schools will offer no sports by 2020, according to Up2Us Sports, a coalition of sports-based youth development programs.
Meanwhile, the non-profit Aspen Institute's Project Play says physically active kids achieve up to 40% higher test scores.
"The majority of people in the country don't realize there's an underfunding problem. The general feeling is that sports are flush with money, but there's a different picture. We're trying to bring it to people through storytelling," Eckel said.
In addition to supporting youth sports, Dick's is further shaping its brand image through the stories presented in its documentaries. The sporting-goods giant, using the power of Web video and traditional outlets, wants to develop content that speaks to athletes.
The film subjects are consistent with Dick's belief that "sports make people better," Eckel said.
"Now with all the distribution opportunities that are open to brands and everyone else, we can get in front of consumers with our message."
The next documentary from Dick's and director Judd Ehrlich, who worked on "We Could Be King," will tell the story of the girls lacrosse team at Salmon River High School. The Dick's Sporting Goods Foundation supported the two youth-focused films.
The upstate New York school, located near a Native American reservation, faces a cultural divide. Lacrosse can trace its roots to Native American tribes in the northeast, but the sport is "traditionally a sacred game played only by men," Dick's explained.
The movie about Jennings, a three-time Olympic gold medalist and mother of three, kicked off production last month with director and producer Gabe Spitzer on board.
"Representing my country as an Olympic athlete is an honor I take seriously – but I am the most proud of being a mother, wife and role model to young athletes," Jennings said in a statement. "I hope my story inspires viewers and provides them a glimpse of how sports have shaped my life."
Eckel said the Jennings documentary will feature prominently next year in the company's Olympics promotions. Dick's reached a sponsorship agreement in February to become the official sporting-goods partner of the U.S. Olympic Committee and Team USA.