Dick's Considers Buying Sports Authority Stores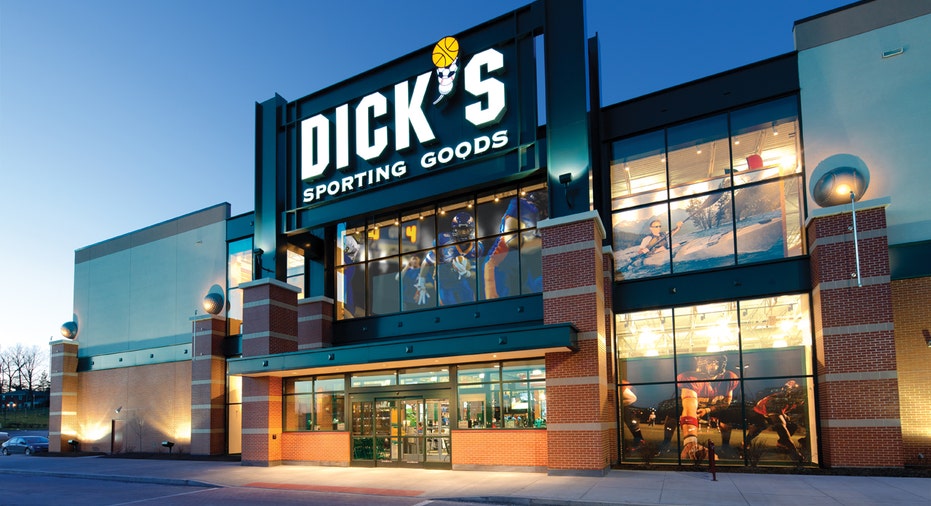 Dick's Sporting Goods (NYSE:DKS) said Tuesday it has interest in acquiring Sports Authority stores after the competing retailer went bankrupt.
Sports Authority, which once held the title as America's largest sporting-goods chain, was forced to enter bankruptcy earlier this week, citing $1.1 billion in debt and declining sales. The Englewood, Colo.-based company said it will seek buyers for 140 stores that are slated to be closed.
During an earnings call with analysts, Dick's CEO Edward Stack said the retailer will explore acquiring the leases to Sports Authority stores, depending on their location and whether it makes economic sense for Dick's.
"We'll certainly take a look at some of those [stores]. They've got some real estate that we would be interested in," Stack said.
Stack later cautioned that it's still early in the process. "This is all very new information. We're just taking a look at the stores that they're closing," he said. "We're taking a look at what stores that we may be interested in, and then we've got to do a deep analysis of what's associated with those leases."
Sales Gains?
Any retail locations acquired from Sports Authority would be added on top of Dick's current plans for new stores, Stack noted. Dick's runs 644 of its namesake stores, plus 73 Golf Galaxy stores and 19 Field & Stream stores.
Dick's believes it can capture sales left behind by Sports Authority. According to Stack, approximately 90 to 100 Sports Authority stores marked for closure are located near an existing Dick's store.
"We're going to be very aggressive to go after that displaced market share so it comes to us versus another competitor," Stack said.
According to analysts at Deutsche Bank, Dick's stores are positioned to grab 20% of sales from closed Sports Authority locations. Overall, Dick's could reap a 2% increase in annual sales, while a complete liquidation by Sports Authority could add 7% to Dick's top line.
Pittsburgh-based Dick's, which also competes with the likes of Modell's and Academy Sports & Outdoors, has already benefited from Sports Authority's downfall. Stack mentioned that Dick's paid discounted prices for merchandise that vendors planned on shipping to Sports Authority.
Shares of Dick's rallied as high as 2.8% on Tuesday following the conference call with analysts. The stock initially posted red ink, reacting to a 17% decline in earnings for the fourth quarter ended Jan. 30. Dick's also provided first-quarter guidance that fell short of Wall Street's estimates.
Looking Long-Term
Same-stores sales for Dick's Sporting Goods locations fell 2.5% during the period, worse than expected. Like other retailers, Dick's said a warm start to the winter dampened sales of cold-weather apparel.
"If we're playing golf in Pittsburgh on December 15, it's going to be a relatively tough quarter," Stack said.
Looking ahead, Dick's has allocated $50 million to $55 million for strategic investments in fiscal 2016. The investments will focus on brick-and-mortar stores and e-commerce, as well as the company's brand partnerships with Team USA. The 2016 Summer Olympics in Brazil will begin in August.
"There's a lot going on, and we need to take advantage of what's going on in the marketplace," Stack said. "We're doing what's right for the business long-term. Although some people on the Street may not agree with it, we're doing what's right for the business long-term, not from one quarter to the next.
Dick's, which hit a lifetime high of $60.33 in April, has retreated 21% over the last 52 weeks. However, as of Monday's close, the stock has gained 25.4% since the start of the year.