DHL to Begin Drone Delivery for Packages in Germany – Will the U.S. Follow?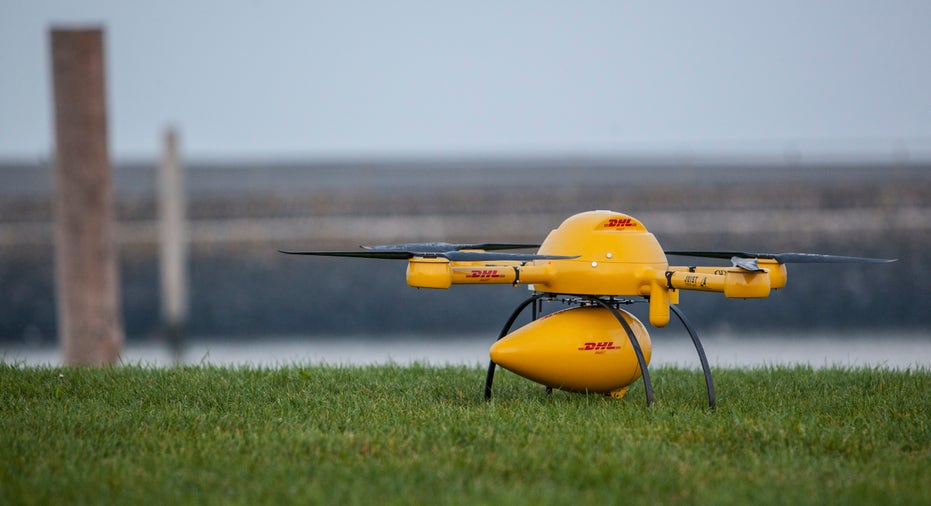 DHL is taking a giant step toward making drone delivery a reality in Europe, with a pilot program beginning Friday in the North Sea.
The German logistics company announced this week that it will start delivering medications using DHL's unmanned "parcelcopters" to the small, car-free island of Juist. DHL says it has no current plans to use parcelcopters in normal delivery operations. But if the pilot program is a success, the company says it could use drones in emergency situations to deliver packages to remote areas.
Aside from DHL, Amazon (NASDAQ:AMZN) and Google (NASDAQ:GOOG) are both exploring the concept of using unmanned air vehicles for deliveries. In August, Google completed delivery tests using drones in Australia, successfully sending items like chocolate bars, first-aid kits and dog treats to farmers 100 miles outside of Brisbane. And in July, Amazon submitted a petition to the Federal Aviation Administration (FAA) requesting permission to test its delivery drones outdoors in the United States, having developed aerial vehicles capable of carrying 5-pound packages at speeds of over 50 miles per hour.
But regulatory hurdles will likely keep U.S. drone deliveries at bay for quite a while. On Thursday, the Federal Aviation Administration is expected to announce it is granting permission to several film production companies to use drones on-set. But a FAA spokesman told FOXBusiness.com that the ETA on drone delivery is very much up in the air.
"[W]e are going to put out a proposed rule for small unmanned aircraft under 55 pounds before the end of this year," said the spokesman Thursday. Then, the FAA will have to accept public comments, analyze those comments and draft the final rule.
"I can't speculate how long that will take … we know rule-making can take a while sometimes," explained the spokesman.
He added that U.S. airspace is the busiest and most complex in the world, and the FAA's focus is on maintaining safety. He acknowledged, however, that the FAA is sensitive to complaints that regulations are putting an undue burden on evolving drone technology.