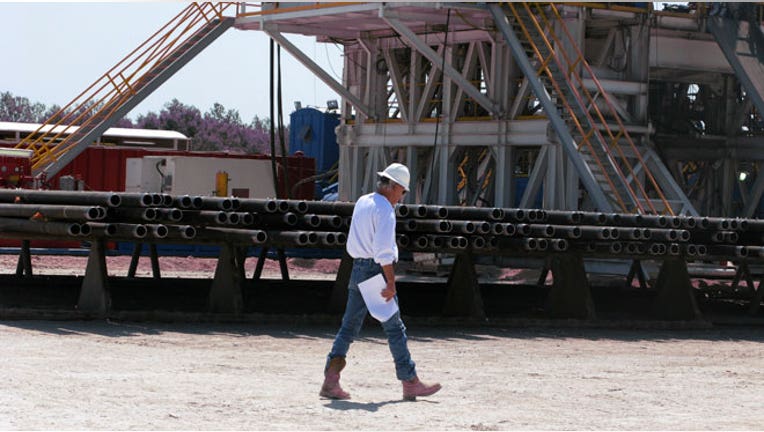 Devon Energy (NYSE:DVN) announced a deal to buy closely held GeoSouthern Energy's Eagle Ford assets for $6 billion in cash, boosting the oil and gas producer's exposure to the shale oil boom.
The Eagle Ford shale play in southern Texas has quickly surpassed production at North Dakota's Bakken, where the use of hydraulic fracturing and horizontal drilling first became prominent. Devon was the first company to combine the technologies.
According to the Energy Information Administration, Eagle Ford production hit one million barrels a day in August.
Devon, one of the largest independent exploration and production companies in the U.S., helped pioneer drilling for natural gas. The GeoSouthern deal, the largest domestic oil and gas transaction this year, puts Devon in a position to pump more crude oil.
The assets currently produce 53,000 barrels of oil equivalent and include 82,000 net acres with at least 1,200 undrilled locations.
The risked recoverable resource is estimated at 400 million barrels of oil equivalent. Oklahoma City-based Devon said the majority is proved reserves.
"With this transaction, we have secured a premier acreage position in the very best part of the world-class Eagle Ford oil play," Devon CEO John Richels said. "This acquisition enhances our already strong North American portfolio by adding another low-risk, light oil asset that provides outstanding well economics and self-funded growth."
The deal is expected to immediately benefit Devon in "virtually every metric," including cash flow, Richels added.
Devon said it will fund the acquisition with cash on hand and borrowing. The company expects to close the deal in the first quarter.
Blackstone Group (NYSE:BX), one of GeoSouthern's investors, will exit the Texas-based company as part of the transaction.
Devon shares advanced 2% to $64.03 early Wednesday morning. Blackstone edged 10 cents lower to $26.37.