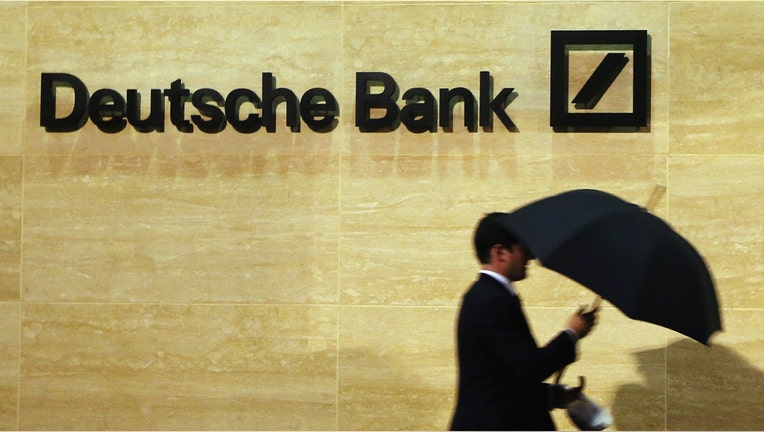 Deutsche Bank on Thursday announced plans to cut 35,000 jobs over the next two years as part of a sweeping overhaul under new co-Chief Executive John Cryan.
The lender's so-called 'Strategy 2020' includes plans to cut the number of clients served by its investment banking and markets business by 50%. The reductions will be focused on "higher operating risk countries."
Deutsche also said it would close certain investment-banking operations in Chile, Mexico, Denmark, Finland and other countries, and exit certain rates products and plans to wind down noncore operations by 2016.
As a result of the changes, the bank is forecasting cost savings of EUR3.8 billion ($4.15 billion), although restructuring and severance costs will total between EUR3 billion and EUR3.5 billion, mostly through 2016.
Details of the broad reorganization came as the bank reported a EUR6 billion net loss for the third quarter, in line with its recent warning after writing down the value of key investment-banking and other assets amid a deep restructuring, citing tougher regulatory requirements.
Germany's largest lender had announced more than EUR7 billion in asset impairments and other expenses earlier this month that it said would weigh on its results for the three months ending Sept. 30.
The bank said total revenue was EUR7.3 billion in the third quarter, down 7% from a year earlier. The decline was largely driven by asset impairments.
The bank is planning to shed a range of holdings including its Postbank retail unit and is setting out broad cost-cutting plans including moves to exit certain markets. New co-CEO Mr. Cryan and a newly reshuffled team of senior executives on Wednesday night laid out fresh companywide financial targets the bank has set as it tries to distance itself from a series of past financial and regulatory failings and grapple with stringent new regulatory demands.
Mr. Cryan called the third-quarter earnings "a highly disappointing result that was largely driven by items we had already flagged earlier in October."
Deutsche Bank said Wednesday night that as part of its efforts to conserve capital, it won't pay shareholders a dividend this year or next, but will aim to resume a "competitive payout" in 2017.
It also outlined targets for lowering its reliance on debt to fuel profits, and said it would improve capital buffers and cut deeply into costs.
The bank said Thursday that its litigation reserves increased by EUR1 billion in the third quarter, to EUR4.8 billion. It said litigation charges were EUR1.2 billion in the third quarter.
Deutsche Bank said its investment-banking division, which includes deal advisory and markets businesses, had EUR3.2 billion in revenue, up 2% from a year earlier "despite challenging market conditions." Debt sales and trading revenue were stronger than the same period a year ago, rising 20%, while equity sales and trading revenue declined 19%.
Revenue from deal advisory work was up, offset by "significantly lower" equity-origination revenue.
The bank said its common equity Tier 1 ratio, which measures high-quality capital as a share of risk-weighted assets, was up slightly to 11.5%. The bank said Wednesday night it is targeting the ratio to be at least 12.5% by 2018, compared with 11.4% at the end of June. A key measure of leverage, or debt used to generate profit, was largely unchanged, the bank said.
The third-quarter results are the second to be reported under Mr. Cryan, who in July replaced former co-CEO Anshu Jain. Mr. Cryan is due to become sole CEO in May when co-CEO Jürgen Fitschen leaves his post.
Write to Jenny Strasburg at jenny.strasburg@wsj.com