Deutsche Bank slumps to quarterly net loss as legal costs weigh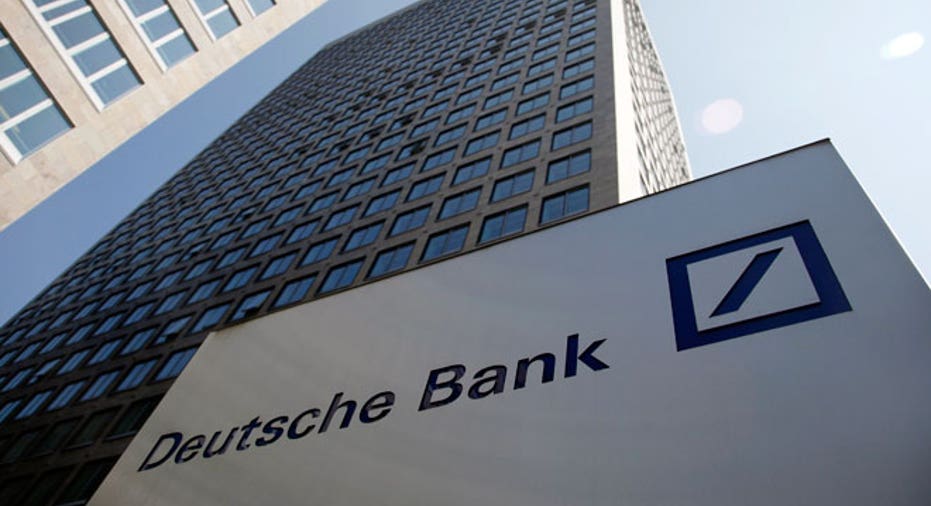 Deutsche Bank AG fell to a net loss in the third quarter after falling victim to the legal costs which already this week prompted a management reshuffle designed to help tackle a long list of unresolved litigation issues.
Germany's top lender has stumped up around 7 billion euros ($8.9 billion) in fines and charges since 2012, overshadowing management efforts to restructure and reform the bank and making its stock one of the worst performers in the European sector so far this year.
The bank, which in June raised 8.5 billion euros to strengthen its balance sheet, originally hoped to clear the decks of legal issues in 2014, but has postponed that target to 2015. "There continues to be significant uncertainty about the timing and size of potential impacts" of litigation, Chief Finance Officer Stefan Krause said.
Its shares fell 1.4 percent by 7.03 a.m. EDT on Wednesday, contributing to a 28 percent fall so far this year and placing the bank just a notch ahead of National Bank of Greece <NBGr.AT> in performance rankings in the STOXX Europe 600 index of European banks <.SX7P>.
Deutsche Bank also sounded a note of caution on some of its revised 2015 profit goals after spending 894 million euros on litigation in the quarter, saying conditions remained challenging in several areas including "transaction" banking, or the provision of money transfers, trade finance and treasury services to corporations.
Signaling it had not done enough to resolve a long list of lawsuits and investigations in areas such as the setting of benchmark interest rates, the bank had said on Tuesday it was reorganizing its management board and had created a new role focused on legal issues, to be taken by audit head Christian Sewing.
"We aim to resolve these (issues) as soon as possible," co-Chief Executive Officer Anshu Jain said on a conference call.
Separately, Deutsche named Marcus Schenck, a London-based Goldman Sachs <GS.N> investment banker and former finance chief of German energy group E.ON <EONGn.DE>, to replace CFO Krause, who will take on a new board seat in charge of strategy.
FURTHER PENALTIES
The bank is two years into a turnaround plan that has led to costs falling and operating profit rising, but the threat of further penalties from alleged misconduct has cast a shadow over its share price and management's success claims.
Investigators are looking into possible attempts at interest-rate and forex-benchmark manipulation, high-frequency trading, possible violations of U.S. sanctions on Iran and other activities.
Deutsche fell to a quarterly net loss of 92 million euros from a 51 million profit in the year-earlier period, while net revenue increased a modest 2 percent.
Pretax profit rose 3.6 percent in Deutsche's important investment banking division, boosted by a 15 percent jump in revenue derived from trading debt and foreign exchange.
But that trading jump lagged a 24 percent rise seen by U.S. rivals such as Citibank <C.N> and JP Morgan <JPM.N>, according to Reuters calculations.
"Other banks took better advantage of market opportunities in this quarter than Deutsche Bank," said analyst Guido Hoymann at brokerage Metzler Securities.
(Additional reporting by Clare Hutchison; Editing by David Holmes)