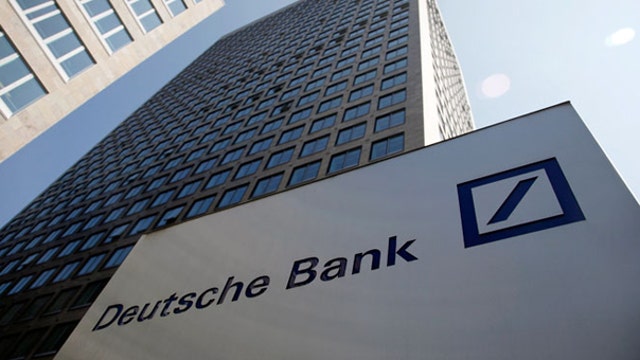 Deutsche Bank AG's shares rose sharply Monday as investors welcomed a shake-up its top management, although analysts warned that the bank's new CEO needs to move quickly to bolster the German lender's strategic plans.
Sunday's news that co-Chief Executives Anshu Jain and Jü rgen Fitschen would resign and hand the reins to supervisory board member John Cryan came after several years of legal battles and weak results had eroded investor confidence in Germany's largest bank at home and abroad.
Mr. Jain will step down at the end of the month, while Mr. Fitschen will depart next spring. Mr. Cryan is a formerUBS AG financial chief and senior executive of Singapore's Temasek Holdings Pte. sovereign investment vehicle.
By midmorning Deutsche Bank shares were up 6%.
"With John Cryan as CEO, we think Deutsche is transitioning from one of the least credible management teams in investors' minds to one of the most highly regarded," Jefferies said in an investor note.
As a supervisory board member, Mr. Cryan signed off on management's strategy plan, which was scant on detail. It isn't clear if and how he would focus it.
"From the press release it seems as though John Cryan may try to deliver this plan, but if he doesn't make significant changes and accelerate expected delivery of returns the market will be disappointed," BNP Paribas said in a research note Monday.
Last month, only 61% of shareholders expressed confidence in management's strategic plan at the annual meeting, the lowest approval in the history of the bank.
"It isn't clear what options he has, but we think adding some credibility will not be enough," BNP Paribas added.
Several investment analysts said that the bank will need more than a new face. For Berenberg analysts "the longer term issue about the core profitability of the business needs more than a new CEO to resolve," despite a likely boost to the share short term.
The move could reopen the debate on strategy, Credit Suisse noted, which is maintaining a neutral rating and a target price of €30.50 ($33.84).
Write to Monica Houston-Waesch at nikki.houston@wsj.com