Deutsche Bank shakes up investment bank to regain lost ground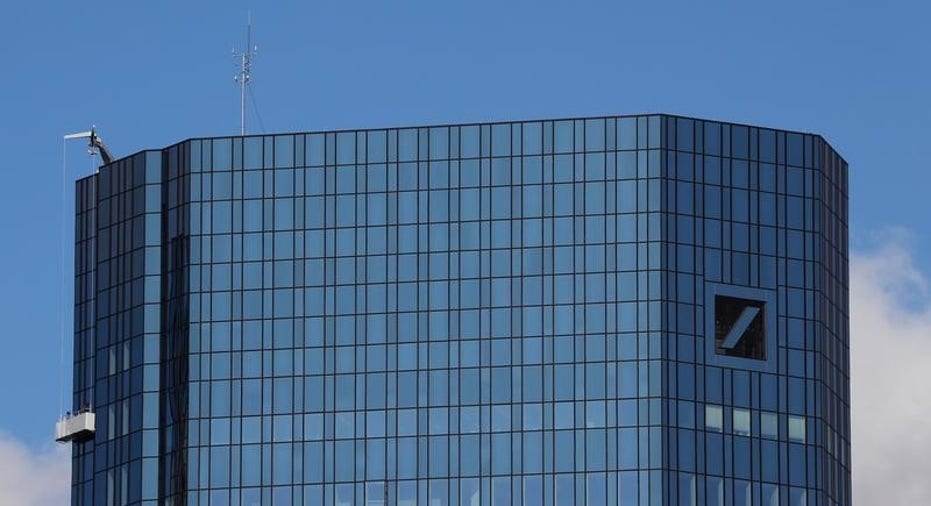 Deutsche Bank promoted a group of its senior investment bankers on Tuesday, part of an internal reshuffle as it tries to boost its flagging performance in corporate mergers and acquisitions and capital markets.
The German bank, threatened with a multi-billion-dollar fine from U.S. regulators, saw its global investment banking fees fall nearly 30 percent to $2 billion in the first nine months of the year, slipping behind its nearest European rival Barclays to seventh position in the investment banking league tables, according to Thomson Reuters data.
But Alasdair Warren, the bank's head of corporate and investment banking for Europe, Middle East and Africa (EMEA) told Reuters he's confident the German lender can recover some lost ground over the next 12 months, particularly in equity capital markets (ECM), and he is making a series of changes to the investment bank's structure.
"We're confident that we can rise back up in the ECM league tables," said Warren, a former co-head of the global private equity advisory business at Goldman Sachs, who joined Deutsche in May this year.
Deutsche Bank has seen fees from global equity products take the biggest hit in the first nine months of year with a 45 percent decline to $328 million. In the same period its global M&A fees went down 31 percent while fees attached to global loans and bonds slipped 36 percent and 14 percent respectively.
The bank's share price has almost halved this year, prompting speculation that it could lose some of its top investment bankers.
Last week its global co-head of real estate, gaming and lodging Massimo Saletti left to join JPMorgan while on Tuesday sources with direct knowledge of the matter said its Asia Pacific wealth management head Ravi Raju is moving to UBS.
But Warren has promised to reward those in his division who stay at the bank with "career opportunities" despite having a limited budget for expensive rainmakers.
He is trying to shift the investment banking business to focus more on providing clients with long-term advisory services in dealmaking.
"Previously, there was a greater focus on markets and financing-related products, whereas we're now focusing on building long-term strategic dialogue and relationships, and refocusing our client coverage," he said.
He announced a series of changes to staff on Tuesday including promoting Bob Douglas to head its EMEA consumer and retail corporate finance team, where he has been working for the last decade. Douglas will continue to report to Scott Bell, global co-head of consumer, who has been given an additional role as the head of UK and Ireland corporate finance.
In Britain Charles Wilkinson, co-head of UK corporate broking, becomes chairman of the division, while Matt Hall succeeds Wilkinson as co-head of UK corporate broking alongside Andrew Tusa.
These appointments are aimed at revamping Deutsche's UK business with some bankers, including Bell and Tusa, also joining a new leadership group for UK corporate and investment banking.
"PEOPLE AGENDA"
Meanwhile Warren has tried to address gaps in Deutsche's dealmaking capacity across Europe. For example the bank had no one based in its home country to look after the industrials sector, the biggest source of deals in Germany.
"We have great product capability and geographical coverage but we need to add resources to some of our sector coverage teams," he said.
"Most of what we are doing will be driven by our existing people, but we will make a few external hires to add to our coverage in certain sectors," he added.
So far this year the bank has failed to rank among the top three advisors for the biggest announced deals in each industry, according to Thomson Reuters data, and was unable to advise Bayer on its $66 billion takeover of Monsanto , the biggest deal ever clinched by a German buyer, having pledged loyalty to a rival suitor.
Warren said he has a "people agenda" and while pay remains important he will also use "career opportunities" to motivate staff.
"In order to attract and retain talent, you can't simply focus on compensation," he said.
"We have a 'people agenda' and it's all about offering people the opportunity to grow and develop as professionals. We evaluate their performance twice a year and monitor their progress."
EFFICIENCIES
Among other changes aimed at streamlining the business, Warren has decided to merge the bank's maritime industries business into the global industrials group within corporate finance, appointing Craig Fuehrer as global head of maritime industries in addition to his role as head of transportation industries across the Americas.
At the same time Michael Zolotas becomes head of maritime industries across EMEA, while Peter Illingworth continues in his role as head of maritime industries in Asia Pacific. Klaus Stoltenberg becomes chairman of the global shipping business, having hitherto been global head of the same unit.
Deutsche Bank is also seeking to develop more cooperation among its funds teams, replicating a similar structure to that implemented by Goldman Sachs and JPMorgan where private equity teams work alongside those focusing on sovereign wealth funds, pension funds and family offices.
As a result Evans Haji-Touma and Ashok Pandit have been appointed as global co-heads of sovereign wealth funds, pension funds and family offices, to be based in London and Hong Kong respectively.
They will report to Mike Walsh and Adam Bagshaw globally, who act as co-heads of private equity across the world, and to Alasdair Warren and James McMurdo regionally.
(Editing by Greg Mahlich)