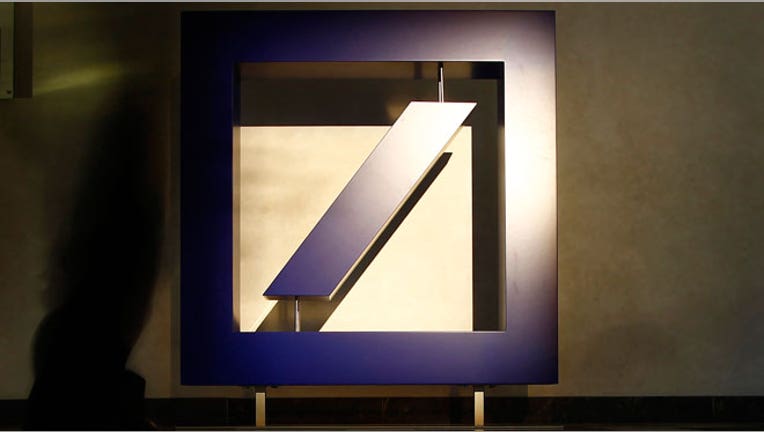 Deutsche Bank could turn to shareholders for cash to strengthen its capital base after first-quarter profits fell by more than a third.
The fall in profits coupled with costs related to litigation and new European rules to strengthen the region's banks have all put pressure on Deutsche's capital.
There has already been speculation Germany's largest bank will need to raise equity before long.
"We would not rule out any option," the company's co-Chief Executive Anshu Jain said on a conference call on Tuesday with analysts following publication of first-quarter results.
Tapping existing shareholders for cash represents a change in Deutsche's plans after it said in January it had not discussed raising equity since getting 3 billion euros ($4.15 billion) from shareholders last year.
"They clearly have said today that it is an option," Jon Peace analyst at Nomura in London said. Peace said investors expect a share issue worth 3 billion euros or more.
"They're still toward the lower end of their peer group in terms of regulatory capital," he said.
Chief Financial Officer Stefan Krause said the priority would go to retaining earnings, selling non-essential assets and other so-called organic measures to bolster capital. But after that, the door was open to cutting banker bonuses and dividends and to raising fresh equity, he said.
Krause said bank health checks by European regulators had made it difficult to quantify capital needs.
The bank said it expected to face a hit of 1.5 to 2.0 billion euros due to new European Union regulations expected to come into force this year that impose prudent valuation rules on assets. That effect plus weaker results may complicate the bank's plans to fortify its capital base through retained profit.
Pretax profit at Deutsche's investment bank, it's biggest division, fell by more than a fifth, dragged down by a 16 percent year-on-year fall in trading revenue from fixed income, currencies and commodities.
Revenue declines in trading, especially in bonds, have already hit investment banking results at Barclays, JPMorgan and Citi.
Deutsche's net profit in the first quarter fell by 34 percent to 1.1 billion euros as an industry-wide slump in bond trading revenue depressed results.
The bank repeated its targets for 2015, which call for a post-tax return on equity (ROE) of over 12 percent for the group. The bank posted an ROE of 7.9 percent for the quarter.
Deutsche Bank had been expected to post quarterly net profit of 924 million euros, according to the average of a Reuters poll.
Shares in the bank rose 2.1 percent compared to a 1 percent gain in the STOXX Europe 600 bank index. ($1 = 0.7223 Euros)