Detroit Realtors Optimistic Despite Bankruptcy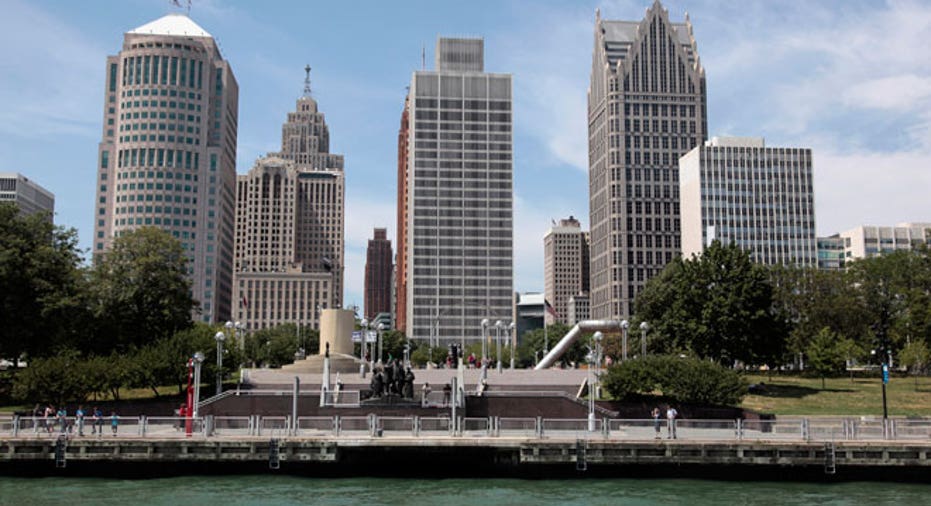 Two Detroit realtors see the city's filing for Chapter 9 bankruptcy protection this week as a potential turning point toward rebirth.
"I think a lot of people feel that getting rid of some of the debt will allow the city government to reinvest in the city neighborhoods that haven't seen investments or city services," says Austin Black II, a broker and the president of City Living Detroit.
He says recent growth in the downtown and midtown areas of the city has been fueled by an influx of young-somethings and corporate investments -- in spite of the government's unbalanced books.
"Once the city becomes a partner, we'll achieve greater things," he says.
The overall population exodus from the debt-laden city is a decades-old reality.
"Flight has been going on for a long time. We lost half of the population since 1950, and a quarter since 2000," says Eric Lupher, the director of local affairs at public policy organization the Citizens Research Council of Michigan.
He says safety concerns are the driving factor behind the latest wave of people leaving—but only parts of the city are feeling the drain.
"There are two real estate markets in Detroit," Lupher says, one consisting of the downtown and midtown areas, and the other made up of neighborhoods on the far east side of the city and the west side.
"It's an urban jungle – they're giving properties away," he says of the latter category. "It's hard to assess a property, and there are no willing buyers. There's no price you can put on it."
While Lupher describes it as "two worlds" in one city, he is hopeful with the bankruptcy filing that the city can now get closer to starting on a path to recovery.
"As public services start to be delivered, there will be interest in coming back to the city," says Lupher. "What will determine growth is whether they feel safe, and whether there's a place they can send kids to school."
And while Lupher sees Detroit's future as full of possibility, he says Thursday's bankruptcy announcement has knocked morale to "an all-time low."
Demand Outstrips Supply in Downtown Area
While the outskirts have struggled in recent years, Black says private investment has been instrumental in bringing residents back to Detroit's downtown and midtown areas.
"Major investors like Dan Gilbert [of Detroit's Quicken Loans] who are investing billions of dollars, leads to young entrepreneurs opening businesses," says Black. "In these areas, demand has gone up."
Black says many companies and institutions, including Detroit Medical Center and Wayne State University, are giving incentives to workers to live in the downtown area.
"About seven or eight companies are offering incentives to purchase or rent. If you lease, you get $2,500 a year, and $20,000 to purchase," he says.
Aside from those incentives, Black says young people are returning to Detroit because they want to be part of the city's revitalization process.
"I deal with a lot of people relocating from outside-city, suburban areas who want to be in the city and want to be part of the change," he says.
He's not the only one seeing the movement.
"Young people are coming downtown to work, and they get excited. It's kind of funky –there are new bars, new restaurants, casinos, all kinds of clubs, and they want to live down here," says Charles Mady, the president and CEO of Detroit's Exclusive Realty.
Because of the high demand, Black says prices have risen dramatically in those neighborhoods – and he sees it unlikely that the city's bankruptcy proceedings will slow the trend.
"We're working with a 98% occupancy rate … in an OK building, you can rent for $900 to $1,000 a month, and for a new building, $1,200 to $1,400 a month," says Black.
Mady foresees more development in the near future.
"A lot of investors are looking at turning old office buildings into more residential properties," he says.
He believes Detroit will bounce back from bankruptcy stronger than ever.
"When GM went bankrupt, I was in shock. It was the 8,000-pound gorilla going bankrupt – they were scared. Now, they're as good as ever.
"We have a lot of talented people here in Detroit, and investors in Detroit are going to see that the risk is a little higher, but the returns are going to be higher if you know what you're doing," says Mady.