Detroit Contracts Expose Auto Workers' Anger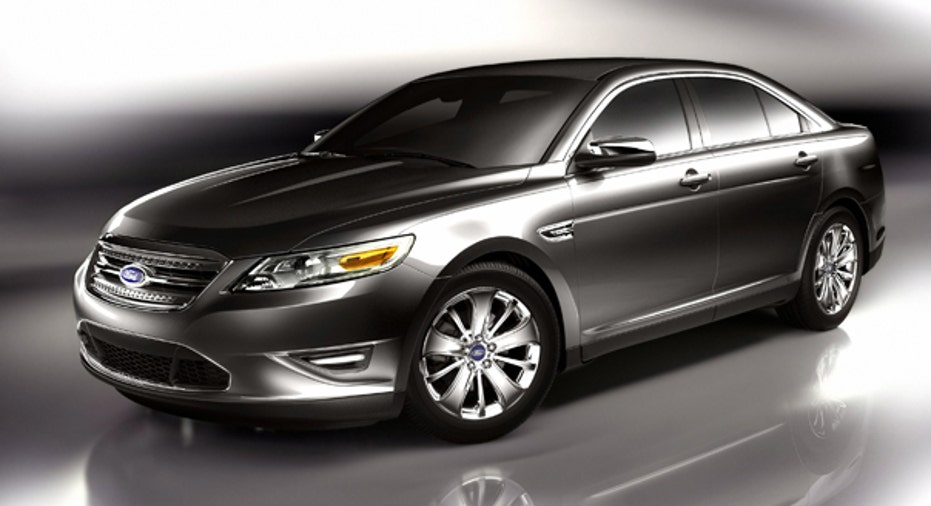 A bright red Ford Focus sits illuminated on a platform just outside the automaker's Wayne, Michigan, assembly plant, a proud symbol of the company's success in reinventing itself under Chief Executive Officer Alan Mulally.
The plant, which is just a 15-minute drive down Michigan Avenue from Ford Motor Co headquarters, has become an emblem of the automaker's turnaround under Mulally, who became CEO in September 2006.
So when workers at the Wayne plant voted to reject a proposed four-year contract negotiated by the United Auto Workers union, it registered as a jarring slap to the CEO's vision for a unified company he calls "One Ford."
"I think they've finally pushed us to the point that we have to do something," said Kevin Branham, a 49-year-old metal finisher at the plant. "This vote, it's a matter of people speaking out."
The surprisingly fierce debate over proposed, four-year contracts at Ford and smaller rival Chrysler Group LLC over the past week has exposed a rift between lower-paid, entry-level workers and veterans, as well as anger over CEO pay in a weak economy.
The argument over wages and benefits for 67,000 unionized auto workers comes just two years after the Obama administration intervened to save General Motors and Chrysler from liquidation. But the gratitude that many Detroit workers felt just after the bailout has given way to a frustrated sense that blue-collar workers have not shared equally in the industry's comeback.
"There is a lot of anger at Ford right now, and also a lot of anger at the union," said Brandon Gustafson, a 40-year-old assembly line worker at a Ford plant in Minnesota slated for closure just before Christmas.
With the national unemployment rate stuck at around 9 percent and the risk of a renewed economic downturn, UAW officials led by President Bob King have said the proposed contract is the best they can get.
Last month, General Motors workers ratified their own four-year deal by a 2-1 margin. The debate over parallel deals at Ford, the strongest of the Detroit automakers, and Chrysler, the weakest, has turned bitter.In union halls and on social media such as Facebook, UAW officials have said that rejecting the Ford contract would risk a strike, where workers would take home only $200 a week.
By contrast, the proposed Ford contract would give workers $16,000 in bonuses over four years, including $6,000 at ratification.
But many veteran Ford production workers are unhappy with the lack of a base wage raise since 2003; they now make about $28 an hour. Mulally's compensation, including a 2010 package worth $26.5 million, has also been a flashpoint, workers say.
NEARING THE END GAME
"We know Ford is profitable," said Scott Houldieson, secretary-treasurer of UAW Local 551, which represents the Ford Chicago assembly plant that makes the Explorer SUV and the Taurus sedan. "We know they are paying their executives handsomely. We know that a decent wage for us would not hurt Ford's bottom line."
Another sore point: Many Ford workers had hoped the contract would resolve a grievance over pay that salaried employees received, but hourly workers did not. An arbitrator is expected to decide on the issue in mid-November.
Analysts have said the contract at GM and the proposed deal with Ford would cap costs and link blue-collar worker pay more directly with performance. But there is a risk for investors that the kinds of deals negotiated in recent months will not hold up in 2015, when workers at GM and Chrysler will have won back the right to strike.
UAW leaders expect the Ford contract to win ratification. By Sunday, the "yes" votes had accounted for 62 percent of all those cast after union officials stepped up their lobbying efforts.
Ratification seemed assured after UAW Local 600 -- the largest Ford local, which includes workers at the historic Rouge complex in Dearborn -- voted 62% in favor of the contract. Firming the support were returns Sunday night in Missouri at the Kansas City Assembly Plant, where the vote was 2,701 for and 291 against.
The final tally is expected by Wednesday.
"As the vote enters the end game, many Ford workers are asking: 'What's the alternative?"' said Harley Shaiken, a labor expert at the University of California, Berkeley, who is close to the UAW. "A majority appear to be saying this is a good contract in bad times."
Even so, the vote has exposed an undercurrent of frustration at both Ford and Chrysler after four years of concessions intended to keep both companies operating.
That has been especially true at the Wayne plant, where Ford invested $550 million for retooling at the peak of the auto industry's crisis in 2009.
The bet at the time was that a once wildly profitable hub for full-size SUVs could be made over to produce the small Focus and a battery-powered, electric variant.
Ron Andrus, 56, a Wayne worker, said many at his plant were on edge over the prospect of a strike. "It's all scary as to what's going to happen," he said.
Some union officials have suggested workers direct their anger to the national economic debate. The UAW has endorsed the Occupy Wall Street protest and helped stage an "Occupy Detroit" rally.
"The Ford workers are angry for the same reasons a lot of the people are here," said Jaron Garza, a UAW-represented General Motors worker as he stood in a downtown Detroit park with more than 1,000 others in support of the Occupy Wall Street protesters.
"A lot of the bigger companies, banks and what not, have been taking, and the middle class has been bearing the brunt of the recession and the aftershocks that we are still feeling now," Garza said. "People are angry, and they think they've got something coming."