Despite Heavy Job Cuts, Don't Fret Tech's Tectonic Shift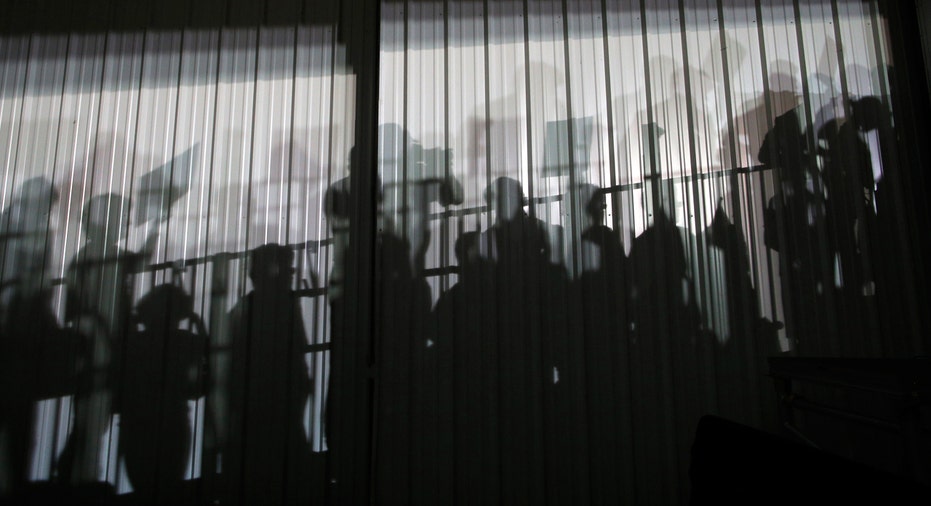 In her 40's, Kalina Koinova unexpectedly found herself in waters most often treaded by new college graduates: Unemployment with a hefty side of uncertainty about the future.
Koinova, a technology-industry professional of nearly 20 years, worked as a senior solutions engineer at QualiSystems. But when a company-wide reorganization eliminated her division, she discovered her life was in need of its own kind of restructuring.  After multiple rejections by companies looking for candidates with her skills, Kanova decided to refocus her sights on a career in marketing.  It paid off when she was hired as a senior technical marketing engineer at Spirent Communications.
"It was important to take a step back from just looking at a specific industry or type of company and figure out what are the job functions and responsibilities that are important to me, and that I'm good at," she said.
Koinova's situation is like those of thousands of other tech workers who have found themselves out of work in a rapidly-changing industry. Of 176,985 total job cuts in North America since the start of 2016, the tech sector accounted for 34,937 from some of the biggest names in the business, according to data compiled by Bloomberg, as the industry undergoes a tectonic shift from a focus on hardware to services like cloud computing, big data, and autonomous cars.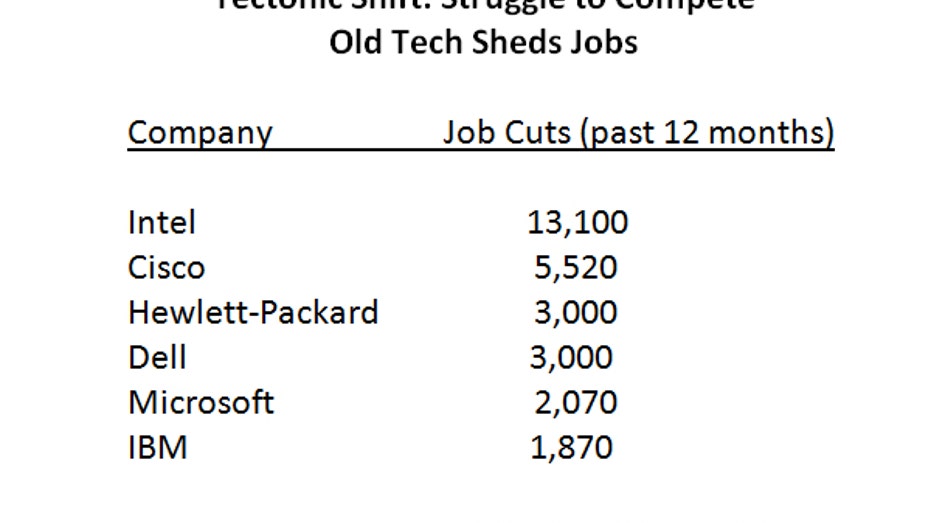 In August, computer companies like Hewlett-Packard (NYSE:HPQ), Intel (NASDAQ:INTC), and Dell saw the heaviest number of job cuts of any sector, losing 6,103 jobs, the bulk of which came from a workforce reduction of 5,500 at Cisco Systems (NYSE:CSCO), according to outplacement consultancy Challenger, Gray & Christmas. On a year-to-date basis, the computer sector ranks second in overall job cuts to the energy sector, which has seen massive downsizing in the wake of multi-year low oil prices.
Still, the rise in technology job cuts isn't necessarily indicative of weakness in the sector, but a broader shift from crafting hardware to providing services. It's a churn process for the industry, said Steve Levy, director and senior economist at the Center for Continuing Study of the California Economy (CCSCE).
"It's not a sign of anything except that companies continue to push for efficiencies."
"It's not a sign of anything except that companies continue to push for efficiencies," he said. "Not everybody can win in any given area. If you look at who's expanding, it's Google, LinkedIn, Facebook and Apple. So, the folks who are expanding…[are doing so] more in services, social media, and less in hardware."
Indeed, data from Computing Technology Industry Association (CompTIA), a non-profit industry group, showed U.S. tech employment posted a 3% growth rate last year from 2014, the highest rate in more than a decade, and the fifth-straight year of growth following the Great Recession. Growth came as employment in tech manufacturing stabilized after trending downward for much of the last decade, and with more activity in the Internet services categories, which include data processing, hosting, and related services.
"Whatever's going on with the layoffs [at major companies] is a side story about the phenomenal continuing growth of tech jobs in companies in [the Bay Area]," Levy said citing a slew of new deals bringing more big tech innovation to the area. Google (NASDAQ:GOOGL) and LinkedIn (NYSE:LNKD) agreed to a property swap allowing the search giant more control over areas in North Bayshore, while the professional networking company will build a corporate campus in Mountain View and Sunnyvale. In addition, many auto manufacturers including Ford (NYSE:F) have announced plans to construct research-and-development facilities in tech-rich Pal Alto.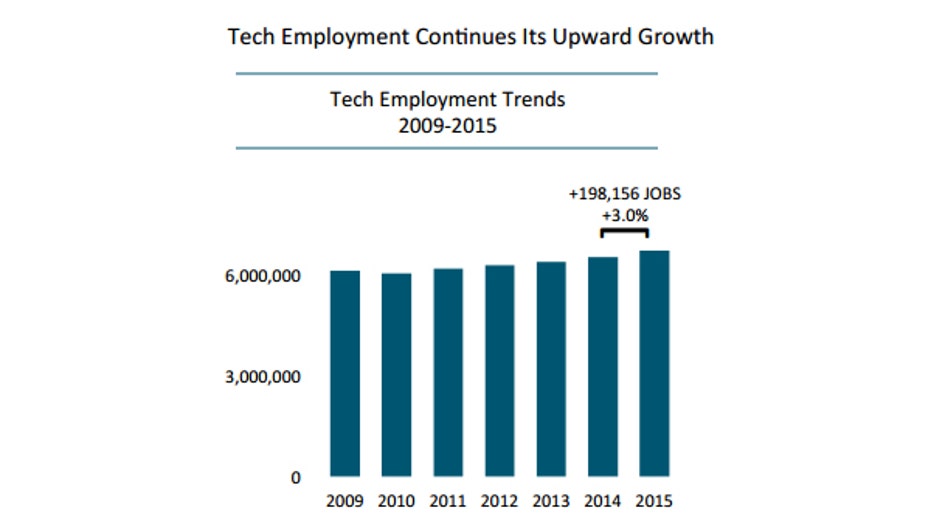 "The layoffs are real to the people that are there, but they are not a diminution of economic competitiveness in the region," Levy explained. "One of the good things about tech is it's a big and growing pie and the growth can absorb the losses. The individuals get caught in the transitions, but companies are supposed to try and be different."
Demand for skilled employees in the tech sector is coming, in large part, from firms focused on cybersecurity, big data, cloud computing, mobility, digital and web, according to John Reed, senior executive director for IT staffing services firm Robert Half Technology.
"Companies have realized the power of these specialty areas that can give them a competitive advantage and make them more efficient," Reed said. "There is lots of investment there. A lot of tech professionals are making transitions out of their roles into these specialty areas because they are pretty strong right now."
Just Keep Swimming
Michael Peredo is one of those professionals.
He found himself out of a job after an 11-year tenure working in research and development at Mercedes Benz in California.  In his 50s, Peredo decided he wasn't yet ready to retire from the industry he'd come to love, and was determined to jump back in.
"It seems like the whole professional world changed," he said. "I got my job at Mercedes with a seven-page resume…having a very technical background means I have a lot of arcane stuff on my resume and getting that across is so difficult."
Both Peredo and Koinova sought guidance at a professional networking resource called ProMatch, housed within NOVA workforce development, a federally-funded nonprofit employment and training agency in Sunnyvale, Calif. There, both individuals were able to learn how to build LinkedIn profiles, determine which skills were best suited to a "new tech" industry, and network with current and former ProMatch participants and counselors. But perhaps most importantly, Peredo and Kanova were able to connect with industry professionals who could help their resumes land in front of hiring managers within companies they wanted to work.
As Koinova networked, she discovered the key to finding a new job required a lot of flexibility – both in terms of her future job title and how she would market her skills to her future employer.
"The language has changed, the jobs have changed. But those who want in and are able to keep up – and there are a lot of us – are doing just fine."
"Being a female programmer in my mid-40s, I just didn't see that as a sustainable career going forward because first you're female and second, you're older," she said. "There are all these misconceptions, in my opinion. You can either fight them or find a way to still be technical and work with technology."
Several times she came close to getting an offer, but in the final stages she was told by hiring managers she was being passed over for candidates with better-aligned skillsets. So, she took classes that allowed her to gain technical skills that would prepare her for her job at Spirent Communications. Even after landing the job, Koinova said she's still excited to be gaining on-the-job training as she puts her new skills to work.
In Peredo's case, he was able to land a new job within a matter of months after joining ProMatch. He now works at Velodyne LiDAR, a leading developer of Lidar sensors used in automobiles, autonomous cars, and drones, on a three-month contract basis. But, he said, he's confident his success so far will lead to an extended contract or full-time position.
Contract positions have become increasingly common in the industry, providing a way for employers to select workers who are best suited to handle special projects on a short-term basis. Bob Withers, who works as a career advisor for NOVA, said many of the participants in the ProMatch program are hired out on six-to-nine-month contracts.
"Many, like Cisco, are really strong on this. People go all the time on contract jobs and then come back to us, and then go back to Cisco," he said. "It's a revolving door, but a lot of companies do the same thing."
Indeed, Robert Half's Reed explained that while there's no question the full-time job market in the tech industry is "still really solid," he sees a lot of companies utilizing a more fluid and flexible workforce, particularly when it comes to firms looking to hire data scientists or big-data engineers.
"It might be really expensive to hire a full-time person, so if you don't have the money to keep them all year, they go contract," he said.
But it's not all downside. Reed said he sees many technology-industry professionals who prefer the consultant lifestyle because it allows them to work in different environments at a number of different companies, without getting caught up in office politics. He said it also affords them the ability to focus on honing necessary skills needed to stay competitive.
For Peredo, who would like to once again be added to full-time status, the experience of losing his job and landing back on his feet has been eye-opening. Since the tech bubble burst in the early 2000s, he's seen many skilled professionals in his industry relocate to other cities and states, and others drop out of the workforce entirely. But, he said, for those still in the game, it's more than just surviving. It's about learning to swim in the ever changing, fast-moving waters.
"I'd say most of the experienced engineers in the Valley who are swimming in the same waters as these younger folks are speaking the same language: Machine learning, self-driving, sensors, autonomy, vision systems," Peredo explained. "The language has changed, the jobs have changed. But those who want in and are able to keep up – and there are a lot of us – are doing just fine."
This is part of FOXBusiness.com's Industry Forecast series that deep dives into cloud innovations across global businesses.