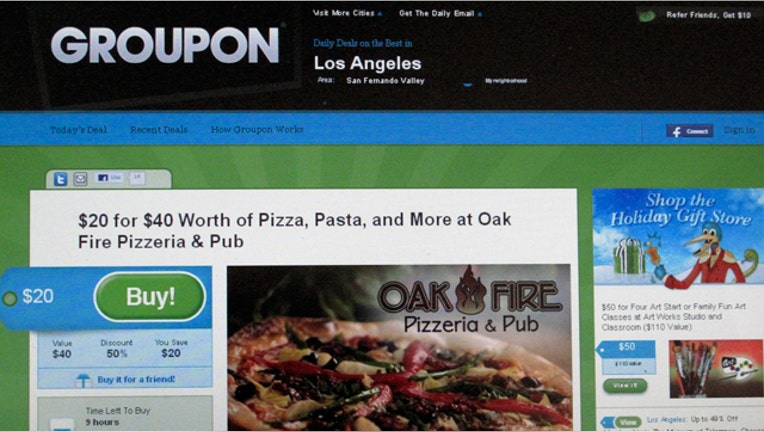 Morgan Stanley (NYSE:MS) may think Groupon has proven daily deals are here to stay, but skeptics are on high alert.
The brokerage, which underwrote Groupon's (NASDAQ:GRPN) $12 billion initial public offering last year and upgraded the daily deals site to overweight on an $18 price target on Monday, said the site is on track to continue holding its leadership position for some time.
A majority of analysts seem to agree, as 11 currently have a "buy" or "strong buy" rating on Groupon, while the number of analysts encouraging clients to sell has narrowed to one, according to a Thomson Reuters poll of 23 analysts.
"We're at that point in the curve where we appear to have ample supply, but is demand going to continue to parallel that or exceed it?"
The upbeat forecast comes a month after the Chicago company reported an 89% leap in first-quarter sales and a stronger-than-expected profit. It also boasted a take rate, or merchant commission, of 41%, meaning it expanded profit from each deal sold by 10% over the last two quarters.
"A lot of challenges are behind the company," said Ken Sena, an Internet analyst in Evercore's equity research group who has an "overweight" rating on Groupon, noting the daily deal site's performance "continually improves."
Others aren't as convinced.
"There might be a time when the businesses say, 'You know what, we're going to go with someone else because we're getting more money from Travelzoo, Living Social,'" said Edward Woo, a senior research analyst at Ascendiant Capital Market who covers Groupon.
"Groupon believes they can keep [the take rate] as is or improve it, but it's up for debate over whether that can be the case," he said.
Ascendiant, being the only brokerage with a "sell" rating on Groupon (and an $8 price target), has kept a cautious eye on the startup. It sees Groupon's take rate falling two points to 38% in the current quarter on rising competition.
"We still think the company isn't generating enough profitability now to justify where the company is trading at," Woo said.
After jumping more than 11% on Monday following Morgan Stanley's upgrade, shares of Groupon closed down about 2% to $10.93 on Tuesday. Shares are down 58% from its November offering.
A Groupon spokesperson said the company doesn't comment "on stock price or analyst sentiment."
Meanwhile, the daily deals site is still weeding through its own missteps after facing criticism over its accounting practices in the months prior to and after its IPO. In March, it had to restate financial statements, revealing a worse loss than it first reported, and shortly after replaced two board members with more experienced accounting executives.
"They've made a series of mistakes that a public company should never make and that continues to put a cloud over them," said Rob Enderle, principle analyst at the Enderle Group.
Management behavior has been "a little less than exemplary," said Roger Kay, president and founder of Endpoint Technologies. "I always had generally bad feelings about Groupon from the beginning. There's something fast and loose how they tended to account for things, painting this more incredible picture."
Other critics point to the likeliness that consumers will catch a case of daily-deals fatigue. Tired of being bombarded with half-priced dinners and 2-for-1 manicures, they could reach a tipping point where they shut the service off all together.
"Part of problem is there's an evolution where people get tired of being intruded and interrupted by things," Kay said. "I feel like we as an economy don't really know how to mange that so it works for everybody."
It all remains an experimental balancing act. While the deals may look good at first to consumers, they may undercut vendors and even hurt small-business owners. Of course, if the deals aren't as good as competitors, users may take their business elsewhere.
"It's almost like a laboratory, where daily-deals providers and business owners are trying to experiment, get down the magic formula," said Scott Steinberg, head of the technology consulting firm TechSavvy.
At the same time, Groupon's subscriber growth rate has slowed in recent quarters. While Groupon has not disclosed subscriber figures since reporting 142.9 million in a securities filing at the end of September, Woo said industry growth in the U.S. is relatively flat.
"It goes to show penetration of potential subscribers in the U.S. is pretty high and it's going to get tougher to pull people in," Woo said.
Of course, the sector is still a nascent industry and even Morgan Stanley admitted that it's hard to estimate growth.
"We're at that point in the curve where we appear to have ample supply, but is demand going to continue to parallel that or exceed it?" Steinberg said.
However, Groupon, being the first mover and having established a global brand, has put some space between its next biggest competitors. LivingSocial, AmazonLocal and Google Offers continue to grow but have not yet "gained meaningful traction or deployed new innovations," Morgan Stanley said.
Groupon has been busy scooping up companies to try and build its pool of talented employees, boost offerings and more accurately target bargains. The company has bought eight companies this year, including Hyperpublic and Kima Labs, bringing its total number of acquisitions since May 2010 to 24, according to Dealogic.
Despite daily deals skepticism among merchants, they seem to be getting cozier with Groupon. Yipit, a web bargain platform that also provides data on the sector, said returning North American merchants made up 41% of Groupon's client base last quarter, up from 30% in the fourth quarter and a mere 16% the period prior.
It's a sign Groupon is leveraging existing relationships, which is important as Groupon received 56% of its gross billings last quarter from repeat merchants.
There's no telling how the daily-deals market will change within the next few years or even as far as a decade down the road, though it's likely that at some point interest will coalesce around a handful of key providers, Steinberg said.
If daily deals sites want a piece of that shrinking pie, they'll have to quickly define and pinpoint their services, offer more, targeted bargains at a cost efficient price for all sides, while ensuring users don't get fatigued.
"Groupon, being the name and face of the movement, can sustain considerable market share," Steinberg said. "There's tremendous market opportunity here, but we're sort of at that gold rush period, and it remains to be seen just how rich and deep the vein runs."