Derrick Rose Trial Puts Adidas Deal At Risk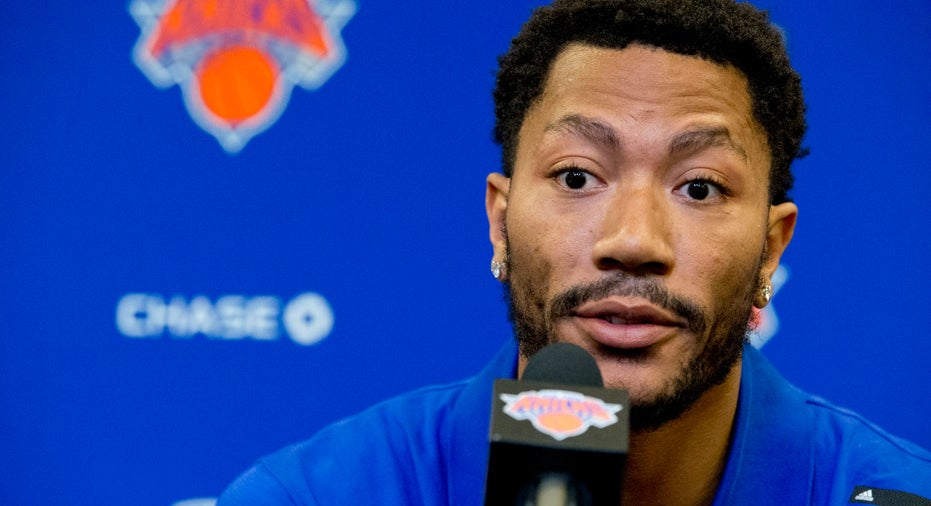 Derrick Rose's lucrative deal with German apparel company Adidas could be in jeopardy regardless of whether he's found liable for sexual battery in civil court, legal experts told FOXBusiness.com.
The New York Knicks point guard is in Los Angeles on Tuesday for closing arguments in his ongoing civil trial. While authorities have yet to bring criminal charges against Rose, his involvement in a damaging civil case threatens his $185 million deal with Adidas – even if the jury rules in his favor.
Brands often include a "morals clause" in long-term endorsement deals to protect against behaviors that could damage their reputation or impact their business. If Adidas executives decide Rose's off-court issues are a liability that outweighs his value to their brand, they could opt to end his deal well short of its original 13-year term.
"Under a typical morals clause, a national brand such as Adidas would have far-reaching discretion to determine if controversy associated with an athlete warrants suspending or even terminating the endorsement deal," Michael McCann, a Sports Illustrated (NYSE:TIME) legal analyst and law professor at the University of New Hampshire, told FOXBusiness.com. "Normally these clauses allow the brand to assess if the athlete's conduct--or alleged conduct--offends the community, as defined by the brand, in such a substantial way that invoking the morals clause is appropriate."
Rose's accuser, identified as "Jane Doe," is seeking $21 million in damages, alleging that she was too intoxicated to give consent for a sexual encounter with Rose and two of his associates in August 2013. Rose's legal team has argued that the encounter was consensual and dismissed Doe's claims as financially motivated.
An Adidas representative declined FOXBusiness.com's request for comment on the Rose trial.
Rose isn't the first athlete to see his brand tarnished by allegations of misconduct away from the field.
Former Los Angeles Lakers star Kobe Bryant lost an endorsement deal with McDonald's after he was accused of sexual assault in 2003, though the criminal case never went to trial. Golfer Tiger Woods lost deals with several companies, including Gillette, AT&T and Gatorade, during his 2009 infidelity scandal. More recently, Olympic swimmer Ryan Lochte was dropped by all four of his major corporate sponsors amid allegations that he misled authorities about an incident with Brazilian police during the Rio Olympics.
The length and value of Rose's deal with Adidas are complicating factors. In most cases, brands that are unhappy with an endorser's behavior could simply allow the agreement to expire, rather than go through the trouble of terminating the contract.
"In practice, [morals clauses] are rarely used. Brands have realized that it's simply not worth the legal expense and trouble to terminate these agreements," said Jonathan Jensen, a sports marketing consultant who has negotiated endorsement agreements and is now an Assistant Professor of Sport Administration at the University of North Carolina at Chapel Hill. "Typically, the brand will simply announce that it's no longer using the athlete in its marketing campaigns or materials and quietly let the agreement run its course."
Jurors are expected to begin deliberations in Rose's civil case by as soon as Tuesday afternoon. A verdict against Rose makes it far more likely that Adidas will address the situation. A finding of liability on Rose's part could also open him up to disciplinary action under the NBA's collective-bargaining agreement.
"Assuming the morals clause is standard, Adidas does not need Rose to be found liable, or to be charged with a crime, or to be convicted of a charged crime, to invoke the clause," McCann said. "That said, if Rose is found not liable, Adidas would be less likely to invoke any morals clause language."