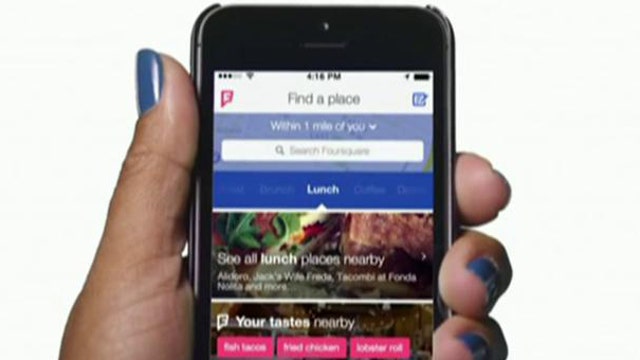 Foursquare, the app that popularized location sharing, is going in an entirely new direction. Users can no longer "check-in" on the company's main app, but instead do so on a new, separate app called Swarm, released in May.
Updated this week, the company's redesigned Foursquare app aims to compete directly with Yelp (NYSE:YELP), by giving users reviews of nearby restaurants and businesses. Foursquare says it will customize recommendations based on past user activity.
"We've generated so much data through all those check-ins in the past," CEO Dennis Crowley told FOX Business's Deirdre Bolton on 'Risk and Reward.' "The more that people tell us about themselves, the more we can learn about the world."
Foursquare's move to Swarm and the app's launch have not been without controversy. Many of the company's 50 million registered users expressed frustration they had to download a new app just to get the location-based social media experience that brought them to Foursquare in the first place.
As for the company's name-bearing app, Crowley says it "takes a while for people to get used to things that are relatively new," adding the new Foursquare "is the future of local search."
"Everything else we do online is personalized," Crowley said. "Why shouldn't local recommendations be personalized the same way?"
Crowley also said the new focus on local recommendations has already been helping Foursquare's top line. He said the money made in the first half of 2014 is more than the company made in all of 2013. And it's all been accomplished, he said, by selling ads and promoted results.
Crowley also addressed concerns the old Foursquare app revealed too much information, emphasizing  that the new app is a very "private experience."
As for the future, Crowley did not rule out the possibility of a sale or initial public offering for the company.
"I can see multiple paths for us. I want to see the product live on," he said.