Delta Debuts Huge Sign At Yankee Stadium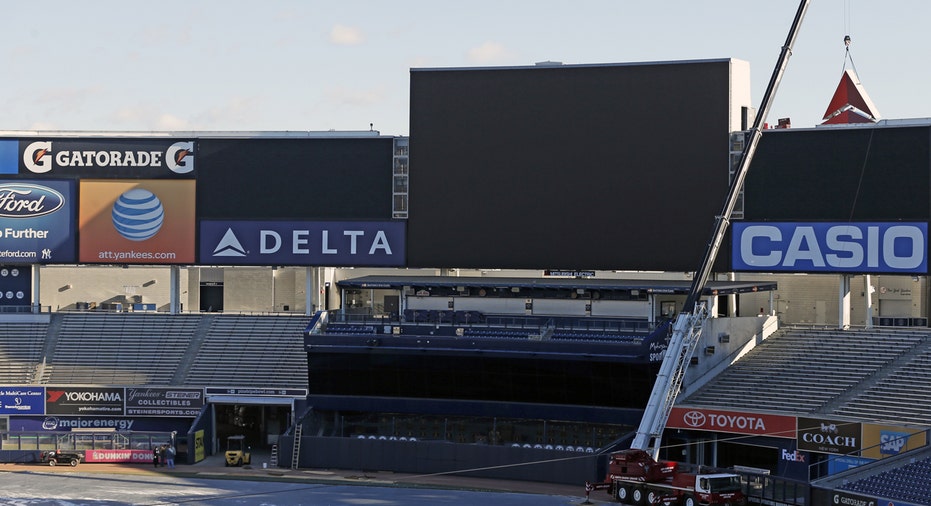 The New York Yankees and Delta Air Lines (NYSE:DAL) solidified their long-term partnership Wednesday with the installation of a permanent 14-foot sign high above the right field bleachers at Yankee Stadium. The sign, which will feature Delta's name and logo, will be as large and visible as the "Yankee Stadium" decal above the left field scoreboard.
"This prominent, permanent signage is a testament to our support of and dedication to this great team and its amazing fans, including so many of our loyal New York customers and our own more than 10,000 New York-based employees," Gail Grimmett, Delta's Senior Vice President – New York, said in a statement. "We're not just in the business of being New York's number one airline; we're a reliable partner on the ground and in the air."
Delta has been an official sponsor and airline of the Yankees and their cross-town rivals, the New York Mets, since 2008. The company renewed its sponsorship deals with both teams through the year 2023 last October. Terms of the sponsorship deals were not made public and a representative declined FOXBusiness.com's request for comment on the details.
Yankees players have flown more than 300,000 miles on Delta planes since 2008, the airline said.
Aside from the new sign in right field, Delta will have a "Sky360" branded seating lounge at Yankee Stadium and additional displays around the venue. The airline will also participate in promotional events with Yankees fans throughout the season.
"We have had a remarkable mutually successful partnership with Delta," Michael J. Tusiani, the New York Yankees Senior Vice President of Corporate Sales and Sponsorships, said in a statement. "Adding 'Delta' on top of the Yankee Stadium scoreboard, a vastly-recognizable signage position, as part of our extension deal, is a tribute to and recognition of the continuation of Delta's strong consumer loyalty and brand equity which Delta has achieved, especially in New York. The illuminated sign will be visible to all fans during every event and private gathering in the stadium, such as the New Era Pinstripe Bowl and other college football games, NYCFC matches, trade shows and press events."
Delta reported earnings per share of $1.18 on $926 million in fourth-quarter profit on Tuesday. Analysts had predicted $928 million in profit.