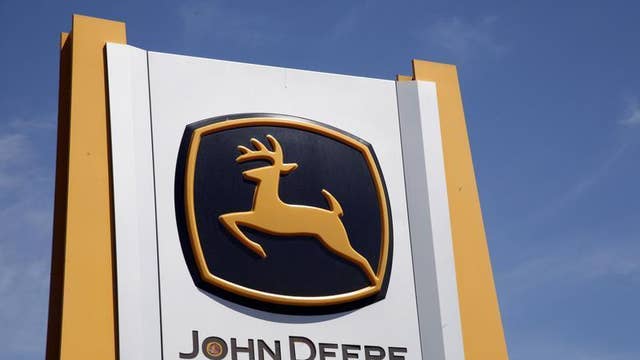 Deere (NYSE:DE) beat Wall Street expectations with third-quarter earnings that climbed 26%, as sales of farm equipment continued to grow in the U.S. and Canada.
The maker of John Deere tractors also said Wednesday it now expects a full-year profit of about $3.45 billion, up from its prior estimate of $3.3 billion. Deere reiterated its projection for 5% growth in equipment sales.
Deere shares were down about 1.7% at $82.48 in early morning trading, after the U.S. Consumer Product Safety Commission said the company issued a voluntary recall of 7,000 John Deere compact utility tractors. The spring locking pins in the rollover protective system can break and cause the system to fail in the event of a rollover, according to the recall notice.
Deere's latest results reflect the highest sales and income it has ever reported for the third quarter. Chief Executive Samuel Allen noted that the farm sector showed "considerable strength," especially in North and South America.
Deere, the world's largest seller of farm machinery, reported a profit of $996.5 million compared to $788 in the year-ago period. On a per-share basis, earnings rose to $2.56 from $1.98, while analysts expected just $2.17 for the latest period.
Revenue jumped 4.4% to $10.01 billion, exceeding calls for $9.29 billion.
Equipment sales increased 4% to $9.32 billion, more than the company's prior guidance for 3% growth.   U.S. equipment sales were up 4%, and international sales climbed 5%.
Sales in the company's agriculture and turf segment grew 8%, while construction and forestry sales were down 11%.
Revenue from Deere's financial services business was up 3.9% to $587 million.
The industry as a whole has seen stronger demand for large tractors in spite of economic pressures and weaker corn prices. Tractor sales in the U.S. and Canada increased 12% over the first seven months of the year, according to the Association of Equipment Manufacturers. In July, sales were up 19%.
For the current quarter, Deere cautioned that equipment sales will likely fall 5% due to a tough year-ago comparison.
"Last year's fourth-quarter sales were particularly strong, in part because our factories were running at a high rate to catch up with customer orders," Allen said in a statement. "Even with this difficult comparison, our financial guidance implies a healthy level of income for the coming quarter and a third consecutive year of record results."