Deere 2Q Tops Street, Raises Outlook as Farm Demand Grows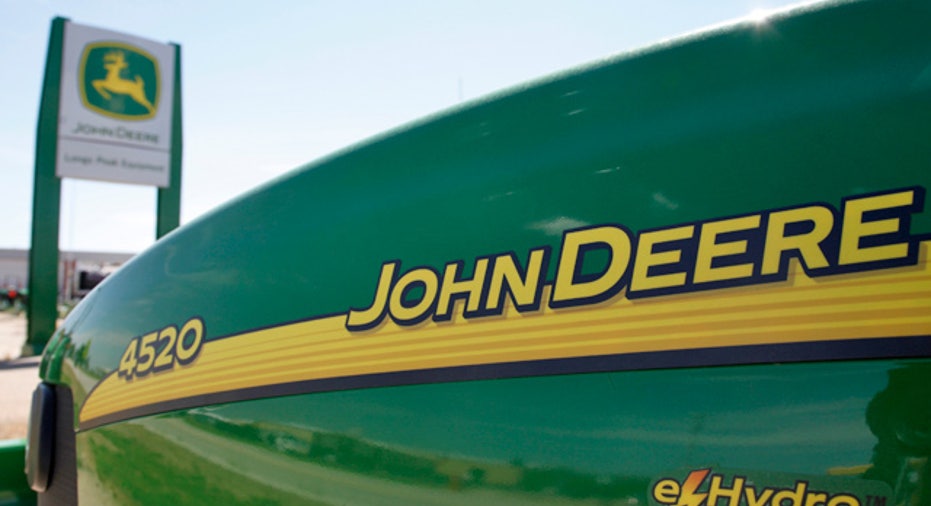 Deere (NYSE:DE) reported on Wednesday a stronger-than-expected 14% rise in second-quarter profit and lifted its full-year outlook as the company continues to add new customers and the farm market continued to rebound.
The quarterly numbers are a reflection of positive conditions in the global farm economy, which is now starting to strengthen amid higher crop prices after years of stagnant growth, as well as new product lunches with its advanced engine-emission technology, and a wider customer base.
The improvements led Deere to lift its profit view for the full year by $75 million to $3.35 billion, which is ahead of the current consensus of $3.24 billion.
The Moline, Ill.-based construction equipment maker reported quarterly net income of $1.05 billion, or $2.61 a share, compared with a year-earlier $904.3 million, or $2.12. The results were ahead of average analyst estimates of $2.52 a share in a Thomson Reuters poll.
Revenue for the three months ended April 30 was up 12% to $10.01 billion from $8.9 billion a year ago, beating the Street's view of $9.71 billion. Sales for equipment jumped 13% worldwide, led by 18% growth in the U.S. and Canada, as it benefited from higher prices and shipment volumes.
"John Deere is well on its way to a year of outstanding performance after reporting an eighth consecutive quarter of record earnings," the company's chief executive, Samuel Allen said in a statement.
Deere expects equipment sales to rise by about 15% for fiscal 2012 and by about 25% for the third quarter compared with the year-earlier period.
Allen said the company's strategic growth plans, which include investing in seven new factories and launching major new products, are "firmly on track" and put the company is a sound position to respond to growing global demand for food, shelter and infrastructure.
"In our view, these powerful trends have considerable staying power and should prove highly rewarding to our customers and investors," he said.