Deadline Looms to Make U.S. Rail System Safer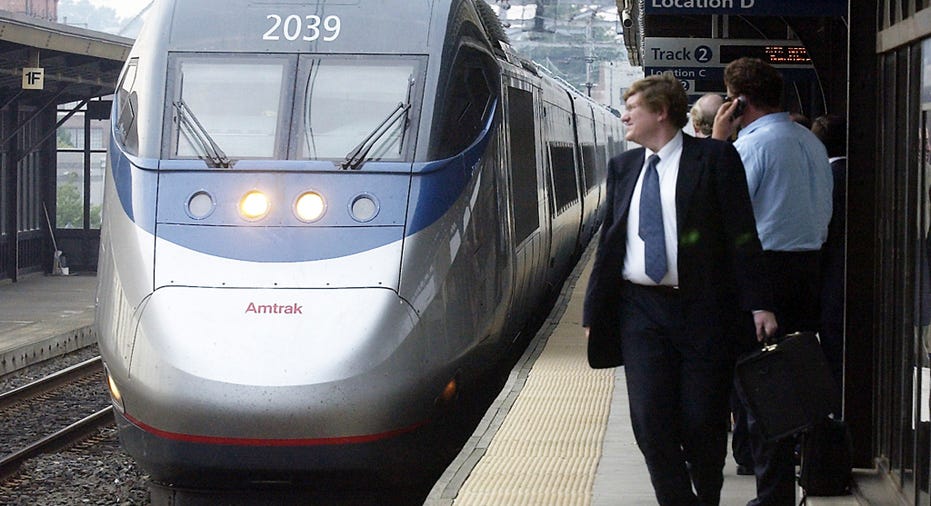 The need for positive train control (PTC) is clear, say rail safety officials. Some 15 freight and 10 passenger accidents between 2001 and 2008 left 34 people dead and 600 injured. According to the National Transportation Safety Board (NTSB), all of those accidents could have been prevented with PTC. After the last of those crashes, when a commuter train ran into a freight train near Los Angeles, killing 25 people and injuring 135, Congress set a deadline of the end of 2015 for all 41 U.S. railroads to install PTC systems.
PTC systems are designed to reach into a railroad engine and apply the brakes or ease back on the throttle if the train is going too fast. Think of it as a high-tech update to the famous "dead man's throttle" that hits the brakes if a train driver (what we used to call an engineer) takes his hand off the power for more than a few seconds.
The technology has three legs: an onboard system monitors train movement and controls the train if the engineer fails to heed a signal or an audible warning; the communications network and the wayside signal system that controls the track signals, monitors train movement and sends all the data back to the brain of the system, a dispatch system at the railroad's headquarters.
The PTC system will track a train's speed, length and weight so it knows how long a train needs to stop or slow, along with the specific traits of the track it's riding on: curves, inclines, banking, rail strength and age, even the location of signals, switches and other trains.
One of the toughest challenges for PTC is ensuring that the systems running on 41 different railroads can talk with each other. Many trains run at least partly on tracks owned by other railroads. And many passenger railroads are still working to acquire radio frequencies in some areas, especially in and around cities, and there are only four companies capable of delivering PTC systems in the U.S., according to the Federal Railroad Administration (FRA).
The American Railroad Association, which represents the nation's freight haulers, says it's already spent $5.7 billion putting PTC in place, but it won't meet the deadline.
"You've got to keep in mind that PTC is a complex and not-off-the-shelf 'system of systems' that has to be developed from scratch," said Ed Greenberg, a spokesman for the American Railroad Association, an industry group.  Freight railroads expect to spend $9 to $10 billion on PTC by the time the system is fully operational. The system should be installed on all freight railroads by the end of 2018, and fully operational two years later, said Greenberg. That's as U.S. freight railroads earned $75.1 billion in revenue in 2014, and saw profits of $14.4 billion, up from $13.4 billion in 2013.
By the end of 2015, the AAR expects that 14% of its 60,000 miles of route track and about a third of its members' 22,000 locomotives will have PTC installed.
Passenger railroads, most of which are publicly owned are having a harder time finding the money to install the systems, but the FRA says 29% of commuter rail lines will have completely installed PTC systems by the end of this year, with the rest set for completion by 2020.
The FRA has issued loans for some PTC systems, including New York's Long Island Railroad and Metro-North Railroad. Los Angeles' Metrolink rail system has already installed its PTC system says it spent $210 million, including 34 grants, to install PTC on 216 miles of track.
Amtrak told the Federal Railroad Administration that as of June, 85% of its locomotives have had PTC systems installed and 63% of its track miles have been mapped for PTC. By the end of the year, almost all of the heavily-trafficked Northeast Corridor, from Boston to Washington, DC, will have electronic controls designed to give the U.S. rail system the safety upgrade it desperately needs.