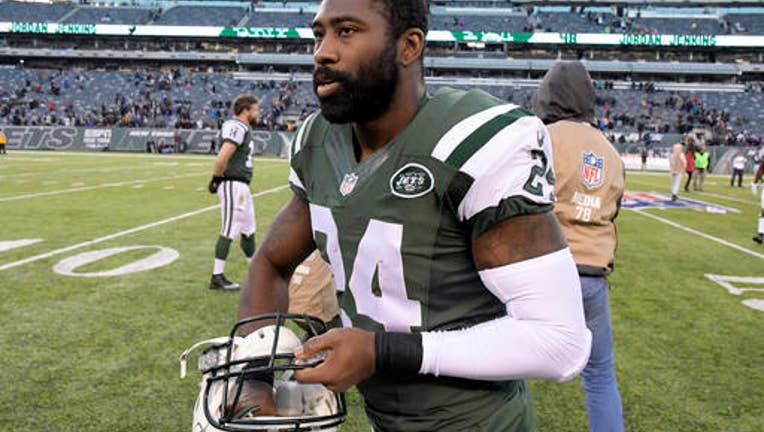 Darrelle Revis could lose out on tens of millions of dollars if the New York Jets decide to release the embattled cornerback this offseason amid pending assault charges.
Revis faces four felony counts and a misdemeanor charge for his alleged role in an altercation earlier this month that left two men unconscious in Pittsburgh, Pennsylvania. The allegations, coupled with Revis' subpar play during the 2016 season, sparked speculation that the Jets could opt to release him rather than pay the remainder of his hefty contract.
The 31-year-old cornerback has about $37 million remaining on the five-year, $70 million contract he signed with the Jets before the 2015 season, according to Spotrac, which tracks sports contracts. Of that total, $6 million is fully guaranteed – Revis will earn that total regardless of whether the Jets cut him. (He is due to earn $15 million in 2017).
The remaining $31 million will be void, however, if the Jets decide to cut ties with Revis before the start of the 2017 league year on May 10th. If the Jets release Revis after that deadline, he will earn an extra $2 million roster bonus, but miss out on the remaining $29 million.
The $6 million in "guaranteed" money could be in jeopardy as well, depending on how league officials interpret the wording of Revis' contract. While the NFL's collective-bargaining agreement doesn't include any clauses that allow a contract to be voided for criminal charges, NJ.com reports that Revis' deal with the Jets could be nullified if he is fined or suspended for conduct detrimental to the team or league.
"This will require a legal process between the NFLPA and the Jets based on the language of his contract and the rules of the current [collective bargaining agreement]," Spotrac editor Michael Ginnitti told FOX Business. "There's a bit of a gray area in terms of that portion of the money."
TMZ published a video on Sunday in which an unidentified man can be heard bragging about knocking out the two men linked to the Revis case. Revis' representatives have denied their client is guilty of any wrongdoing, adding that he was not responsible for rendering the men unconscious.
"Darrelle Revis absolutely, categorically and positively did not knock out anyone, did not conspire with anyone to commit an assault, did not say 'shut up before I knock your (expletive] out next' and surely did not 'rob' another of a cell phone," Revis' attorneys, Robert DelGreco Jr. and Mark Fiorilli, said in a statement to ESPN. "The voice and admissions made on the video are not that of Darrelle Revis. We have no doubt but that further investigation relative to the clothing and voice verification will corroborate the above assertions."
A preliminary hearing for Revis' case is slated to take place on March 15. The court appearance was originally scheduled for Thursday, NFL.com reported.
A seven-time Pro Bowl selection and former AFC Defensive Player of the Year, Revis has earned more than $118 million during his 10-year NFL career, according to Spotrac.