Daily Deal Site CoupTessa Aims to Give Women What They Want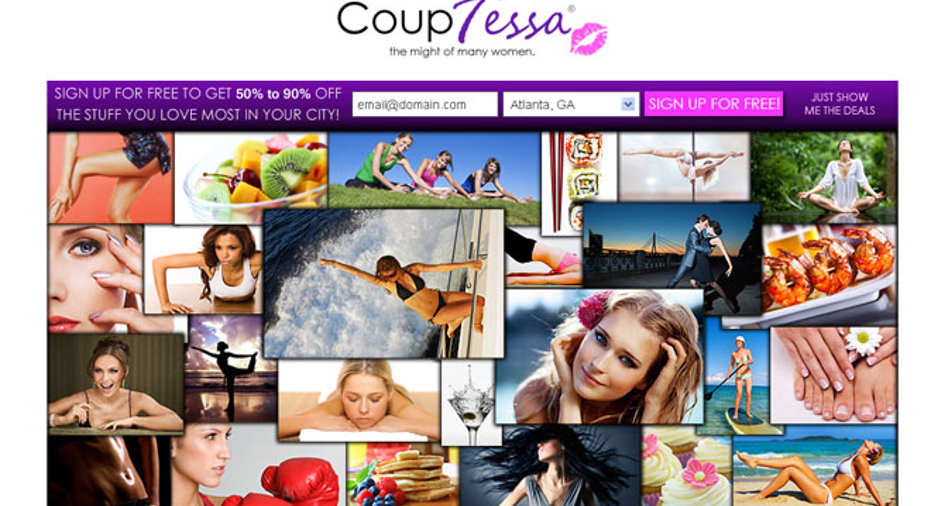 After David Horn left his global marketing and relationship management job at Morgan Stanley in 2005, he took off for his second home in the Dominican Republic. After flying more than 200 nights a year for his last five years in corporate America, it was time for a little R&R.
While on the beach one day, Horn ran into Francisco Gonzalez - another Morgan Stanley employee. Gonzalez was reading The Female Brain upon a recommendation from a friend. "I thought it made a lot of sense to learn a bit about women's behavior from the scientific point of view," Gonzalez said.
Both men were looking for their next career move, and agreed the female market was one they had to tap into. In 2009, they pooled their money to launch CoupTessa - a daily deal site targeted specifically to women. According to the duo, two key factors that drove their business decisions were 1) women are estimated to make 80 percent of all buying decisions in American households and 2) women spend more time online researching products, and recommending favorite brands and products to others in their social circles.
"We were aware of some of the daily deal sites that were large global players, but we felt that they had missed an opportunity - and that was to identify a really focused target market which really controls most of the purchasing power decisions," Horn said. "The goal was to build a business around women, the understanding of women, the needs of women."
Gonzalez and Horn approached CoupTessa from two different perspectives; Horn is the older, married, soon-to-be grandfather, while Gonzalez brings the younger, single viewpoint to the business. Both men say they crammed information from books, Web sites, mommy blogs, wisdom from female friends and family, and other sources into their brains on women and what they are looking for in deals, brands, from society, and what gives them a sense of self-worth -- from the stay-at-home mom to the single or married career woman to the retired grandmother.
"Women tend to do it all, they're genetically coded to do it all," Horn said. "If we could find a way to give them something a little something they deserve, it would be a very interesting business."
CoupTessa currently offers deals in five cities - Miami, Fort Lauderdale, Atlanta, Boston and Philadelphia - and has several thousands subscribers. Horn says currently it's a multi-million dollar business, offering everything from manicures and pedicures, massages, laser hair removal, carpet and air duct cleaning, facials, brunch and drinks, tickets to food and wine festivals, and sunset cruises. The company is currently seeking funding to further expand, and in the next few months plans to increase its offerings.
Horn and Gonzalez say one of the biggest lessons they learned was that women want relationships with good, reliable merchants who respect them as consumers and offer a high-quality experience.
They also learned:
-Women's median income has increased much more than men's in recent years -Women are much more connected thru social media -Women are very research-oriented -Women care about charity and philanthropy -Women are interested in doing things with each other and love to network
"Funniest of all, they love to buy after 10 p.m.," Gonzalez said, "probably because at that time, they have finally taken care of all of us, of their relationships, their children, their partners, their business obligations ... and now, after 10 p.m., it's time for them. And as we always say about women, 'you deserve it.'"
So why are Horn and Gonzalez so confident they know what women want?
"We are world-class listeners and we are surrounded by women on our team, in our lives, in our families," Gonzalez said. "All you need is to do proactive listening and thinking when addressing the needs of women."
But Dori Molitor, founder of Woman Wise, a consulting firm specializing in marketing to women, has a warning for entrepreneurs: don't pigeon-hole women in terms of what deals to offer.
"Women are the chief purchasing officers of the household. She is buying everything so she is interested in deals on computers or vacations or health care or restaurants" Molitor said. "Women care about more things and she's very involved - she takes a very holistic standpoint in buying and purchasing things for herself and her family. I think to get so niched like that ... is too much stereotyping."
Molitor stressed the importance of message boards or other forms of a two-way online community in which consumers can tell deal sites - or any other e-commerce site - what they want and give feedback about their user experience. What's lacking in many deal sites, she noted, is back-and-forth conversation between seller and user.
She said brands and start-ups can also benefit from including a philanthropic element to their business model to achieve that "profits with purpose" element of their business to attract consumers.
"Be thinking about, what is your social good that you're doing beyond price? How can you use your network and corporate strength to allow women to be a part of something that's making the world better?" she asked. "She wants deals for herself but she also wants to make a difference and be part of helping the community and the world at large. There's a higher purpose."