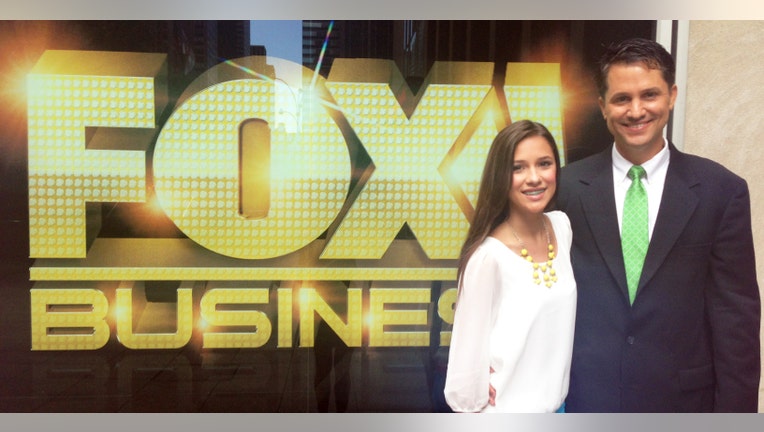 While many kids doodle designs, it takes a pretty special 8-year-old to turn a sketch into a million-dollar business.
But that's exactly what Madison Robinson did – with some help from Dad.
"When I was 8, I was living in Galveston. I came home one day from the beach and drew a design of a squid on a flip-flop," says Madison.
Her father Dan was immediately taken with the idea – and thought it had real potential. "As a father, it was the combo of Madison putting the drawing on the shoe and calling it a 'Fish Flop,'" says Dan, who was working at a bank at the time.
As a side project, Dan, a fishing enthusiast, would sell fish-themed t-shirts in local shops. "She kept asking me, 'When are you going to make my Fish Flops?' and I would say, 'Baby, it's not that easy,'" says Dan.
But Dan says determination is one of Madison's strongest qualities. "She will not forget something if I say it," says Dan.
So, after four years of trotting out Madison's sketches at business meetings and getting positive feedback, Dan sought out a manufacturer to make some sample shoes in 2010.
Fish Flops Make a Splash Armed with nine samples, Dan attended the Surf Expo trade show in Orlando. He says he didn't want to be too aggressive, "But if people looked over me and smiled, I would start talking to them."
The strategy worked – Dan left Surf Expo with 36 stores placing orders for Fish Flops.
Madison says she was nervous for the order of 36,000 Fish Flops to come from the overseas manufacturer. "But as soon as we got them, I wasn't nervous anymore," she says.
Today, Fish Flops are sold in 400 stores around the country for around $20. And the company recently inked a deal with Nordstrom, helping to push sales past the $1 million mark.
What It's Like Running a Business With Dad While Madison may be the founder and artistic director of a million-dollar company, she's still just Daddy's little girl in her father's eyes.
"It's hard to have a CEO who's in school," says Dan, who quit his job in November to handle the business side for Fish Flops. "What I want as a father is for her to have balance."
School comes first for Madison, who says she puts in about four hours a day during the week, once she's done with her homework. And while the company is rapidly growing, college is definitely still part of the plan for Madison, who says she wants to study either fashion design or business at Texas A&M.
"I don't want her to be that kid who drops out of school, just because something's happening. People change their minds. My attitude is, 'You explore this, and I'll support you,'" says Dan.
And while the pair occasionally squabbles about Madison wanting to go out with friends, and other teenage concerns, they say when it comes to business, it's a perfect match.
"I'm proudest that he's stayed with me," says Madison. "He likes working with me, and I like working with him. I guess it works out for the both of us!"