Dad to Daughter: Your Wedding or My Retirement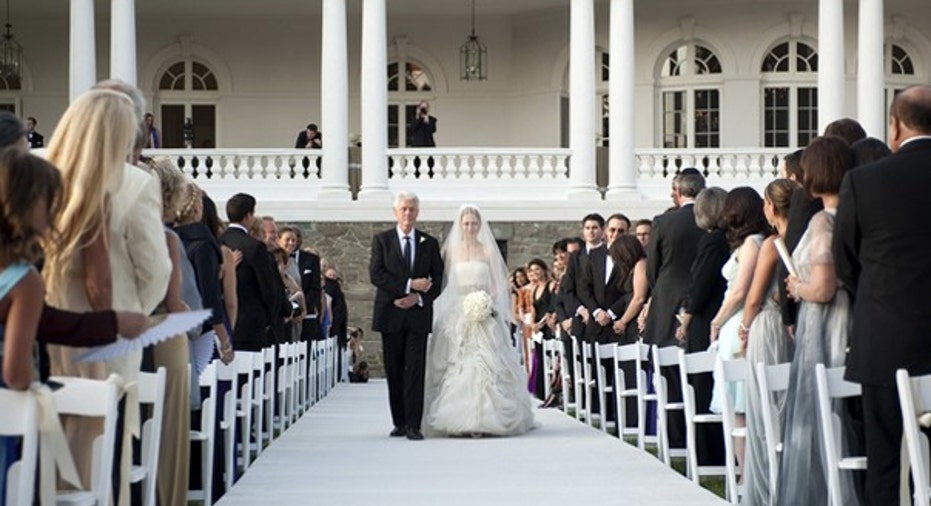 If you thought being a bride in this economy is stressful, try being the father of the bride.
Traditionally the bride's family is tasked with footing the wedding bill, but the troubled economy means many families are unable to afford both their children's nuptials and their impending retirement. For proud parents, the topic can be a difficult one to discuss, but experts say honesty is the best policy.
"I've seen a few cases where a bride would make all these big wedding plans and then six months later, her parents would say, 'We know we promised you $50,000, but we can only come up with $5,000,'" says Bill Hammer, certified financial planner and vice president of wealth management at Vanderbilt Partners in Melville, N.Y. "Once deposits have been made, it's often more expensive to cancel the wedding than to go through with it, so then you have people going into debt because they didn't discuss things ahead of time."
For parents, Hammer says the rule of thumb should be that if you can't write the check when you make the offer, don't make the offer. Any money given to the happy couple should already be in cash, a savings bond or a CD.
"You may have $50,000 in your stock portfolio, but if you wake up tomorrow and it's down by 40% then it's a huge problem."
According to TheWeddingReport.com, wedding spending on average has dropped 3.4% in the past year to $25,631 from $26,542. But even if spending is down, it's easy for parents to end up chipping in more than they'd planned.
Hammer advises parents to offer a specific dollar amount rather than items on a "wish list".
"You might be in for a rude awakening if you tell your daughter that you will pay for the dress, the reception and the limo. Any one of those things could be more than you had been planning on spending. Instead, tell your daughter what dollar amount you can comfortably contribute," says Hammer.
Parents of the bride may be able to relax a little as traditions change. According to TheWeddingReport.com, in 2010, the bride and groom paid for an average of 58% of all wedding costs, while the bride's parents paid for an average of 21%. The groom's parents shelled out an average of 14% of costs.
Los Angeles-based wedding planner Wayne Gurnick, owner of Moments by Wayne, says the down economy has more families splitting the financial responsibility of a wedding.
"Before 2008, 70% of my clients were the bride's parents. Now, 70% of my clients are the bride and groom. There has been a huge shift, and a lot of brides are complaining about it," says Gurnick. "These days, the couple may be getting a monetary gift from mom and dad, but they aren't counting on it."
Gurnick says in the last several years he has worked with couples to slash wedding budgets by as much as half, planning wedding picnics in public parks instead of expensive reception halls, and serving Chipotle instead of $200- per-head fillet mignon dinners.
"One thing is consistent—whether it's the bride and groom doing the planning or the parents of the bride, everyone wants to make their dollars go further. Everyone is realizing that the 99¢ Only Store sells great napkins."
Your Wedding vs. My Retirement
For parents who already know they can't afford to give as much to their daughter's wedding as planned, have the conversation before any planning gets started, says Tim Harrington, CEO of consumer financial resource FiPath.
"With the financial crisis we are in and the deterioration of most people's savings and retirement accounts, those are real conversations we are having and there doesn't seem to be a lot of pushback. Families are working together to find something more affordable."
Parents shouldn't feel like they are letting their children down if they choose to hang onto their savings for retirement rather than putting it toward a wedding.
"Your children will understand. Sit down with them and go over things; let them know how much you have saved for retirement. If a big wedding isn't in your budget, tell them exactly that. No one needs to go into debt for a party that's only one day," says Harrington.
Using cash is one of the best ways to keep wedding spending in check and possibly negotiate a deal in the process, according to Harrington.
"Don't put any wedding expenses on a credit card. If you have to make a deposit with a credit card, that's fine, but pay with cash. Very often if you're paying with cash you can better negotiate with vendors. Everyone from the DJ to the florist will be willing to work with you if you're using green."