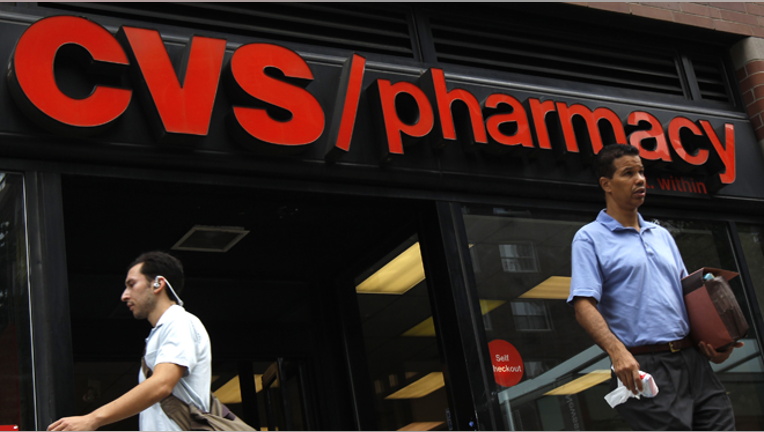 CVS Health Corp. reported better-than-expected results for the first three months of the year, as growth in the company's drug-services business continued to outpace its retail stores.
Shares of CVS, up 36% over the past 12 months, rose 1.2% in premarket trading. The company also bumped up the low end of its 2015 earnings guidance on Friday.
CVS has gotten a boost recently from its Medicaid business, which has helped to offset retail sales declines in the wake of the company's decision to stop selling cigarettes.
In the latest quarter, the pharmacy services business logged an 18% increase in revenue to $3.7 billion, driven by specialty pharmacy and pharmacy network claims.
Pharmacy network claims grew 11%, due in part to growth in its Medicaid program and public exchanges.
Overall, sales excluding newly opened or closed stores increased 1.2%, as a 4.2% gain in pharmacy sales helped to counter a 6.1% decline in sales at the front of the store, where cigarettes had been sold before the company discontinued their sale in September.
CVS has been embracing a broader health-care identity. In addition to its antismoking moves, the company is expanding its walk-in medical clinics and specialty-pharmacy services. The company changed its name to CVS Health from CVS Caremark last year.
For the year, CVS now expects to deliver earnings of $5.08 to $5.19 a share, compared with its previous guidance for $5.05 to $5.19 a share in earnings.
For the current second quarter, CVS forecast earnings of $1.17 to $1.20 a share. Analysts polled by Thomson Reuters had forecast $1.25 a share in earnings.
Overall, for the first three months of the year, CVS reported a profit of $1.22 billion, or $1.07 a share, up from $1.13 billion, or 95 cents a share, a year earlier.
Excluding items, per-share earnings were $1.14 a share. The company had forecast $1.06 to $1.09 a share in adjusted per-share earnings.
Revenue grew 11% to $36.3 billion, topping the $35.9 billion analysts had forecast.