Cruising Through Hurricane Irene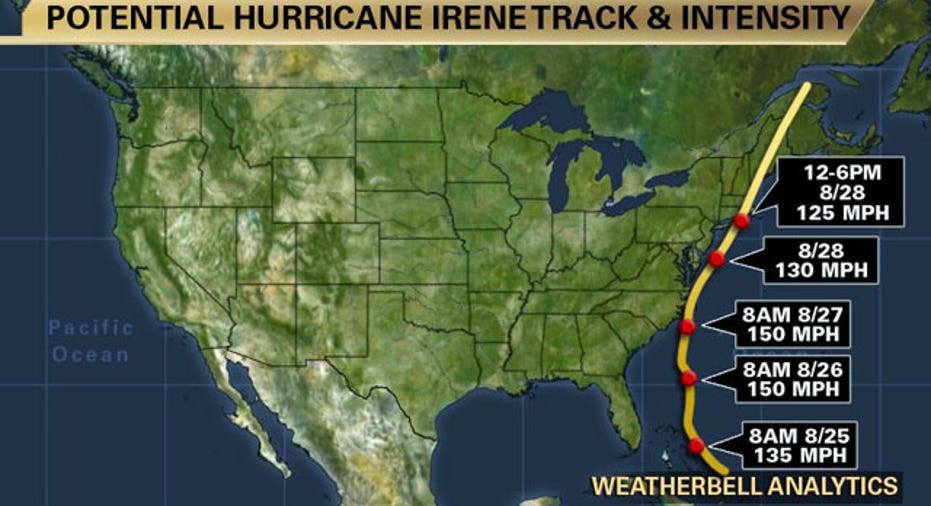 By the time you read this, Hurricane Irene may have made landfall on the East Coast. But if you were on a cruise, you probably experienced far less impact than the people on shore as most cruises set sail last weekend and were able to avoid the giant storm.
To deal with hurricanes, cruise lines simply rearrange their itineraries and sail for smooth waters away from the storm. The biggest challenge comes when a hurricane makes landfall the same day a ship is scheduled to be in a U.S. home port. The disruption is obvious: Roads and airports are closed, forcing the the cruise lines to keep their ships out to sea until the coast is clear-- literally. The passengers get an extra day of fun on the ship, although the seas may be rougher than usual. The worst part may be the airline reservation chaos they face when they disembark a day later than they planned.
On Wednesday, USA Today reported that 145 people were left in San Juan, Puerto Rico, when a Royal Caribbean ship set sail three hours before its scheduled 8:30 p.m. departure under the orders of local port officials. Royal Caribbean said there was no way to contact the missing people. Fifteen of them who had booked their flights through the cruise lines Choice Air program were treated to two hotel nights and a flight to Aruba to catch the ship at Royal Caribbeans expense. In fact, that was a generous act by Royal Caribbean since the decision to close the port early came from local officials, not the cruise line.
And while two nights in a San Juan hotel sounds nice, they had to endure a hurricane while the other passengers were already safely in calmer waters. The safest location for a ship during a hurricane is at sea far away from the storm. A ship should never be in port when a storm hits, because the vessel can be dashed against the pier and sustain damage.
Last Saturday, when most cruise ships were taking on passengers in U.S. ports, Hurricane Irene was east of the southern Caribbean island of Martinique and by Sunday it was approaching St. Thomas and St. Martin. These are two very popular cruise destinations, but few, if any, cruise ships visit those ports on a weekend. Typically, ships leaving Florida on the weekend will reach these islands on Tuesday or Wednesday.
Keep in mind that a modern cruise ship can easily outrun a hurricane. Most storms move at about 10mph roughly half the average speed of a cruise ship. With careful planning, cruise itineraries can be modified to make sure everyone onboard gets a full seven-day cruise in reasonably calm waters, although the ports may be changed, or come in a different order than the planned itinerary.
For example, Royal Caribbeans flagship Oasis of the Seas, which left Fort Lauderdale on Saturday for a week-long Western Caribbean cruise, essentially reversed its ports of call by stopping in Cozumel on Monday, calling at Falmouth, Jamaica on Wednesday and docking at the lines private beach on the island of Haiti on Thursday. Oasis will return to Fort Lauderdale on Saturday. Essentially, the ship went west while Irene was passing Haiti to the east, and went to Haiti after the hurricane had passed.
Ships on shorter cruises -- e.g., three-day sailings to Nassau and other Bahamas island locations -- mostly just spent a few days at sea, away from the effects of the storm.
Cruise ship captains are masters at avoiding storms at sea, and it helps that hurricanes tend to be very predictable. Caribbean hurricanes always turn counterclockwise, rarely move faster than 10mph, originate just west of Africa and tend to track a west by northwest path toward the Caribbean Islands. Some go directly to the west and into the Gulf of Mexico, some head toward Florida and others turn directly north and can land anywhere from South Carolina to Nova Scotia.
The hurricanes that make sudden and unexpected turns often cause the most damage, especially when they hit where people are least prepared. Hurricane Mitch (1998) is still one of the deadliest hurricanes on record killing 19,000 people, mostly in Honduras, and claiming the only commercial cruise ship sinking by a hurricane in modern history.
The Windjammer Barefoot Cruises flagship, Fantome, was cruising near the Yucatan Peninsula when Mitch was upgraded to a hurricane. Captain Guyan March let the passengers off in Belize and took the four-masted schooner out to sea with a crew of 30. He tried every trick in the book, but Mitch made many unusual turns, seemingly determined to follow the Fantome with every evasive maneuver the captain tried. Tragedy struck when the storm took an extraordinary turn to the south directly toward the ship hiding behind the island of Roatan. The Fantome sank and 31 crewmembers, including the captain, went down with the ship.
As a cruiser, you should know that the cruise lines take no financial responsibility for missed ports of call due to storms at sea. I have received letters from people who believe they deserve a refund because the captain chose to change the itinerary and cancel the scheduled ports of call during their cruise.
When I get those letters I write back to remind them that the island they missed was experiencing heavy rain and 150mph winds. Then I ask if they really wanted to visit a place where the palm trees were missiles and the coconuts were cannon balls.
Cruising 101
As always if you need to know more about cruising we urge you to consult our Cruising101 FAQ.
I started writing about stock market investing for Motley Fool in 1995, but previously I worked aboard cruise ships. I co-founded the CruiseMates.com cruise travel guide on the Internet in New York City in 1999. CruiseMates was acquired by Internet Brands in 2006. Once CEO, I am now the editor of CruiseMates