Cruise Control to Autonomous Driving: The Future of the Auto Industry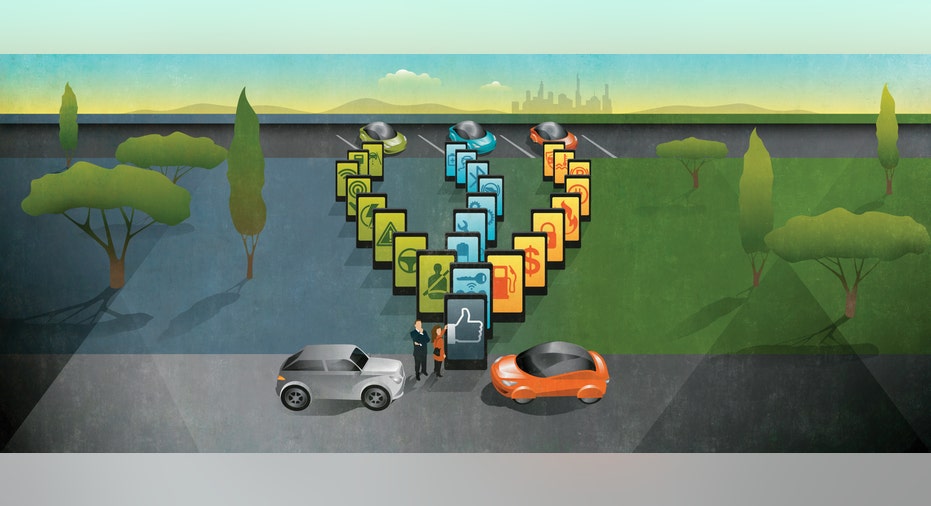 Even though the 21st century arrived without teleportation, colonies on Mars, and many other futuristic technologies that were predicted, the prospect of self-driving cars is now on the horizon. Though no decisions have been made about how these autonomous vehicles will look and what features they'll eventually incorporate, industry leaders now say that self-driving technology will be available by 2021.
With the extended US automotive industry bringing in an estimated $2 trillion in annual revenues, there is a lot at stake for the auto manufacturers, technology companies, and disruptors trying to make autonomous vehicles a reality. One of the biggest questions remains: What features do consumers want and what are they willing to pay for them?
Deloitte suggests that companies who plan to participate in, and profit from, the future of mobility should carefully analyze these questions to know where they should play and how they can win.
Good News for Automakers
As part of a behavior assessment, Deloitte surveyed "more than 22,000 consumers in 17 countries to shed light on consumers' preferences…and to answer other important questions that can help automakers prioritize and better position their R&D strategies and investments." Deloitte found that US consumers are more interested in increased automation than they were in 2014, with safety features generating the largest spike of interest in the past two years.
Deloitte asked consumers to rate their preference of four levels of vehicle automation, and compared to the results found in 2014, there was an 11% increase in advanced vehicle automation features. Such features would include functionality where humans relinquish control and rely more on automation like emergency braking, adaptive cruise control, and lane-keeping assistance.
The percentages of those desiring limited self-drive or full self-drive technologies also increased 5% and 3% respectively according to the study (see Figure 2), clearly indicating that the average US consumer is warming up to the idea of autonomous vehicles.
Findings showed that younger generations have the strongest interest in partially or fully self-driving cars, with nearly 60% of Generation Y/Z survey participants responding favorably. This is supported by a similar report from MIT/New England University, and one from J.D. Power, which confirmed that more than half of Gen Y and Gen Z respondents would trust fully self-driving cars; much higher percentages than the older generations.
The Not-So-Good News
While consumer interest in self-driving technologies is growing, the not-so-good news for automakers is that the willingness to pay for such technologies has decreased over last two years. Deloitte found that "the amount US consumers say they will pay for various advanced vehicle technologies has declined by 30 percent compared to 2014, from $1,370 to $925" (illustrated in Figure 4), and a portion believes that automakers should be the one to foot the bill for these features.
Worse, 74% of consumers feel that fully self-driving cars will not be safe, with a high percentage saying they won't feel comfortable with the technology until there is an established track record of safety. Such a track record would likely take hundreds of millions of miles to demonstrate.
Consumers polled by Deloitte have also expressed their doubt that a traditional car manufacturer will bring self-drive technology to market, with only 47% having faith in such companies. The data wasn't good news for technology companies either, as only 20% believe an existing technology company will produce autonomous cars. With the lack of public faith in existing car and technology companies, the door is seemingly wide open for a new player or new partnership.
2017 U.S. Automotive Consumer Study by Deloitte
---
Most Useful Technologies
Recognize presence of objects on road and avoid collisions

Inform driver of dangerous driving situations

Automatically block the driver of dangerous driving situations

Automatically take action in medical situations

Enable remote shutdown in cases of theft
---
---
Least Useful Technologies
Automatically pay for toll roads, parking, and priority/commuter lane fees

Empower customers with the ability to design and personalize vehicles

Allow drivers to control automated systems in their homes

Enable ultra-small, low-speed, self-driving vehicles for urban environments

Help manage daily activities
---
How Can the Auto Industry Adapt?
Know the market: Knowing their customer base and its preference for features (see lists above) is essential for automakers to align their strategies accordingly. Data has shown that the two extremes, the youngest and oldest generations, prefer features that promote safety and prevent accidents--like lane departure warnings and collision avoidance. A whopping 89% of Baby Boomers and 78% of Millennials gave 'safety' as a reason for wanting some sort of autonomous technology in their next vehicle in a AAA study.
Not only are younger generations very interested in autonomous driving technology, but they are also most willing to spend to get them. Research indicates that Generations Y/Z are willing to pay, on average, over $1600 for advanced features--about $900 more than Gen X and $1300 more than Baby Boomers and pre-Boomers.
Focus on safety: Deloitte suggests that "automakers should take note that focusing on advanced safety technology may be the best opportunity to get a return on investment, since US consumers are least likely to reject the idea of paying more for the enhanced physical security these features provide." J. D. Power's 2016 US Automotive Performance, Execution, and Layout study also concluded that safety technologies make a new car more appealing and boost owner satisfaction. Therefore, marketing autonomous technologies as safety features would increase the chances of acceptance and adoption.
Prioritize R&D: On the other hand, studies are telling automakers not to waste their time with features that smartphones can already handle, like controlling automated systems in their homes or managing daily activities. As markets and consumer preferences change, the key players will adjust their investments accordingly and disregard unwanted features.
Partner up: Deloitte believes that automakers should consider new partnerships, combining R&D with other types of companies and potentially shrinking development timelines. "Automakers would be well served to develop alliances and investigate potential synergies with suppliers, tech providers, and, perhaps, fellow carmakers in an effort to reduce costs and streamline advanced R&D efforts."
Understand consumer preferences: The auto industry has long mass-produced not only vehicles but business and sales models as well. When it comes to autonomous features and self-driving cars, the preferences of customers may vary greatly across generations and/or locations. Finding ways to cater to such diverse audiences will be necessary to meet the individual needs of the consumer.