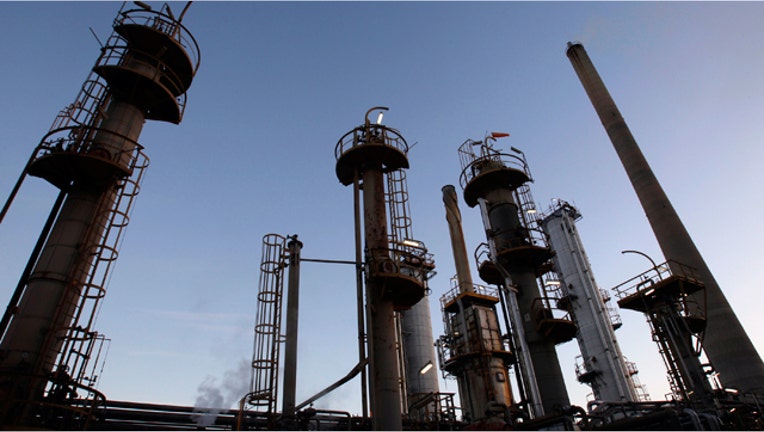 Brent crude oil hit an 11-week high of almost $113 per barrel on Wednesday after the U.S. Congress approved a deal to avert a fiscal crisis, while promising data from top energy consumer China also supported prices.
The United States averted economic calamity when lawmakers approved a deal preventing huge tax hikes and spending cuts that would have pushed the world's largest economy off the ``fiscal cliff'' into recession.
The deal boosted investors' appetite for riskier assets and depressed the dollar against major currencies. A weaker greenback makes dollar-denominated oil more affordable for holders of other currencies.
Brent rose $1.79 to a high of $112.90, its highest since Oct. 19, before easing back to trade around $112.70 by 1430 GMT. Brent averaged more than $111.65 per barrel last year, the highest annual average on record, after geopolitical threats to production offset worries about flagging oil demand. U.S. crude rose $2.05 to a high of $93.87 a barrel, its highest since Sept. 21.
"The U.S. fiscal deal has been very positive for markets, which can now look forward to a better year ahead,'' said Eugen Weinberg, global head of commodities research at Germany's Commerzbank in Frankfurt.
"A combination of U.S. monetary stimulus and Chinese growth should be very positive for commodities in 2013.''
CHINA RECOVERY
Oil found support from robust Chinese data pointing to a recovery in the world's second-largest economy and second-biggest oil consumer.
China's official manufacturing purchasing managers' index held steady in December at 50.6, adding to evidence that its economy was picking up in the last three months of 2012 after slowing for seven straight quarters. Middle East tensions are likely to help support oil. Iran is carrying out naval drills in the Strait of Hormuz, showcasing its military capability in the shipping route through which 40 percent of the world's sea-borne oil exports pass.
The Islamic Republic has threatened to block Hormuz if it comes under military attack over its disputed nuclear programme. The United States has said it would not tolerate any obstruction of commercial traffic through the strait. But analysts say some oil market fundamentals are bearish.
Oil demand is falling in many parts of the industrialised world, including the United States, and in Europe, the debt crisis is dampening economic activity and energy use.
Purchasing managers' surveys showed on Wednesday a slowdown in euro zone factory activity deepened in December as new orders tumbled, suggesting the economy may have slipped further into recession in the last quarter of 2012. The oil market is well supplied and global inventory levels are high. U.S. oil production, in particular, is increasing more quickly than oil demand is rising in the industrialised world, and the market is being balanced by Middle East producers.
"The firmness of Brent in 2013 will depend very much on the supply policies of Saudi Arabia as it battles the crude oil supply push from the United States,'' Olivier Jakob, Swiss-based energy market consultant, said.
"To defend $100 Brent, Saudi Arabia will have to reduce its crude oil exports to sufficiently offset the new oil coming out of Iraq and of the United States.''