Crocs Cruises 15% Higher on Buyout Buzz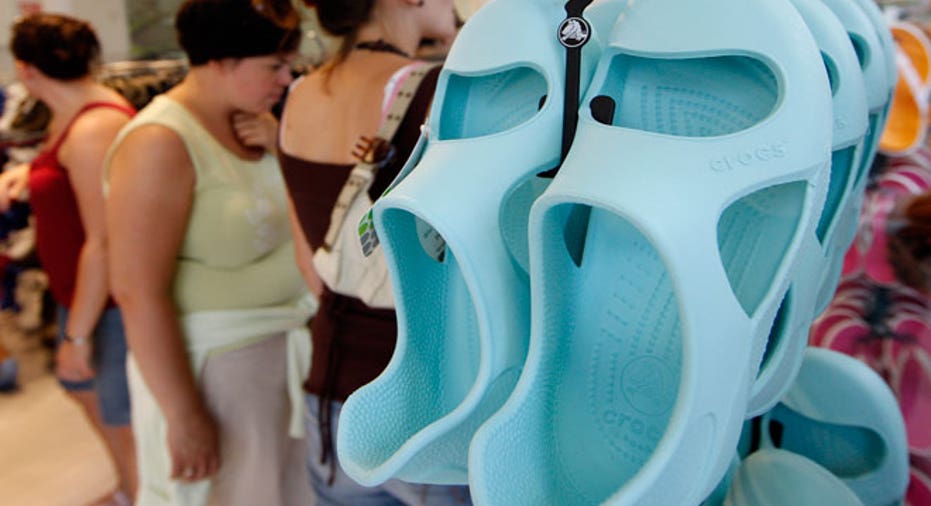 Shares of Crocs (NASDAQ:CROX) surged as much as 15% Wednesday afternoon following reports that revealed the $1.1 billion iconic shoe maker had discussed a leveraged buyout.
The M&A buzz comes as Crocs has seen its share price struggle to keep up with the broader markets amid stalling sales in the Americas.
A person familiar with the matter confirmed Crocs recently held buyout talks with giant private-equity firm Blackstone Group (NYSE:BX).
Earlier, Bloomberg News first reported that Crocs held talks with Blackstone as well as with KKR (NYSE:KKR). A deal is unlikely due to a gap in price expectations and Crocs has begun to explore its strategic options, Bloomberg reported.
Both Blackstone and KKR declined to comment on the report. Niwot, Colo.-based Crocs didn't respond to a request for comment.
Crocs entered the day with a market capitalization of about $1.12 billion, but that's well below its peak value of $5.6 billion in 2007. The company saw its shares spike as much as 14.9% on Wednesday to an intraday high of $14.53 on the news. In recent action, Crocs was up 7.83% to $13.64.
Concerns about declining sales have helped keep a lid on shares of the shoe maker's shares, which had been trading flat over the past 12 months before Wednesday's big rally.