Credit Cards: The CFPB's Agenda for 2014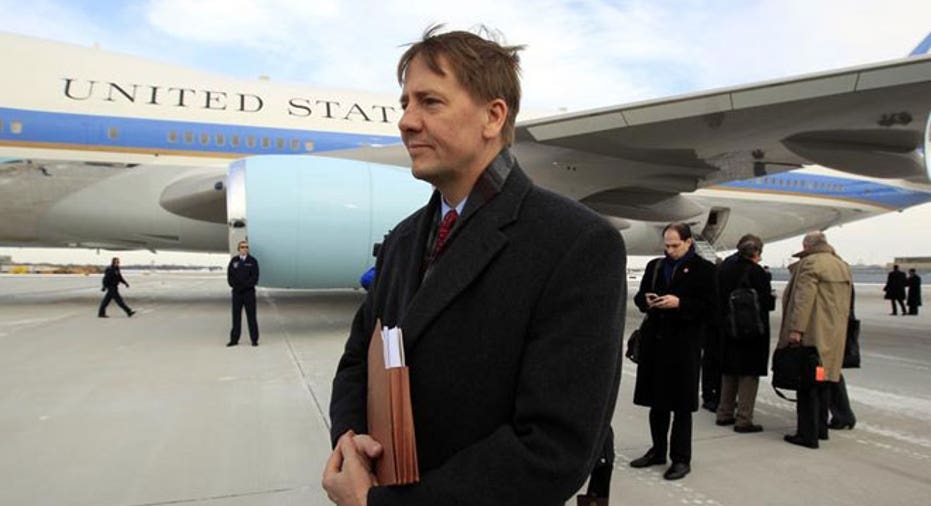 The Consumer Financial Protection Bureau, or CFPB, the federal consumer watchdog, has demonstrated that its bite is as big as its bark when it comes to credit cards.
In its almost three-year life, the CFPB has fined issuers $75.7 million, ordered them to pay back $827.6 million in refunds to almost 9.2 million consumers, and aired their shortcomings through an online complaint database.
So what's next? More of the same should follow this year with the agency looking to expand its regulatory arms to embrace products and services not included in the Credit Card Accountability, Responsibility and Disclosure Act of 2009, or CARD Act, experts say. The CFPB declined to comment for this story.
"You don't need a crystal ball to know we'll likely see actions against credit card issuers," says John Ulzheimer, credit expert for CreditSesame.com. "The CFPB has shown no fear of going after the big names in the credit card industry.
* Fines don't include penalties charged by other fedeal government agencies.
Source: Consumer Financial Protection Bureau
Find the best credit cards by type.
Outside the CARD Act
In October, the agency released a list of what it will monitor beyond the scope of the CARD Act. The first line item was looking at how add-on products are marketed and sold to consumers. These optional services are sold by credit card companies and can include debt cancellation, identity theft protection and credit monitoring.
This is not a new area for the agency. In fact, the CFPB slapped Discover and Capital One with $32 million in fines in 2012. It also ordered them to refund $340 million to 5.5 million consumers, accusing each of the companies with deceptively marketing their add-on products.
The CFPB followed up last year by fining Chase $20 million and American Express $9.6 million for the same reason.
"A number of the leading issuers have already been fined for how they marketed and sold these products, but there are still some that have not," says Michael Misasi, senior analyst at Mercator Advisory Group in Maynard, Mass. "I wouldn't be surprised to see one or two new names settle similar cases in 2014."
The CFPB also is keeping an eye on fees that credit card issuers charge before an account is opened. The CARD Act stipulates how much an issuer can charge in fees in the first year, but it never specifically mentions fees that are charged before the card is issued.
The CFPB last March ruled that the CARD Act doesn't include any application fees, following a federal court ruling in 2012.
However, the bureau will monitor these application fees to determine if it should take any action against them, according to the agency.
More disclosure
Another area of interest for the bureau this year is disclosures.
The CARD Act requires that every monthly statement include how long it will take to pay off the balance and how much interest it will cost a consumer by paying just the minimum. It compares that with how much the consumer will be charged if he or she pays off that balance in just three years.
The goal is to shock consumers into realizing how costly it is to pay only the minimum, especially over the long term. A survey last year by Consumer Action, a nonprofit consumer advocacy organization, showed that 45 percent of consumers paid more each month because of the warning.
"It's my favorite aspect of the CARD Act," CreditSesame's Ulzheimer says. "People make a beeline to the statement, and putting that disclosure there is smart because that's where their eyes are."
However, the CFPB said that a quarter of consumers pay their bills online or through automatic bill payment, and it is unsure how issuers are providing the minimum-payment disclosure to those consumers. It is tracking how that is done this year.
The agency is also watching credit cards that finance purchases with no interest for a limited time. Known as deferred interest credit cards, these cards can get consumers in financial hot water if the balance is not paid off before the zero-interest period ends.
"The CFPB has also expressed concern regarding how issuers explain interest charges to consumers, particularly when trailing interest or interest assessed on past charges is involved," Mercator's Misasi says. "My understanding is that the CFPB wants to make sure that consumers understand the potential risk involved with these products, not necessarily remove them from the market."
CFPB moves beyond fees
The CFPB doesn't just monitor credit card issuers, but rather a broad swath of industries that provide financial services and products to consumers. That said, some of its actions that focus on other industries stand to have an indirect effect on credit card companies.
"There is a chance that the CFPB would regulate all debt collectors, both first and third party," says Ruth Susswein, deputy director of national priorities at Consumer Action. "And if that happens, that would be the first time that in-house debt collection would come under regulation. It's conceivable that credit cards would be swept up in that."
In fact, the CFPB already called out American Express on its debt collection practices. In October 2012, the agency fined American Express $14.1 million for a slew of illegal practices, including its debt collection methods.
Susswein says the CFPB also will follow up on its preliminary research on arbitration clauses released in December. These clauses typically stipulate that a consumer must use arbitration to resolve a dispute with a financial service provider. They cannot file a lawsuit or seek class-action arbitration. It's possible the CFPB will choose to regulate how these clauses can be used.
"If anything would happen on that front, credit card issuers, which have arbitration agreements the majority of the time, would be affected," Susswein says.
In addition, the agency has turned its attention to the credit reporting industry. Last year, the agency emphasized that investigations into credit report errors by credit bureaus and lenders should be thorough and should comply with federal regulations governing consumer disputes.
Part of the enforcement action against American Express in October 2012 involved the issuer's failure to report consumer disputes to credit reporting agencies. Similar actions could be in the offing this year.
"The CFPB has chosen to interpret rules and regulations rather broadly and be quick to take strong action against products or practices they view as 'unfair or harmful,'" says William McCracken, CEO of Synergistics Research Corp., an Atlanta-based market research firm for financial service companies. "They therefore again will butt heads with large credit card issuers in 2014."
Copyright 2014, Bankrate Inc.