Credit Card Rewards can Trim the Sales Price of Cruising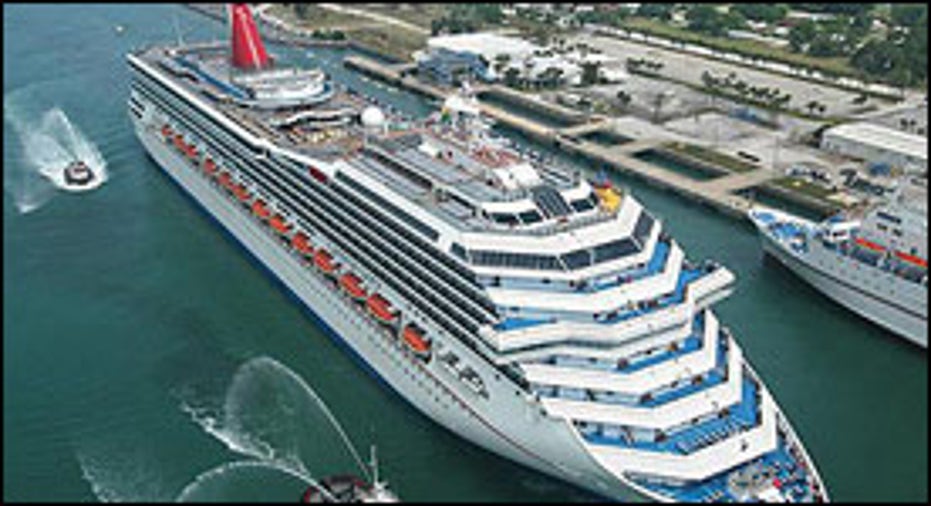 Mammoth new ships and good deals are luring travelers to cruises in record numbers this summer, and many are setting sail with the help of credit card reward programs.
For people who amass award points for vacations, cruise rewards are often overshadowed by general travel reward cards or cards that offer plane tickets or hotel stays. But card issuers say cruise reward cards are becoming more popular as the cruise industry grows. More than 16 million people took cruises last year, up about 10% from the year before, and 13 new ships are expected to hit the high seas in 2012, according to the Cruise Lines International Association, an industry trade group.
Rewards can range from as little as $50 in onboard credits -- which could buy a few strawberry daiquiris on the lido deck -- to stateroom upgrades to even a free cruise, if you channel most of your spending onto the right card.
Cards with cruise rewards aren't for everybody. But if you like to cruise, some of these cards might make sense:
Cruise line cards
Just about every major cruise line offers a credit card in conjunction with a bank (a "co-branded card"). These cards are best for people who want rewards on one particular cruise line and who value having a menu of redemption options on that line, even if there might be better value elsewhere.
These co-branded cruise cards -- which include the Royal Caribbean Visa, the Norwegian Cruise Line MasterCard, the Carnival World MasterCard, the Holland America Line Rewards Visa and the Princess Cruises Rewards Visa -- work pretty much the same way.
Typically, you earn up to 10,000 points when you first use the card then accrue one point per dollar spent, or two points per dollar for purchases with that cruise line. Most have no annual fee. When you're ready to sail, rewards start at as little as 5,000 points, which can get you, for instance, a champagne balcony breakfast for two (Princess), two bathrobes (Royal Caribbean) or $50 worth of casino chips (Norwegian).
The points can also be exchanged for cruise discounts at a rate of about 1% for smaller amounts and sometimes up to 2% or 2.5% for higher amounts. Free cruises start around 50,000 points (Royal Caribbean, three- or four-night cruise for two) or 60,000 points (Norwegian, three- or four-night Bahamas cruise for two), depending on the line (not including airfare).
Cruise lines promote these cards on their ships, so the typical card customer is someone who likes to cruise and enjoys the choices and flexibility the cards offer, says Ann-Marie Archino, director of travel and entertainment partnerships for Barclaycard, which offers cards with Carnival, Holland America and Princess.
"There is no limitation on itineraries or blackout dates," she says. "You know how many points gets you what reward, so you can plan."
Noncruise line travel cards
More general travel cards can also help pay for cruises in the form of statement credits or gift cards. These cards might make sense for cardholders unsure of what cruise line they might like to try and who don't mind using points just for cruise discounts, as opposed to the other perks that cruise-line cards offer.
For instance, Capital One's Venture card offers 2% back on travel purchases, including cruises. Chase Ultimate Reward points and Citi ThankYou points can be redeemed for gift cards on Carnival and Royal Caribbean, at a rate of $100 off per 10,000 points.
And, of course, cash-back cards offer the ultimate in flexibility. They typically give at least 1% back, depending on your spending patterns, but often have annual fees.
Until recently, there was a category of travel cards that offered cruise rewards exclusively. Chase ended its SeaMiles Visa Rewards card, effective April 2012. The card allowed travelers to redeem points on any major cruise line at a rate between 1% and 1.25%.
When Dan Gallagher, 44, lived in Florida in 1999, he and his wife each signed up for an MBNA Cruise Rewards card. It offered 4% of spending back, redeemable on cruises, and the couple used their rewards points for Caribbean cruises each year.
"It truly was a free cruise," says Gallagher, a local government transportation planner. "When you live in Florida, you can go on a weekend during the off-season very easily."
A few years ago, though, MBNA was sold to Bank of America and the reward level fell to 2%. Gallagher still uses his card, but the bank no longer accepts new applications for it.
Other card strategies
Even if you don't apply for a card with the goal of redeeming for a cruise, there are ways to take advantage of existing cards to help with your cruise vacation.
Kevin Weisner, vice president of CruiseDeals.com, a cruise-only travel agency, says many people who book cruises are not aware of credit card promotions that could help them save money.
"If you're going to buy a cruise anyhow, why not use the card that accrues some benefit?" he says.
For instance, in December, MasterCard and Royal Caribbean had a promotion that offered up to $100 in onboard credits just for charging a cruise on any MasterCard.
3 top tips for cards, cruises
The best advice to save money on cruises without a new card:
Ask your travel agent. According to Cruise Lines International Association, three-quarters of all cruises are booked with travel agents, who often know of special card deals.
Watch for promotions. Some lines or card issuers advertise specials -- be on the lookout.
Understand the perks of existing cards. Holders of the super-exclusive American Express Centurion card, for instance, are eligible for $500 in onboard credits and other perks when they charge cruises on certain lines. Many cards also offer trip cancellation insurance, which typically covers cruises. Credit card travel perks make them good vacation partners