Credit Card Interest Rates Steady for Record 4th Straight Week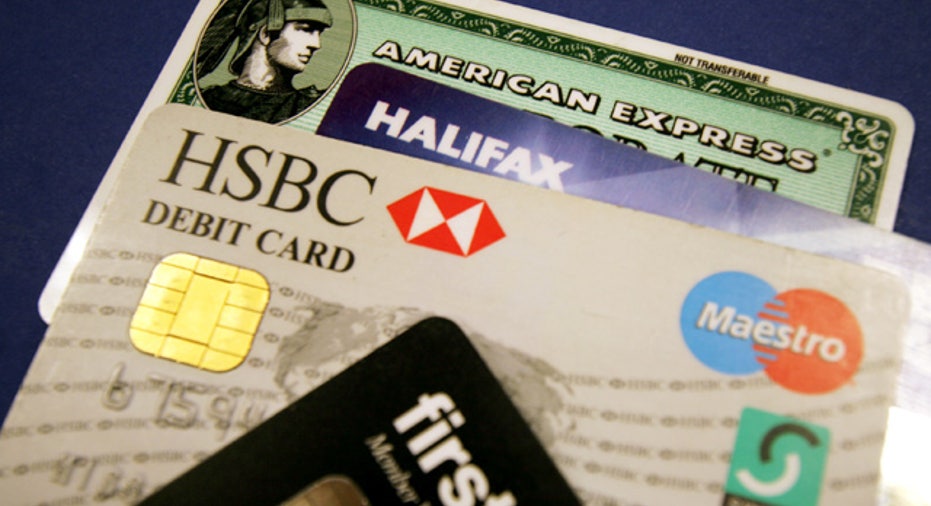 Interest rates on new credit card offers held steady for a record fourth straight week on Wednesday, according to CreditCards.com's Weekly Rate Report. But that doesn't mean issuers are sitting on their hands.
The national average annual percentage rate (APR) on new credit card offers held steady at 14.65%. It has been static for most of 2011, but is still up from six months ago, when it stood at 14.35%.
Though the national average remained static, Citi, American Express and Pentagon Federal Credit Union (PenFed) were among issuers that made adjustments to introductory purchase and/or balance transfer offers, continuing a recent trend of longer introductory periods.
For example, Citi (NYSE:C)extended the introductory period on the 0% balance transfer offer for its Platinum Select MasterCard from 18 to 21 months, one of the longest introductory periods CreditCards.com has seen. After that, the balance transfer APR ranges from 11.99% to 20.99%.
PenFed went a step further. Its Promise and its Visa Platinum Cashback Rewards cards offer a rate of 4.99% for the life of any balance transferred between April 1, 2011 and June 30, 2011. After that date, the balance transfer APRs on those cards range anywhere from 7.49% to 13.99%.
However, a change American Express made is not as clear, experts say.
Typically, the terms of a balance transfer are laid out in a card's terms and conditions. For example:
*APR for balance transfers: 2.99% introductory APR for 18 months if the request for a balance transfer is made within 60 days. After that, your standard APR will be 10.99% to 19.99%, based on your creditworthiness.
The above shows the introductory rate, how long it is applicable, when you must make the transfer and what the rate will be when the intro period is over. However, consumer groups say some recent changes have made terms ambiguous. Here's an example:
*On its Web site, for its Blue Cash and Blue Sky cards, American Express is offering a "17.24, 19.24 or 21.24% introductory APR on balance transfers requested within 30 days of account opening, based on your creditworthiness."
The American Express offers were unusual in that they did not provide any detail on what rate would be applied to a balance transfer after that 30-day period -- or if balance transfers would be allowed on the account after that time. We contacted American Express for comment and spokeswoman Leah Gerstner said, "On those particular cards, we don't allow a balance transfer unless there is a balance transfer offer on the card at the time." That means, she said, that if you tried to do a balance transfer to either of those cards after that 30-day period, it would likely not be possible.
Ambiguous Terms Bring Challenges, Consumer Groups Say 
According to consumer groups, oftentimes cardholders can be vulnerable to credit card debt due to vague and ambiguous language used in credit card contracts.
Poor understanding of the contracts between consumers and card issuers is a factor in high levels of credit card debt and the ills that go along with it, says David Jones, president of the Association of Independent Consumer Credit Counseling Agencies. However, it is not the primary factor.
Other experts agree.
"Consumers who are worried about their financial situation often try to make financially savvy decisions, such as transferring a balance to a card with a lower rate," says Gail Cunningham, spokeswoman for the National Foundation for Credit Counseling.  "If this decision backfires on them due to an ambiguous explanation of rates, the consumer and the issuer both lose."
It's important that customers do extensive research, especially on possible risks associated with any new financial arrangement. Confusing legal jargon could ultimately lead a well-meaning consumer down the wrong path, Cunningham says.
Still, consumer advocacy groups are finding that ambiguity may not be hindering customers' behaviors as much one might imagine.
"We have found that our clients generally aren't put off by the agreement language and accept whatever rate is applied without much question," Jones says. "That may be a holdover from years of basically being unable to decipher the agreement language and accepting the card contract on faith alone."
Introductory Periods Growing
Either way, it looks like card issuers are sticking to a trend of testing card offers. Marketing researchers say term-period extensions have been on a steady incline since 2010.
"The squeeze on credit observed during mid-2009 is being reversed and many issuers are now offering durations of 15, 17 or 18 months or more," says Andrew Davidson, spokesman for direct marketing research firm Mintel Comperemedia "We have even seen offers with 24- and 30-month intro rate durations in recent months," he says.
More from CreditCards.com: