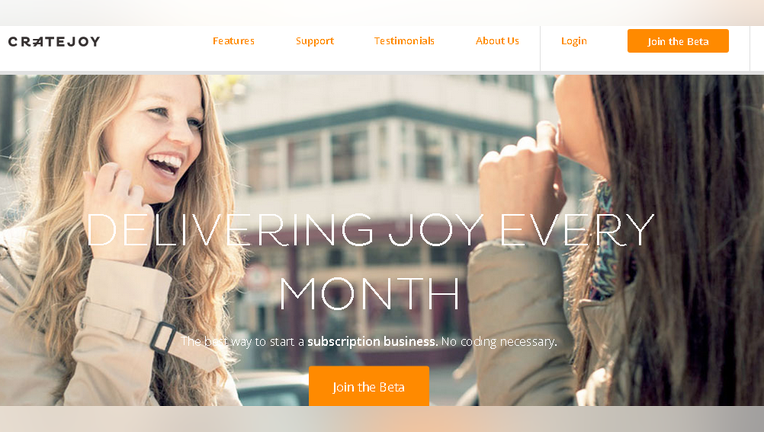 From razors and makeup to healthy snacks and craft projects, it's possible to order nearly everything today through a subscription-box startup. Now, Cratejoy wants to make it easier for entrepreneurs to create their own subscription businesses with its online platform.
"Birchbox, Dollar Shave Club – they had to build custom software," founder Amir Elaguizy said, naming a few popular subscription startups. "We are making that technology accessible to anyone."
Through Cratejoy's site, Elaguizy said entrepreneurs can set up a customized online store displaying products or services for sale. Cratejoy will handle recurring payments, email customers about shipping and manage the other aspects necessary for online subscription businesses. Cratejoy's fees operate on a sliding scale; at the high end, Elaguizy said the company takes 1.25% of sales conducted through the site.
Elaguizy and co-founder Alex Morse participated in Y Combinator last summer, where they began to develop the Cratejoy concept. They sold their previous business, an Internet poker company, to Zynga in 2011 and worked there as division CTOs for two years before leaving to start Cratejoy.
Cratejoy's private beta launched in January and is already supporting 120 subscription businesses, such as Sumo Jerky, RootBizzle and A Little Bundle.
"We're trying to cope with the amount of demand … Finding more demand is not front of mind," Elaguizy said, adding that the company's current marketing strategy is based on word-of-mouth.
Unlike many other startups, Elaguizy said he's not looking for explosive growth. Instead, he and the Cratejoy team are focused on perfecting the relationship with their customers to help these new subscription businesses grow.
"If you think about it, this is their entire business, so there's no room for error. We can't screw anything up ever," Elaguizy said.