Cowboys owner Jerry Jones backs Ezekiel Elliott amid domestic violence investigation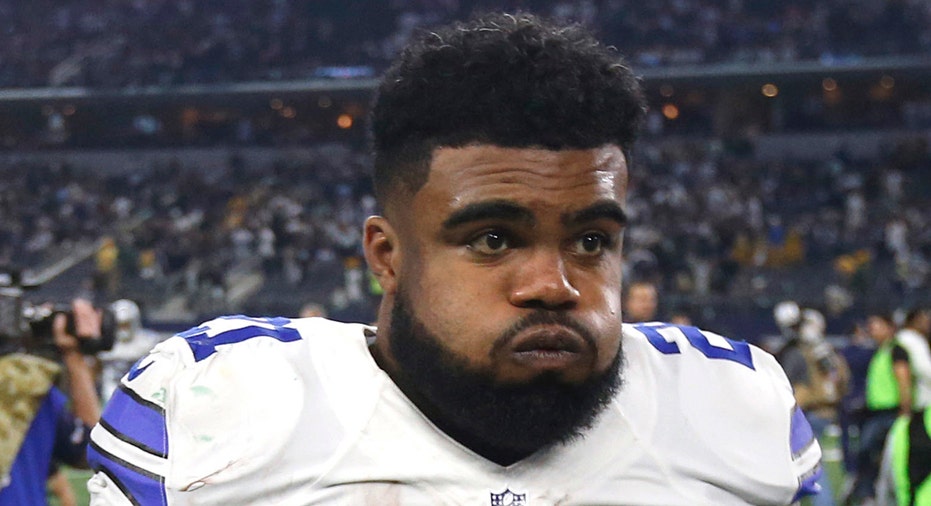 Dallas Cowboys owner Jerry Jones said Sunday that there is no evidence to confirm allegations of domestic violence against Ezekiel Elliott, as the team's star running back faces the possibility of league discipline.
"I have reviewed everything, and there is absolutely nothing – not one thing – that had anything to do with domestic violence," Jones told reporters at the Cowboys' introductory training camp press conference, according to ESPN.
League officials have yet to determine if Elliott, 22, will be suspended, more than a year after a former girlfriend accused the Cowboys running back of multiple instances of physical abuse. While Elliott was never arrested or charged with a crime, the NFL's personal conduct policy does not require criminal charges to enact discipline.
Elliott could face a short suspension of one or two games, ESPN's Adam Schefter reported earlier this month. He has denied the allegations.
"My opinion is there's not even an issue over he-said, she said," Jones added. "There's not even an issue there."
With the NFL's investigation still underway, Elliott faced allegations earlier this month of participating in a bar fight in Dallas. Local police suspended their investigation into the incident due to a lack of evidence. Elliott was not arrested or questioned in connection to the case.
A potential league suspension could force Elliott to repay part of his signing bonus to the Cowboys, according to ESPN.