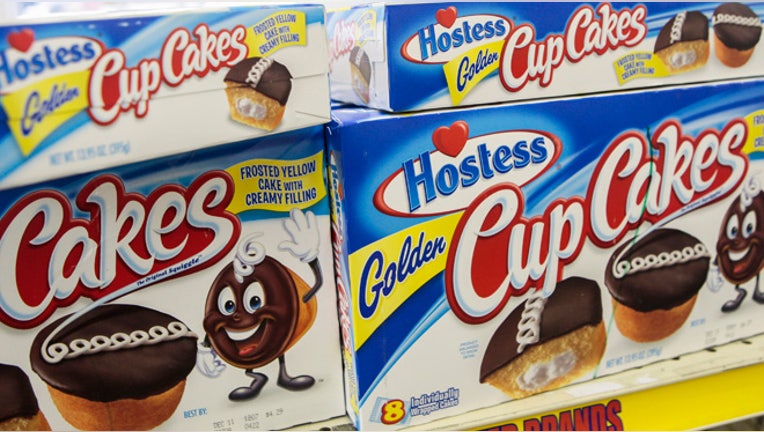 A bankruptcy court judge approved some of the sales announced by Hostess Brands in recent weeks, paving the way for iconic Twinkies and other snacks to return to store shelves.
Hostess, which is liquidating its assets, won permission from U.S. Bankruptcy Judge Robert Drain to complete deals with Apollo Global Management (NYSE:APO), C. Dean Metropoulos & Co., Flowers Foods (NYSE:FLO) and Mexican bakery Grupo Bimbo.
Apollo and C. Dean Metopoulos agreed to pay $410 million for Twinkies, Ho Hos, Ding Dongs and other snack cake brands. Daren Metropoulos, a principal at C. Dean Metropoulos, has said the firm hopes to have Twinkies back on U.S. store shelves by this summer.
Flowers Foods, which makes Tastykakes snacks and Nature's Own bread, is buying five major bread brands, including Wonder and Nature's Pride, for $360 million.
Beefsteak, a rye bread brand, is going to Grupo Bimbo for $31.9 million.
Many of the deals with Hostess include other assets, like bakeries, depots and equipment.
Irving, Texas-based Hostess entered bankruptcy in January 2012 and attempted to reorganize in Chapter 11. In November, the bakery announced it decided to shut down operations and sell its roughly 30 brands and 36 plants after its second-largest union, the Bakery, Confectionery, Tobacco Workers and Grain Millers International Union, went on strike.
Hostess said the strike put a halt to operations and forced the bakery to shut down. According to a court filing, Hostess CEO Gregory Rayburn said the company had about 18,000 employees before shutting down. It now employs about 190 people.
During the hearing Tuesday morning, lawyers for the buyers expressed concern about potential liability following the acquisitions. The judge said Hostess should do some "wordsmithing" to offer buyers some protection.
On April 9, Hostess will seek approval for another sale, a $27.5 million deal with Little Debbie maker McKee Foods. That agreement includes Drake's coffee cakes and other snacks.
Hostess will also present the sale of its Eddy's, Standish Farms and Grandma Emilie's bread brands, as well as four bakeries and 14 depots, to a subsidiary of United States Bakery. According to Dow Jones Newswires, United States Bakery won the bidding at an auction Friday with a $30.9 million offer. The bakery started the bidding at $28.9 million.
At Tuesday's hearing, Jones Day attorney Heather Lennox, who is representing Hostess, said the transactions total about $860 million so far. She added that Hostess expects to generate more money from smaller asset sales, which could generate proceeds in the "high eight figures," being run by Hilco Industrial.
Hostess owes creditors between $1.03 billion and $1.04 billion.