Could Video Gaming Become The Next Olympic Sport?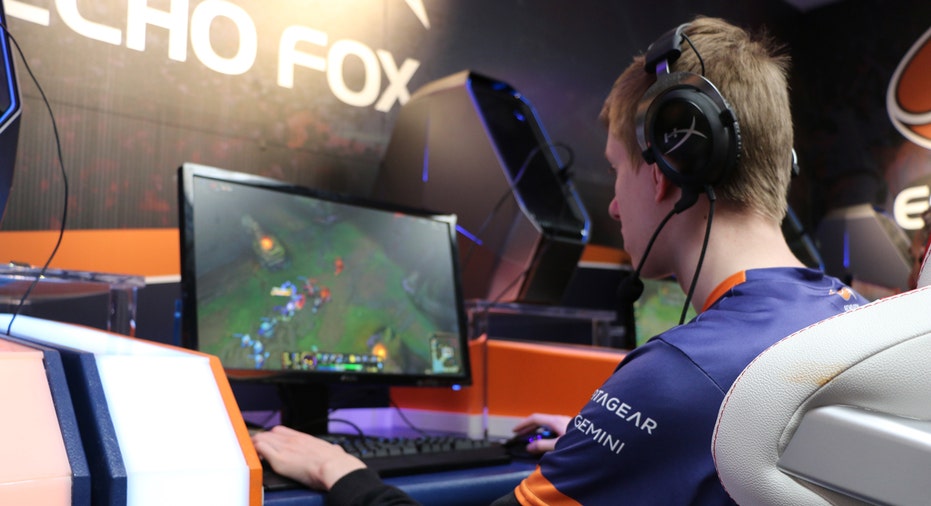 Professional eSports players could compete for Olympic gold alongside triathletes and swimmers at the Summer Games, if proponents are successful in their effort to establish video games as a legitimate international sport.
With the International Olympic Committee's approval, the International eGames Committee held a pop-up competition last week at the 2016 Olympics in Rio de Janeiro, Brazil. The event occurred months after the International eSports Federation – a would-be global organizing body backed by Chinese e-commerce giant Alibaba – formally contacted the IOC on how to pursue inclusion as an Olympic sport. The evaluation process could begin by as soon as December 2016.
As a relatively new and often misunderstood industry, eSports will have to navigate a series of logistical hurdles and built-in stigmas about video games to gain acceptance as a sport, in a process that could take years rather than months. But industry leaders, including Jace Hall, the chief executive officer of eSports franchise Echo Fox, are betting that an Olympic debut will show sports fans and television audiences alike that video games aren't just a mindless pastime for couch-bound teenagers.
"I think it creates understanding, which naturally de-stigmatizes," Hall told FOXBusiness.com. "When you place something like this on the world stage, you provide an understandable way for the average person to really get what's going on, to really understand how hard it is what they're doing and the level of competition that's taking place. The hours of dedication are no different than the training for other Olympic activities."
Once a niche attraction, the professional video gaming industry has developed a cult following in recent years. About 250 million watched or participated in an eSports event in 2015 – a 13% increase over the previous year. The worldwide eSports market is expected to reach $463 million this year and could top $1 billion in revenue by 2019, according to market researcher Newzoo.
That sort of worldwide interest is likely an enticing proposition to Olympic officials tasked with expanding the costly international event's reach. Television ratings were down significantly for the 2016 Olympics in Rio, particularly among the millennials who have so readily embraced eSports.
"I would think, just from a viewership and an economic standpoint, there's a real conversation to be had there," Hall said. "The Olympics as an entity can use [eSports] to show growth and draw an audience."
Major news outlets, including ESPN, are dedicating an increasing amount of coverage to eSports events. Mainstream companies, including Anheuser-Busch InBev, Geico and Pizza Hut, are spending millions of dollars on gamer-focused marketing.
Hall says the Olympics would help eSports franchises like Echo Fox – and the industry as a whole – to bring personal stories of the world's top gamers to a mainstream audience. Despite its large following, eSports has yet to produce a crossover star with even remotely the reach of the NBA's LeBron James or the NFL's Tom Brady.
Hall added that the eSports industry remains hobbled by its business model. The $100 billion video game industry and its publishers have traditionally focused on selling products. The consideration of gamers as professionals is a relatively new idea.
"For 30 some-odd years, everything has been orientated toward the video games. Players were nothing more than consumers," Hall said. "It would be like the NFL owns football and its whole purpose of owning football is to sell actual footballs to the audience that attends football games. In a universe like that, it's hard for players and teams to develop."
To reach the Olympics, eSports would have to succeed where other mind-based games like chess or bridge have failed, by convincing the IOC that video games are worth adding to international competitions that are meant to test the limits of physical fitness.
The industry will also have to address other issues, such as how to police doping violations or decide which games should be used during international competitions. Popular games that include violence, such as Call of Duty or Counterstrike, could raise questions for image-conscious officials, while complicated games like League of Legends could be difficult for a television audience to understand.
If past attempts by other sports are any indication, it could take years for eSports to carve out a spot at the Olympic games. Hall says supporters within the industry won't be dissuaded by a long wait.
"The industry as a whole is going to continue to push and propose that video games are included on some level at the Olympics," Hall said. "I think there's a tremendous amount of merit to it and I think it's being slowly heard. Is it 2020? Is it 2024? I couldn't tell you. I know the effort won't stop, that's for sure."