Could RIM's Survival Mean Abandoning the BlackBerry?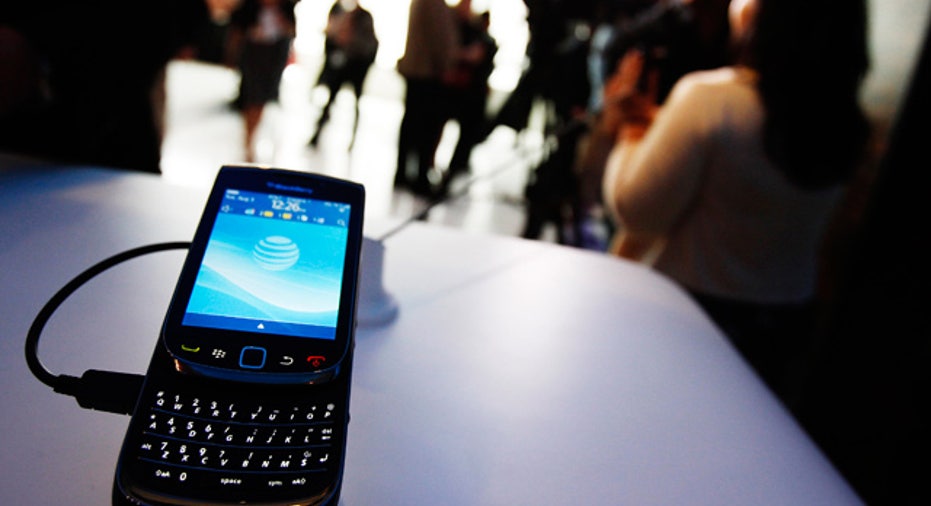 It might seem like corporate heresy but an increasing number of technology investors and experts are asking whether Research in Motion needs to ditch its BlackBerry handset business to survive.
The idea that is gaining favor, albeit only among a minority of shareholders, would see the Canadian company fully open its secure and highly respected network to rival smartphone providers and concentrate on that business while getting out of the hardware game altogether through a sale.
Disappointing quarterly results, including a dismal outlook for Blackberry sales and word that RIM would delay the introduction of new devices, sent its shares down more than 11 percent to their lowest levels in almost eight years on Friday.
Just before those numbers were released, activist shareholder Jaguar Financial called on the company to sell its handset business and monetize its patent portfolio while retaining the high-margin services business. "Jaguar believes that the road map to value restoration lies in a sale of RIM whether as a whole or in separate parts," it said.
RIM's spidery, data-crunching network reaches behind corporate firewalls and taps into mobile networks globally.
The network, unique among handset makers, has been a cornerstone of the BlackBerry's growth - with email and instant messages routed through RIM's own enterprise servers and data centers, where it is encrypted and pushed out to subscribers.
There are no middlemen to intercept corporate or state secrets, or even the flirty chats of teenagers who love the free BlackBerry messaging.
TERMINAL DECLINE?
Jaguar, which claims support from shareholders who own about 8 percent of RIM's stock but only owns a tiny fraction itself, also reiterated its call for a change in the company's leadership.
It has called for a new "transformational" leader to replace RIM's co-CEOs Mike Lazaridis, the company's co-founder, and Jim Balsillie, the mercurial salesman who has marketed the BlackBerry to the world.
It is not alone in wondering whether a sharp decline in Blackberry sales - the company said it expects the number of devices it ships in the quarter including Christmas will drop as much as 26 percent from a year ago - is a sign of terminal decline for the product.
The company's network has stronger margins and more secure recurring revenue, though it still needs to be fully exploited.
"If they want to maintain that asset, if not stabilize or grow it, they need to open it up to the other platforms and look at themselves as an enterprise software company," ThinkEquity analyst Mark McKechnie said.
RIM is likely already working on just such a change, said a U.S.-based shareholder, who declined to be identified. The fund manager, whose firm owns more than 1 million RIM shares, said delays launching new software and devices may reflect efforts to fully accommodate devices from outside RIM's own stable.
A year ago, talk of ditching the BlackBerry would have been almost unthinkable, let alone garner any serious attention. That was before a spectacular meltdown that has seen the device, once an essential tool in the top echelons of business and politics, being pushed aside by Apple's iPhone and smartphones powered by Google's Android software.
The deterioration in the business has been so great that some analysts now estimate that RIM is barely making money on BlackBerry sales.
MASSIVE DISCOUNTS
That isn't its only problem. The PlayBook, the company's latecomer in the tablet market dominated by Apple's iPad, has been a deflating disappointment, forcing RIM to offer massive discounts on the unloved device. It took a $485 million pre-tax charge for the Playbook, which runs on QNX software that RIM plans to use in its future devices.
The severity of RIM's problems shows up in its share price. It crashed to a low of just $13.12 on Friday, after trading as high as $144 in 2008 and about $70 in February this year. A company that was once worth almost $80 billion is now valued at barely $7 billion.
Meanwhile, the subscriptions that businesses and network operators pay RIM each month brought in more than $1 billion in each of the past two quarters.
The company declined to comment on talk that it will ever abandon the BlackBerry and did not grant interviews with either Lazaridis or Balsillie for this story.
Balsillie announced a comprehensive review of RIM's operations on a conference call with analysts on Thursday.
"We plan to introduce new devices into the smartphone and tablet market, as well as products and services that better leverage our global cloud infrastructure, and unique capabilities within the smartphone market, he said.
While RIM hasn't given any indication it plans to give up on its BlackBerry handset, it has started to emphasise its services business.
EXTRA STEP
In late November, RIM took a first step that could eventually lead to establishing the network as a standalone operation. It introduced a software tool giving corporate customers the option of linking iPhones and Android devices to the BlackBerry network.
The move stops short of offering outsiders access to its unique technology that encrypts data and pushes it out to the BlackBerry. Going that extra step is exactly what some critics suggest that RIM needs to consider.
RIM charges a monthly fee to every BlackBerry user, making its network a stable stream of revenue and giving the company an advantage over every other handset maker. For RIM, it has become a more reliable source of profit than shipping its own smartphones.
The strategic reasoning goes: Why build a staid Volvo or a flashy Ferrari when you can own the toll highway on which they drive?
"There is a massive under-utilised asset in the services infrastructure which is very profitable. I think they are getting ready to come to market with a way to leverage that," said the U.S. fund manager. "At a minimum, I think they are going to start aggressively doing things that leverage their infrastructure beyond RIM handsets."
RISK IN WAITING
Mike Abramsky, an analyst at RBC Capital Markets, raised the prospect of RIM splitting in two back in July. For him, the biggest risk is waiting. He says RIM's still-growing global subscriber base gives it time to make the move, but the network too would suffer if the BlackBerry keeps slipping.
Alternative networks that provide many of the same features as the BlackBerry enterprise network are already making inroads. Eventually even that jewel could lose its cachet, he says.
"The risk in waiting is that as more companies switch over to alternatives, it will be difficult to attract them back to BlackBerry even as a network-only business," he said, referring to companies such as Good Technology and SAP's Sybase, which encrypt and manage data for iPhones and other devices.
Abramsky said offering a managed network for users of all handsets would expand RIM's potential market by six times or more. At the same time, the network business likely boasts an 80 percent gross margin versus a handset business in the high 20 percent range.
Lazaridis has been betting on reinvigorating the Blackberry by hoping that QNX, the new operating system, will help RIM catch up and perhaps overtake the iPhone and Google's Android and stifle Microsoft's emerging mobile platform.
The new system is supposed to allow devices to be updated on the fly and should also help third-party developers that struggle to write appealing apps in RIM's aging framework. A dearth of BlackBerry apps compared with Apple and